SEE what they CAN'T show you on TV! 3 Day FREE Trial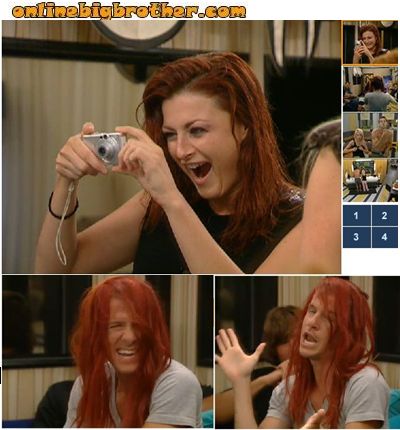 1pm Rachel comes down from the HOH room with the HOH camera for picture day. She also brings down her hair extensions and Ragan and Matt put them in their hair. Ragan is going off making fun of and impersonating Rachel, he is making the most annoying laugh …and talking about Vagas. Rachel is laughing.  Rachel took a video of Ragan impersonating her and now the camera's memory is too full to take other pictures.  Rachel asks them if they care about taking many pictures and everyone says no.  Hayden says that he doesnt want his pciture taken because he needs a hair cut.  Matt tells him that he can do it with bowl.  They only took a few pictures…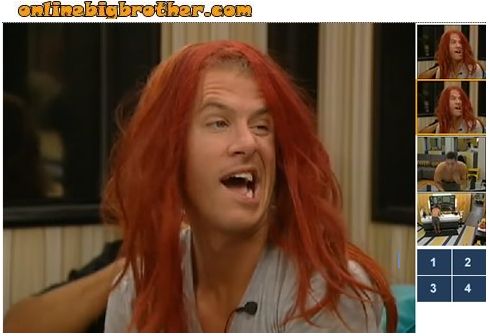 1:30pm The houseguests start to make lunch.  Britney says to Kathy that in the beginning she had the biggest smile for the photos and not its like lets just get it over with already.  Lane and Enzo are playing catch with a ball.  Lane is standing in the kitchen and Enzo is down the hall near the diary room door.  Lane says that he is going to go take a shit, shower and shave… then take a nap.  Enzo asks why are you going to take a shower just to go and take a nap?  Lane says because he knows it will waste at least 40 minutes.  Kristenn, Hayden, Kathy, and Matt are all napping together in the lounge room.

FREE Live Feeds!! Superpass 3 Day FREE Trial Without Any Commitments!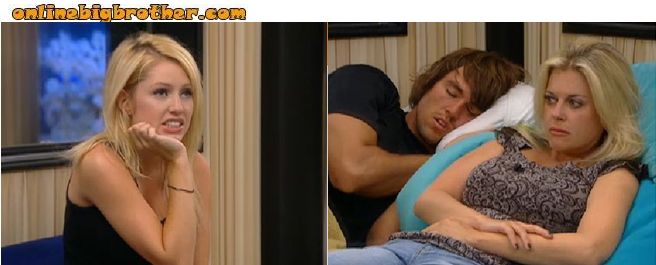 1:40pm – 2pm Ragan and Brendon are making their lunch in the kitchen. Britney is in the bedroom laying in bed talking to herself. Britney talks about how everyone was making fun of Rachel during the HOH camera photo time. She mentions how much everyone hates picture day now. Britney says that if Brendon doesn't stop doing his wizard voice, that he will win by default because everyone will voluntarily evict themselves. She then starts talking about Kristen the crazy eyed killer. Britney says that Kristen is constantly trying to talk to game to people, and no one can stand it, and that there is no where to go… Britney says that she will probably get caught in a 2 hour conversation with her at some point and she it totally dreading it. Britney says that Enzo is the one that tries to avoid talking game with Kristen the most. Britney says that Matt really misses Stacy. And that she misses Nick. Britney says that most people in the house have hit a wall and that she did that week two in the house. Britney says that she misses her mom so much and wishes she could just talk to her so that she could tell her whats going on. Britney then says that she misses Nick too ..so much. Ragan comes into the bedroom and they talk about random stuff. Then the feeds cut to the we will be right back screen …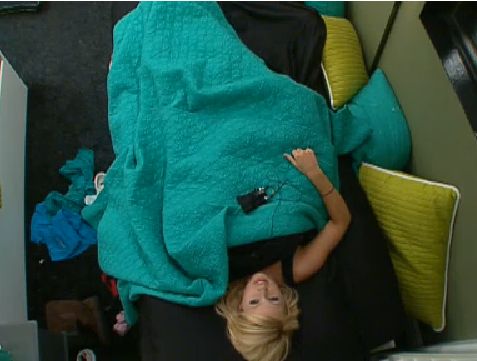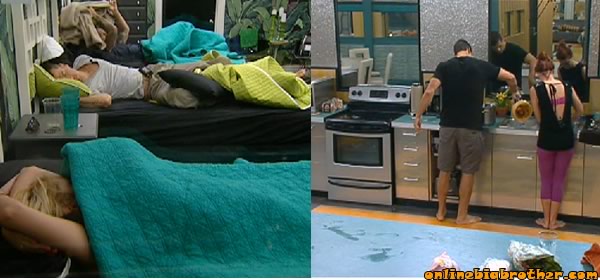 2:52pm Rachel and Brendon cleaning up, ragan, pazuzu and the gremlin sleeping.