SEE what they CAN'T show you on TV! 3 Days FREE No Commitments
5:33pm HOH Rachel, Brendon and Kristen They ask here how is it going She says it's getting rough. She tells them she has 2 confirmed votes. Brendon tells her they haven't had a chance to talk to anyone about where their heads are with the vote. Kristen says she's getting the feeling that it'll be a 3-4 vote, it's going to come down to one vote. Brendon hasn't heard anything from the other players. Kristen says she's been talking to everyone and hasn't been telling them a different story she been telling them all the same story. She's shown herself to be genuine and a fighter and if she stays she'll have a open mind about B/R. Kristen leaves… BRendon: "Looks like we have another Kathy on board" Rachel wonders why KRisten even thinks she has a chance.. They think the 2nd vote for Kristen is ragan but they can't figure out why he would, they would expect him to vote with the house. Brendon thinks he should tell her he's voting against her. Rachel: "UHH BRENDON YOU DON"T OWE HER ANYTHING!!" Brendon agrees. Rachel thinks Kristen wouldn't be in this situation if she wasn't such a bitch, Brendon starts making a cat hissing sound he imitates a cat fight.. i press mute…. (Damn all 4 cameras are on the HOH..NOooooooooo)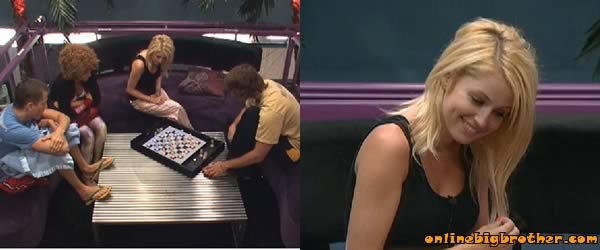 5:46pm Chessboard Rachel and Brendon see ragan, Brit, Kristen and Hayden playing chess. Tehy decide to pretend they are having sex. Brendon thinks it'll be so funny to see their face spin around on the HOH tv. 2 minutes later cut to the chess board we hear the "sex" Brit smiles "are we suppose to acted shocked".. Rachel and Brendon keep going on and on until finally Rachel pops her head out asks them why they weren't shocked. Ragan says it sounded like hammering, Brendon says Rachel will never get hired for softc0re p0rn, they head back into the HOH room… Lane walks up. Ragan: "you smell like a rose lane".. Gremlin joins.. Lane stands up and hangs over the railing. Starts joking around Says when he wins HOH he's going to stand there and have them downstairs stand up and give the speeches to him.. he's not going to go down there with the scum.. Enzo down at kitchen yells up that he'll throw the POV at Lanes head.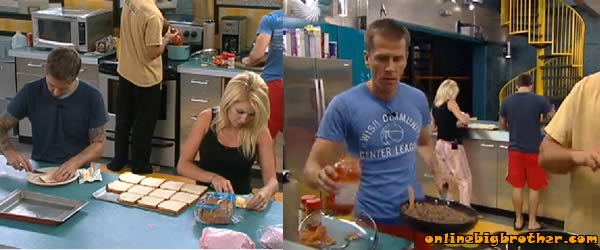 6:35pm Getting ready for dinner, theres a quiet side conversation going on with Matt and Brit, He's telling her he hasn't dissed her once during his DR sessions. He thinks she's right there isn't too many irritating people in the house but the ones that are annoying are "SO incredibly ANNNOYING" Brit agrees.. mostly chit chat going on.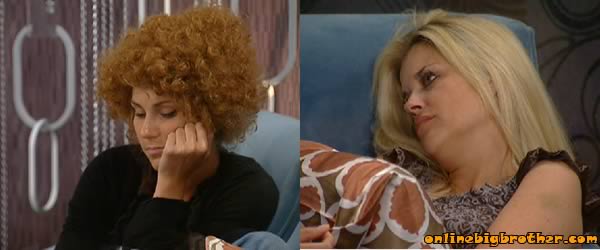 6:50pm Kristen tells Kathy she doesn't want to give up


7:11pm
Share it YO!!
Tweet