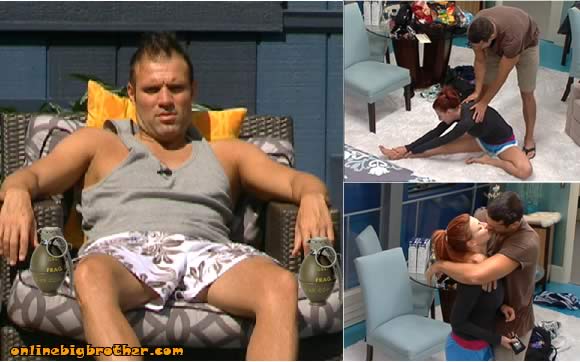 10:31am backyard Enzo rachel and brendon briefly go outside and they talk about Hayden coming out of confinement to exchange his battery.. Enzo explains how it was done (Feeds cutting in and out so thats all I could get out of the conversation) Enzo and Brendon keep singing "Meow Meow Meow Meow"

Enzo leaves to go inside rachel and Brendon start talking. Rachel is worried that they're spending too much time in the HOH room the entire house is left downstairs. Brendon says it's nice to be up there all alone and be able to relax. Rachel reminds them that the whole house could be scheming against them. All of a sudden enzo opens the sliding glass door and you hear "Meow Meow Meow" rachel starts to sing it to "Meow Meow Meow". (no idea where this came from but it seem to be a thing B/R and Enzo are doing) .
10:44am Lane and Enzo working out in the backyard, Brit CHOMPING on her cereal


FREE Live Feeds! Superpass 3 Day FREE Trial
1048am Jumanji Room Matt, Ragan and Matt Ragan is explaining his areas of research in philosophy. He's not interested in the ancient stuff more on contemporary theories. He starts to explain Greek homosexuality called pederasty. Brendon chimes in about the movie 300 and how the Greek hoplites would go in the bush and train for 8 months at a time and usually have sex with the men that fought beside them. Ragen says thats not Pederasty and he continues to explain it. Ragen really goes into depth about gay history and philosophy (he's very knowledgeable in this subject matter having a PhD in it i guess that goes without saying)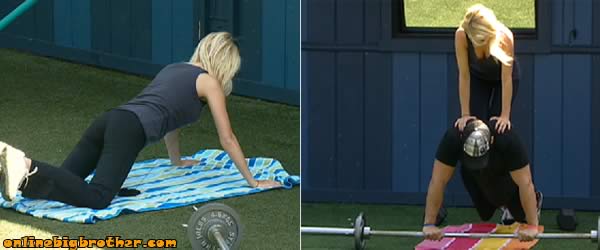 11:00am Brit, Lane and Enzo Lane asks Brit to climb on his back he's going to do some pushups. She does and ane hammers out a full set, Brit: "WOW.. this is impressive!" Enzo: "Thats Texas Baby". They start talking about about who swears in the house. Enzo wonders if they bleep the feeds, Brit says no but they will cut the feeds if there is excessive foul language being used. They all agree that Brendon swears a lot, possibly the most in the house. Brit says that even when he's having a regular conversation with people he'll throw in a fuck here a fuck there. Enzo mentions that Brendon always adds a "io" to the end like it's somehting scientific. Brit laughs calls it scientific cussing. Lane starts imitating Brendon swearing.

Check out last nights BIG BROTHER 12 UPDATES
4 DEEP The Brigade plan their next Move, And suspicions arise from Hayden's POV performance
and
Matt and Enzo about Rachels 5 grand, "I'll take that money and i'm still putting her up"