Midnight Taj Room Brit and Kristen Kristen tells her that her loyalties are with Brit and will will stick with her if she uses the POV. Brit want's to use it but she's worried about the replacement nominations. Kristen is sure they will put up Kathy because that way they're hands are clean. Brit isn't convince she thinks that if she uses the POV Rachel will be spiteful. Brit thinks rachel will put up Matt. Kristen tells her that she knows that if she used the POV on her that someone is going up and that scares them both. Kristen tells her she would be with brit to the end if she kept her. Kristen will protect the people who are protecting her, "I want solid people next to me". Kristen talks about people that shes hade a connection with, she felt that Andrew was funny and smart. She agrees he had his quirks but he was a good guy. Kristen feels like she deserve a second chance she deserves to be here and wants to have the opportunity to win HOH.
Kristen starts to lay into her offers, Anyone who gives me a second chance will be safe by me, I would use the pov on them and I would never put you up. Having the POV used is a lifesaver for her outside the house, Kristen says she has no job and if she doesn't make enough in the stipend she will be living on the streets. Brit knows it's tough to be on the block and to know that the HOH is gunning for you she was in the same position week 2. Kristen says she will sacrifice her entire game for Brit, is 100% trustworthy and as long as Kristen is in the house she can promise Brit that she'll do whatever it take to further brit in the game. Brit understands what Kristen is doing but isn't sure if it would be best for her. Kristen offers up her services as a pawn. Brit says it all makes sense to her and she believes in whats kristen is saying she wants to wait till hayden comes out and then they can all talk about it, Brit needs time to think about all this. Kristen nows says that brit could take off Hayden it's all the same to her. If I stay up no matter who they put up, I'm gone. It would make me happy to see him off the block. Brit says that next week it's the house against Brendon so the odds are in their favour.. Brit: "The Odds are against b/r". Brit leaves and tells her that she'll figure out a time when they can talk.
12:30am HOH Rachel and Brit Rachel asks about the talk Brit just had with Kristen. Brit says that kristen has been pleading her case. Brit tells her a heavily modified version of the talk. Essentially says that Kristen was telling her that she a strong competitor and deserves to stay. Brit says that Kristen blames being on the block on Andrew. Rachel just roles her eyes.. they start to talk about next weeks HOH and possible nominations, Brit asks her who B/R will put up next. Rachel is sure it will be Hayden and Kathy. Brit says she is pissed that Kathy is going around saying all she wants to do is get to the jury house. rachel says she wants brit to go final 3 with her and brendon. they can work together to get out the stronger players these coming weeks. Rachel is so glad they are friends now really didn't like all the fighting they had earlier in the season. Rachel says to Brot that Kristen did this to herself, she made it far in the game even though she was so meddling in rachels business. Rachel asks Brit about LAne, "Where is his head game wise" Brit confesses that she doesn't talk game with lane, rachel figured as much she thinks Lane doesn't talk game with anyone he's just a floater. (brigade has everyone fooled yo) rachel asks her about Enzo, Brit says same thing she has no idea with him since they never talked game, Enzo's always making her laugh but she's never seen him talk game. Both girls are sure that a twist is coming this week and they think it has something to do with the saboteur…Rachel says they should swing enzo in to final 4. Brit leaves telling rachel she's going to sleep on everything they talked about she really likes b/r.
2:30pm Backyard Enzo, Lane and Brit Brit is going over the conversation she had with Rachel. Brit gives the guys a accurate recap minus the final 3 deal. Brit says that B/R want to take enzo far they are confident that he will not put the up. Enzo tells them about how Brendon has been talking to enzo non stop all day enzo thinks b/r are scared because rachel can't play HOH this week so essentially its all of them against Brendon. Enzo now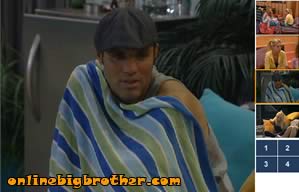 wonders what ragan and Kathy will do if they win HOH. Brit is pretty sure Ragan won't put b/r up but kathy might. Enzo wonders if kathy is really as dumb as she acts, Brit thinks she is. Enzo re caps a talk he had with Kathy were Kathy was freaking out about going up on the block if Brit used the POV. Brit "why in hell would I use the POV" Enzo :" kathy needs to calm down she's not leaving this week she'll be leaving next week" Enzo wants to confirm with Brit that they are voting out Kristen this week and no using the POV. Brit tells them she's talked to Kristen and Kristen offered her something but she won't take it they need to evict Kristen and move onto taking out b/r. Enzo thinks thay maybe they should take rachel out first because she's so vile to live with. Brit thinks that would be a bad idea, she's sure if Brendon leaves rachel will turn into aches and crumble. Lane finally chimes in tells enzo that all this talking to Brendon today has made them friends. Brit scoffs, complains that Brendon won't stop talking like a english wizard and it's getting annoying (Brendon talked in a accent during hosting the comp) . Enzo mentions that that Brendon tried to make him swear on his family, "That needledick my daughters name should never come up in game talk" Enzo can't wait until they put those 2 people up so he can finally "cuss" them out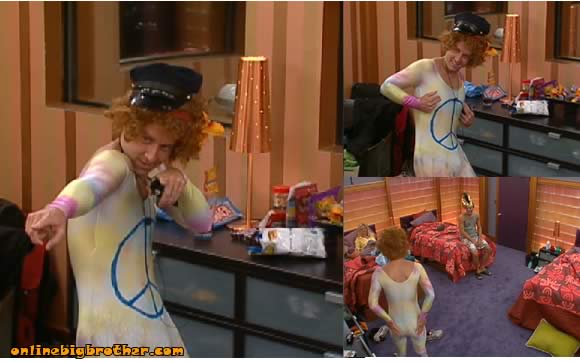 3:20pm Taj Room Matt Tries on the hittpie tard Enzo is running around saying that matt looks like weird al yankovic.
FREE Live Feeds! Superpass 3 Day FREE Trial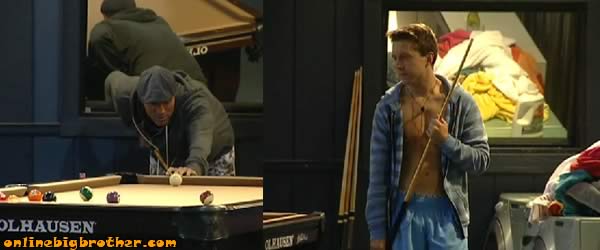 3:40pm Backyard MAtt and Enzo Enzo tells matt he wants Rachel out first before Brendon. Enzo thinks that Rachel is a much stronger player then Brendon. He's been talking to Brendon a lot lately and he's convinced he's not as big of a threat by himself as rachel is. They mention how Rachel is going to offer the 5 grand to not be put up next week. Enzo and Matt both plan on talkign to DR and finding out if they can promise to not put her up take her money then still put her up. Enzo and mat: "Fuck her, I'll take that money and i'm still putting her up". They start screaming out "THE BRIGADE" Enzo can't wait until they out the brigade he's going to run around scary whoever else is left telling the the brigade is coming. Matt adds that a couple shoots "THE BRIGADE" they joke about final 6 with ragan and brit where they will run after them screaming brigade all night. ..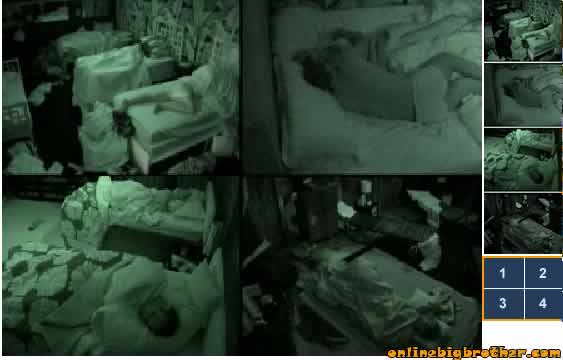 4:26am Everyone sleeping…

7:49am Everyone sleeping…

8:51am Everyone sleeping…

9:43am Everyone sleeping…