SEE what they CAN'T show you on TV! 3 Day FREE Trial
12:50pm Brendon, Lane, Matt, and Britney are in the kitchen making lunch and talking about pandoras box. Brendon asks if hes going to stick his hand in it. Matt says he's stick his dick in it. Matt says that the letter he got for being HOH was more like a have not letter. Matt says that he only asked his dad one thing and that was to mow his lawn once a week and he writes me to tell me he cant do it. They laugh. Matt says that what probably happened was that they only had a limited time to write it. Matt says that they probably only had 15 minutes to write it and it would take them 10 minutes to turn on their computer cuz they don't know how to do that and then they would type one letter at a time. They start talking about slop and if it's a real product. Britney says that its not that great of advertising if it is a real product because some people might what to try it to see how bad it is but never buy it again. Britney says that it is still gonna be 3 hours till the nominations. Matt, Lane, Kathy and Britney go in to the lounge room to lay down. After awhile of silence Britney gets up to go have a nap and Lane goes to marinate steaks.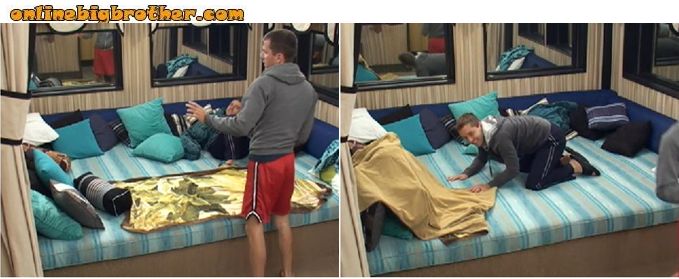 1:15pm Lane and Ragan are in the bedroom talking. Ragan says that they (Rachel and Brendon) are going to try and throw people under the bus and that they just need to not listen to them. Lane agrees and then tells Ragan about his new game to play with Rachel and Brendon. Ragan then heads to the lounge room and tell Matt all about Ragan conversation that he had with Rachel earlier. Matt says that's funny that they would even talk to you like that. Matt says that he now has to consider jury votes now and that he has to be as tactful as he can. Matt says that they will try and talk to him about jury votes and that he will tell them that he just wont blast them in front of the others. Ragan complains about still being on an indoor lock down. They wonder what they are doing up in the HOH room since they wont let Matt up there. Matt says that they are probably just trying to make a really nice bed for him. Ragan then uses the pillows and the blanket and show how normal people make a bed and then how Matt would want his bed.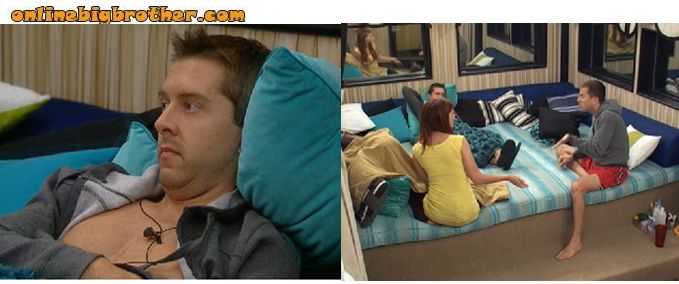 Rachel comes in and says I know nominations are today and that you probably already have your mind set up ….but can we talk. Rachel says that lets make a deal. Rachel says that she knows Matt will put them both up and that they will win the POV. Rachel says that then you will have to put someone else up. Rachel says that she knows people hate her and that she doesn't have any friends in the house other than Brendon. Matt says that he thanks her for not bringing in Brendon. Matt says that he told them once they made it to the jury house that they would play it out and that's what he is doing. Matt says that they are super strong competitors. Rachel says that Matt and Ragan are a pair. Ragan inturupts and says that they are not a pair that Matt doesn't control his vote and he doesn't control Ragan's vote.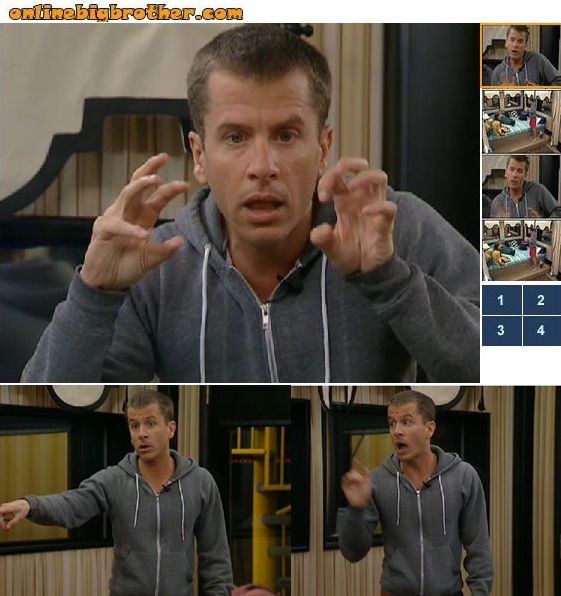 WATCH THE FIGHT ON SUPERPASS! 3 Day FREE Trial
Ragan and Rachel start to really get into it. Rachel say that she has done nothing but fight to be here and that she has been in a corner since week one. Ragan is claiming he always treated Rachel with dignity and respect. Ragan says that zero people have come to him to make an alliance. Ragan says that he has defended Rachel numerous times. Ragan is offended that Rachel called Matt and Ragan a pair. Brendon comes in stands there behind Rachel. Ragan says again that he is not a pair with Matt. Brendon says that they are just as much a pair as him and Rachel. Ragan says oh no it isn't just the same thing. Matt says he doesn't have conversations with people with Ragan or vice verse and Brendon says neither do we. Matt says that he completely disagrees with that statement. Brendon says well, when it's two against one I have to defend her. Matt says he understands, even though it was not two against one at all. Brendon leaves the room.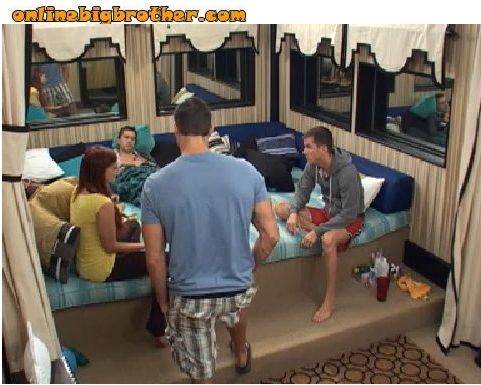 Ragan goes out to the kitchen and Brendon tells Ragan that he shouldn't have been attacking her and that two on one isn't right. Ragan starts explaining the story to Lane and Enzo and Rachel comes out and starts freaking out on Ragan telling him that the whole house doesn't need to hear about their disagreement. Brendon then comes out and they all get into a yelling match. Brendon says that he is pissed that it was a two on one fight. Ragan says that Brendon doesn't even know what it was about and that it wasn't even two on one so that before he comes in and makes assumptions he should ask first. Brendon says that Rachel is a girl and his girlfriend and he is going to stick up for her. Ragan says to ask what is going on, we are friends do you think I'm just going to attack Rachel. Brendon says to discuss it in front of everyone. Rachel says that this is Big Brother, expect the unexpected and that no one needs to know what Ragan and her talk about. Ragan says that the house asked because Brendon he was ganging up on you 2 on 1. Brendon says that he saw two people yelling at one. Brendon is mad a Ragan for coming out and telling tales. Rachel says that she doesn't want everyone to know. Rachel then apologizes. Rachel says that maybe I'm an emotional BLANK but I'm a girl and girls are emotional BLANK. Rachel Apologizes to Ragan. Brendon apologizes to Ragan. Ragan apologizes to Rachel.
WATCH it all on FLASHBACK!! Superpass 3 Day FREE Trial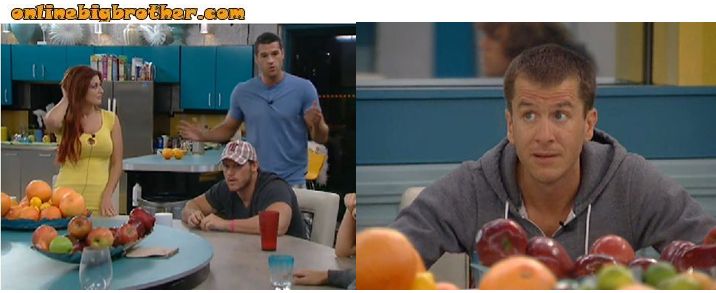 1:50pm – 2:15pmRachel and Brendon go in to talk to Matt in the lounge room. Rachel and Brendon are trying to make a deal with Matt where they are all on the same team, otherwise house will go after Matt once Rachel goes. Rachel thinks Matt would be the next target of the house after she left, not Brendon, because of the HoH's Matt has won. Rachel has won the quiz HoH's and Matt the endurance HoH's. Rachel asks Matt, Is it smarter to have someone on your team who's winning things or to have someone on your team who just feels comfortable? Matt that Rachel keeps saying that people hate her when its not the case, it's just that Rachel is viewed as a strong competitor.
Matt agrees that unlike other people in the house, he and Rachel are actually tying to do things, push the game forward, and not just watch. Matt says that he is in the house competing for something bigger than just winning money. They talk about possible competitions and strategies. Rachel says if you take me out all quiz competition will be up in the air. Rachel says that when she was offered final 4 deal she thought it was stupid. Rachel says that she is not going to be dumb enough to take the deal and go against people that she likes. Matt asks hy wouldn't you have put Kathy up last week? Rachel says because that would keep Kristen and Hayden in the house. They would've come after me and that Kristen is manipulative. Brendon says that she is manipulative and she would flip on you. Rachel says that week 4 she tried to make a final 4 deal. Matt asks why is that a bad thing. Rachel says week 4? Rachel and Brendon still talking to Matt about how he can't focus only on the final 3 stuff though. Matt asks Rachel what were you thinking before you walked in this door? Rachel says that she was thinking she was BLANK. Matt laughs and says you two seriously need to work on your game play.