SEE what they CAN'T show you on TV! 3 Days FREE No Commitments
10:20pm HOH Matt and Brendon Matt reminds Brendon that he's not playing the game personally He has a good reason to put b/r up and it's based on game and logic. Brendon tells him he's not thinking he wants to stay, Matt thinks the vote will be unanimous decision of how Rachel has been acting. Brendon is sure Rachel will calm down after tonight. Brendon has tried to talk with Ragan but he being too cold and takes the game too personally. Brendon ask him what the general feeling of the house. Matt has heard it back and forth at first it was Brendon but now it's shifting to Rachel. Brendon says that the females have a fatal flaw in this game they get so emotional and have trouble detach. Brendon says he doesnt care about the game and wants everyone to get along. Matt agrees he wants the house to simmer down. Matt tell Brendon he doesn't like what having to put people up but this is the game players that the house want out have to be put up.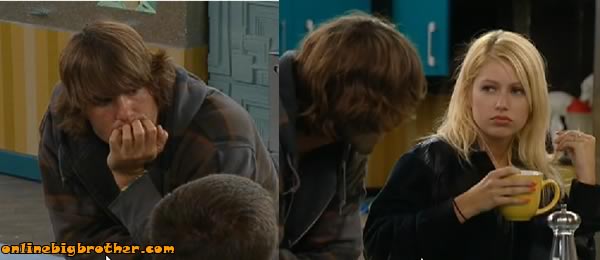 10:35pm Matt, Lane, Hayden Lane saying that he overheard B/R talking and rachel was saying she hates Matt. Lane is positive that Brendon was trying to get Rachel to apologize to Matt but she's so pissed off she can't do it. Matt doesn't want anything from Rachel, in his opinion she should just keep her mouth shut for the next 5 days. Matt tells the guys that Rachel is already starting shit in the house and making him look like he's the bad guy, He wants them to be ready for what happens these next couple days because he's guessing it's going to be ugly. They start going over votes as long as they can keep 3 brigade members off the block then they should be able to keep Matt if he's up against Kathy and ragan. However they're worried that if Matt is up against ragan the saboteur vote might go to Ragan. MAtt is a bit worried that Brendon might put Lane and him up because of the argument lane had earlier today. Hayden doesn't think so if lane goes up it'll be with brit. hayden is really questioning what kind of future Brendon thinks he's going to have with rachel. Hayden: "you know I hope they do get married have 8 kids and live together until there 80 and be happy.. but I don't see that happening.. 2 months down the road I see some guy paying Rachel 20grand to fly to Paris… Brendon's going to be hurt but she'll just tell him it's part of her job". Brit and ragan join them they generally just talk about how fucked up Rachel is right now and how they wish they could avoid the drama. A lot of the conversations from the day is being rehashed. Rachel comes into the kitchen and walks up to Ragan asks if they can go talk. Ragen says: "umm i'm not ready to talk to you right now".. rachel "I really want to talk".. ragan: "Well you know i'm not going to be ready to talk to you at your beck and call i might be ready tomorrow" Rachel storms through the sliding glass door, heads outside and vents to Brendon and Enzo (yo).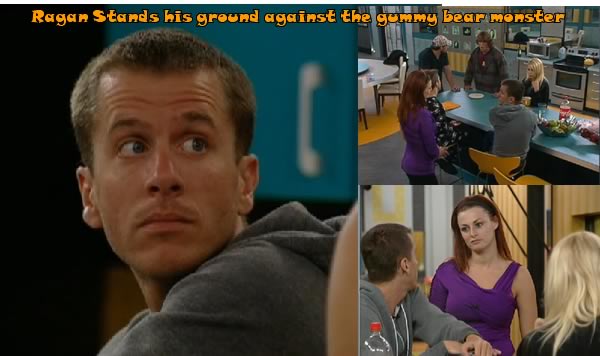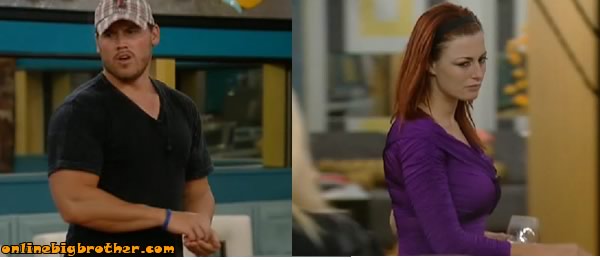 11:15pm Kitchen Lane and Brit Rachel gets called into the DR, Brit starts the countdown 5..4..3..2..1.. Rachel walks into he kitchen on her way to the DR she gives Brit and Lane the look of death as she marches through.



11:39pm Kitchen Brit, ragan and Matt Going over the craziness that will happen when Rachel get out of the DR. Brit: "She going to be a angry drunken mess" Matt: "wait.. she's drinking?" ragan: "Oh yeah she is on her second glass of wine" Brit says that after all the bullshit B/R have put every single person in this house through she's just had enough she wishes she had a 72 hour solitary confinement pass to put whoever she wants in. ragan aks if she'll put him in it. Brit tells them she's had enough with B/R. Brit: "his voice gets on my nerves her voice gets on my nerves it sickens me being around them knowing what they've said about me"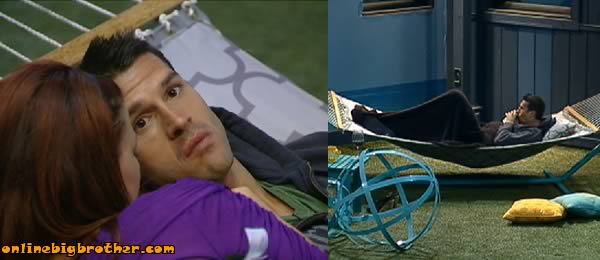 12:12am Hammock Brendon and Rachel They going to go out guns blazing. Rachel says she'll teach him everything she knows about big brother they will be able to beat the others. She says it's his time to win HOH he can do it, it's going to be a quiz and ragan and brit are the only 2 that can compete against him. She says ragan gets too nervous and chokes and Brit thinks he's better then she really is. Rachel thinks Matt and ragan are going to try and get HAyden on their side so Brendon has to start working Hayden and pull him in. Brendon: "I have Hayden I'M 100% POSITIVE" (oh he's in trouble) Rachel: "you enzo and Hayden have a really good chance to make it to final 3 but you need to stick together and you need to win HOH next week" Rachel warns him that Brit and LAne are tight so he need to take one of them out fast. She's not worried about Enzo he doesn't give a fuck.. Brendon gets called to play a game of pool enzo goes up to talk to Rachel on the Hammock and comedy gold happens. Rachel: "Enzo.. i'm really worried for you" Enzo:"yo what…whats happening". Rachel tells him they will talk later, she's going to tell him everything. she tells him she's a master of the BB quizzes she can anticipate the questions and she knows all the answers. She needs to know if he's on their side because Brendon needs friends and she doesn't think they will get far without people on their side. Enzo: "What do you mean like me, Brendon and HAyden?" Rachel :"Yeah!" I will teach you everything to get through… Feeds cut out