8:30pm Brendon and Rachel are in the bedroom talking. Brendon says that he wants to do something for her. Rachel asks what? Brendon says that he wants to take a bullet for her. They talk about the other house guests and how they're playing the game. Brendon says they control who stays and who goes to jury. Brendon says that Rachel has a better chance in the game and she says not without him. Brendon says he'll always be with her and leave his t-shrits around. They tell each other that they love each other. They kiss. Brendon says he hopes he sees Rachel win HOH on the TV screen after he is evicted on Thursday. Brendon says that he's fine with leaving and how he met the love of his life. Says he was put in this game to meet her. They make out some more. Rachel says she was here to meet him, too. Brendon agrees but says this is about him right now. Rachel starts to cry. Rachel wonders how they got, got. They talk about Jeff and Jordan and how they're still together, so there is hope for them. Rachel tells Brendon she can give him the $5000 and he says no. Rachel wonders if Big Brother will feed them in the jury house. Brendon says yes, as they won't let them starve. Rachel tells Brendon what she said to Kristen in her goodbye message and how she told her about coming between her and her man. Big Brother tells Rachel not to talk about their diary room sessions.

SEE what they CAN'T show you on TV! 3 Day FREE Trial





In the kitchen Lane, Ragan, Britney and Enzo are talking about the POV competition today. Britney makes fun of how Rachel was throwing the ball during the POV. Britney does a whole re-enactment. They're laughing. The conversation turns to talking about how Jeff and Jordan came through the front door. Ragan says that they didn't even look like real people. Ragan says that he thinks Jeff would have been a perfect fit for their season. Ragan and Enzo were excited to see new people inside the house. Enzo says they got to ask Jeff and Jordan questions when they came in. Enzo takes the food out of the oven and says it's done and nice and tender. Ragan says that's what she said.
9pm Brendon and Rachel are still talking in the bedroom. They wonder if there is wine in the storage room. Rachel says that she will take the bottle and not share. Brendon tells Big Brother to give them an extra bottle. Rachel calls Matt a douche bag because she shared her HOH champagne with him and he put her on the block. They start to talk about Vegas and how Rachel works for a company that gives tours/hosts events. Rachel says that she charges a lot of money for her to host different events. Rachel says that she was a celebrity in Oklahoma for all the events she did. Brendon says he needs to use the bathroom. Rachel says that her friend Amanda won Beauty and the Geek. Brendon asks if he could be on that show because of his degrees. Rachel says no, because he's a chic geek.

Meanwhile in the kitchen, Ragan, Hayden, Enzo and Lane are talking.  Ragan says that Rachel and Brendon's target is Matt they feel he is the most responsible for both of them going up on the block.  Ragan says that there going to lie about him they're going to talk shit all week long.  Ragan says that the the only negative things I've heard Matt say was towards Brendon and Rachel never anyone else in the house.  Enzo says that they think he's the saboteur that's what they're telling people.  Ragan says that he's not the saboteur.  Hayden says that he knows he's not.  Feeds cut when we come back there all piling food onto their plates.   Rachel and Brendon come into the kitchen to eat.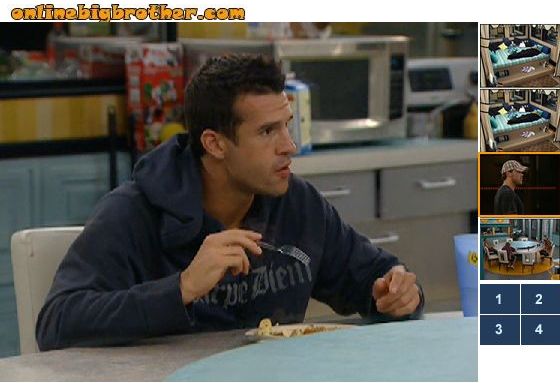 Try the Live Feeds For FREE!! SUPERPASS 3 Day FREE Trial

9:20pm Rachel and Brendon are at the kitchen table talking. Enzo says that he knows how people can be dramatic and then he says save the drama for your mama. Brendon some people around here are really callous. Rachel says that she can make things dramatic some times. Enzo says yeah I know …and you're on your period so … They laugh. Brendon says some girls use that way too much as an excuse, then Brendon says its not like we can check or anything…. (WTF) Rachel says that when she first saw Jeff and Jordan, she didn't know whether to hug them or shake their hands. Enzo says that he gave them a hug. I haven't seen people in years… I hugged them.. I was like these are people! …let me learn from you, teach me. Enzo says that he can't believe we're 40 days into this bitch yo! Brendon says that he didn't want them to leave because they were so down to earth and nice. Brendon starts talking about how he has been thinking of tattoo ideas, and that he wanted to get a Latin tattoo Plato is my friend Artistole but my greatest friend is truth.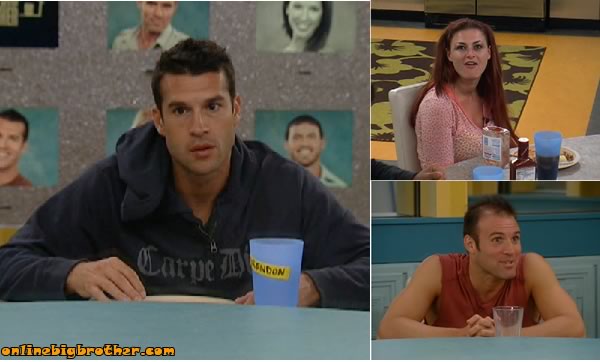 9:30pm – 9:45pm Brendon and Enzo talk about how cute Jordan was. Brendon says that Jordan carried herself very well. Enzo says yeah she was hot. Enzo says that they even said Meow Meow to him when they met him so that's how he knows they are watching them. Meanwhile in the backyard Lane and Hayden are playing pool. They talk about how they think Enzo is going to win the 25 grand in the end from America because they think America loves him. They says that Julie always asks him a question every week plus Jeff/Jordan were joking about the meow meow. They talk about how it was just like the Jeff and Jordan season where they were asked questions every week by Julie. Enzo joins them at the pool table. They talk about how they will get Brendon out next week. Enzo tells them all about how Brenden was saying that he didn't want to be there without Rachel. Hayden says that he should voluntarily exit the house and that he will be remembered forever. Enzo says that he just knew Jeff wanted to say Brigade! Enzo says that he wishes that they could do a diary room session together. Hayden says that they have to do a 4 way diary room session together soon. Enzo says yeah we'll do it after Rachel Leaves yo! Enzo says that it's tough to do with out raising suspicions. Enzo asks them if they think Ragan was right about another movie and says that the Brigade should win it so they could watch it together.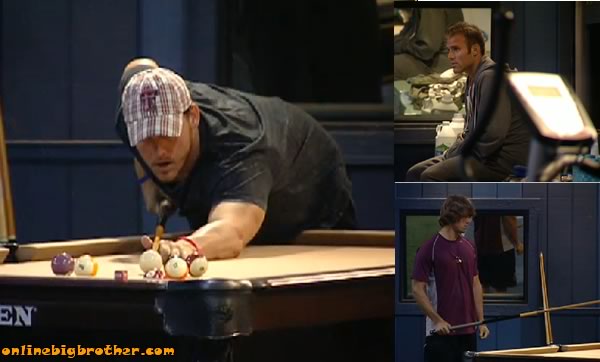 9:50pm – 10pm Brendon and Rachel are in the storage room whispering. They talk about how Ragan, Kathy and Britney are best friends now. Rachel says if she stays in the house, she'll be all alone. They leave the storage room and head to the bedroom. Brendon tells Rachel to keep her chin up. Rachel asks when did she become the bad guy. Brendon says that Hayden won't let that happen. Rachel tells Brendon that she doesn't want him to leave … Rachel then says that he should stay because he is so much stronger and better at this game than she is. Brendon says no stop. Rachel says that she will be so sad when you leave. And then that Brendon is not a big Big Brother super-genius, but that she can give him all her knowledge. Brendon tells Rachel that this is the first day after the POV and since we know one of us going home, enjoy the time we have. Rachel says that she doesnt think that she can stay in the house without Brendon. Rachel asks why would Matt try and break up love when he is fighting for his wife and love… why wouldn't he align himself with people that are fighting for the same thing? Brendon says I know, I know… Brendon keeps trying to get Rachel to come out to the backyard because they have been inside all day. Rachel says that they are all insensitive and that they attacked her at her lowest and its not fair. Rachel starts going off about how the others were upset about her telling the floaters to grab their life vests…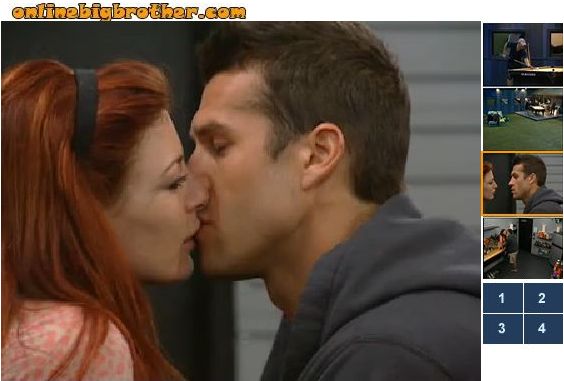 10:00pm nipple slip
SEE what they CAN'T show you on TV! 3 Day FREE Trial