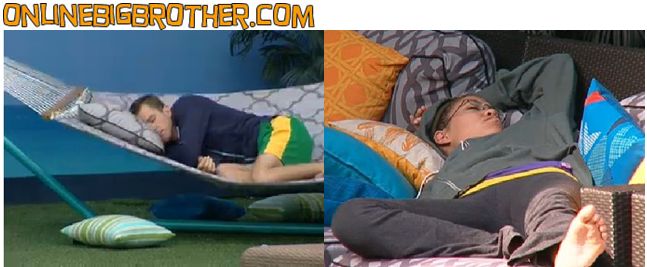 SEE what they CAN'T show you on TV! 3 Day FREE Trial
8:45am Big Brother wakes up the houseguests for the day. Ragan heads straight for the hammock and goes back to sleep. Monet goes to the backyard couches and lays down. Matt and Lane are in the bedroom talking. Matt sums up the conversation he had with Ragan last night in the hammock. Ragan tells Matt that Brendon and Rachel are suspicious of Matt, that they wanted Ragan to spy on Matt and find out who Matt would put up but Ragan told them he wouldn't do that. Matt says that Ragan thought they might try to flip the vote and if they did then they wouldn't even tell Ragan, that it might be a good idea for Matt and Ragan to disassociate for a few days, and that after this week Ragan would not be allies with Brendon and Rachel because he didn't like how they ran the HoH. Matt tells Lane that Ragan is disgusted by the way that Brendon and Rachel have been running the HOH this week and doesn't want to be associated with them.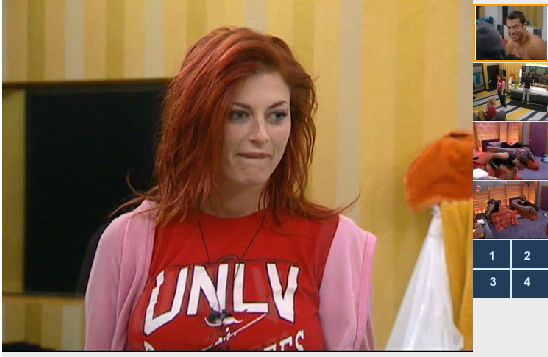 9:15am Ragan and Brendon are sitting at the kitchen counter talking. Ragan is talking about his family life. Enzo, Hayden and Kathy are trying to sleep in the lounge room. Matt goes out to lay in the hammock and Lane comes out to workout. Matt tells Lane more about his conversation with Ragan last night. Matt says that Ragan was getting all teary eyed and shit. Lane says that he has a change of heart about Ragan ….he says that before he may have put Ragan up on the block if he was HOH but not now.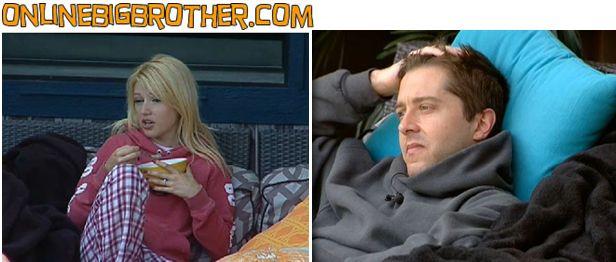 FREE trial Uncensored/Unedited Live Feeds for Free! 3 Day FREE Trial
9:20am – 10:10am Matt joins Britney and Monet on the couch. Britney asks Matt if he would rather listen to Brendon talk about how smart he is for 4 hours or go out with Rachel in Vagas but not be able to drink. Matt says I don't know … probably Vagas. Britney says but you would have to listen to Rachel when shes all drunk. Matt tells her that he can tune anyone out. Britney says that Rachel was trying to be nice to her this morning and told Britney if she ever wanted to talk. Britney jokes and says ummm..yeah if I ever want to know something about valtrex. They talk about how disgusted they are with how Brendon and Rachel are running the HOH. Matt says that Hayden really impressed him with the way he ran the HOH the first week. They all talk about how bad they want to get Brendon and Rachel out next week. The feeds cut out and when they come back Matt is talking about who he would evict. Matt says he would get out Brendon, Kathy and Andrew. Britney says that in her HOH they're going to give her mood lifters. Matt says he really wants to get HOH. Matt is says he'd want to take Kathy out next because she is playing discussing. Monet says that she doesn't think Kathy even has the capability to even press a buzzer. Britney comments how entertaining could Kathy be …all she does is smoke and do laundry. Matt says that he just wants to fast forward to Thursday and that he hopes they let them watch the HOH competition if they go out. Britney says she will be sad if either one of them leaves this week. Britney says that if she got HOH there would be self help books in there. Britney says that she knows Annie was the saboteur but that she really thinks they made the wrong decision and that they should have gotten Rachel out. Ragan joins them on the couch. Britney says that if Ragan had just a little less morals he would be banging every one in the house. Ragan says if he had less morals he would have come into the house with crabs and a venereal disease. Ragan says he wouldn't have even made it into the house if he had anything …with all the blood work the had to do to get into the house. Ragan and Matt go and workout.

Share it YO!!
Tweet