Ragan and Matt are talking while they workout. Matt talks about what his eviction speech would be, he says he won't even acknowledge the fact that he's on the block and will simply say, Natalie, you're a horrible person. Thank you all for letting me be here. They joke about how Natalie only showered one or two times a week. Ragan says that Jessie must have liked his women ripe.

10:20am Brendon and Rachel are making out up in the HOH bed. They get under the covers and then Big Brother calls Rachel to the diary room. Brendon yells out MOTHA …UUGhh!! Rachel says thats a super cock block.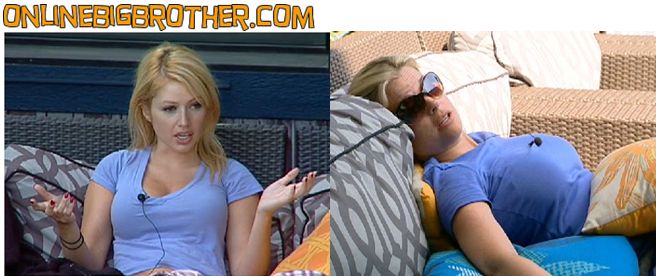 SEE what they CAN'T show you on TV! 3 Day FREE Trial
Kathy and Britney talking on the backyard couch. Britney talks about how much she misses home and that everyone had to leave something to come into the house. Britney says the game changes people. Kathy agrees, and it's up to you whether it's for good or bad. Britney says that watching at home, she used to think in a Final 2, the person who played the game better, lied to people, should win. Britney says but now it has a lot more respect now for people who may not play the game as much but keep their dignity and stay true to their word, its a lot more to do with respect. Kathy agrees.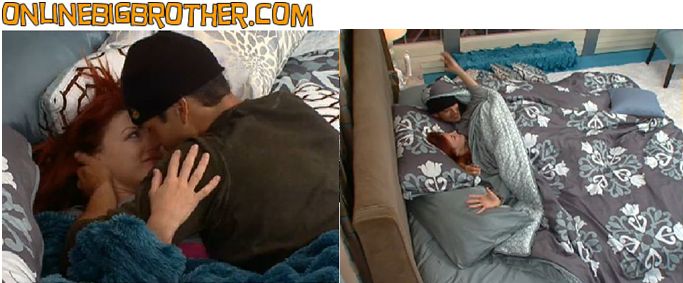 10:35am Rachel and Brendon are back to making out. Brendon and Rachel are dry humping under the covers. Brendon says you do it really well. Rachel says I know. Kathy comes up and totally interrupts them. Kathy starts talking about what she was talking to Britney about how the person she would vote for has to have integrity in their game play. Kathy tells Brendon and Rachel that they know how hard she (Kathy) struggles with maintaining her integrity and playing the game with respect for others. Kathy says that the only reason she is mentioning it is because she is worried if Britney says the same thing to Andrew that Andrew could be swayed.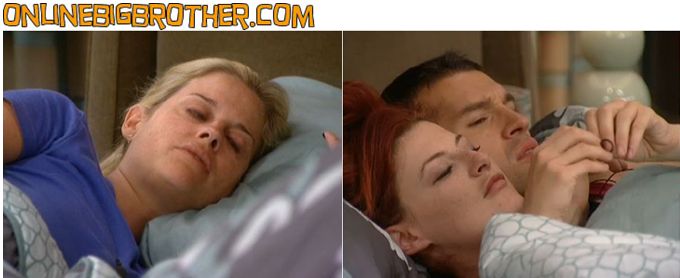 Try the Live Feeds: 3 Days FREE
10:50am – 11am Brendon says that he is going to go talk to Andrew and find out how he's doing and if Britney has hit him up yet. Brendon thinks that Britney is trying to use Andrews religion against him. Brendon says that if he finds out Britney is trying to use Andrews religion against him then he is going to call Britney out in front of everyone. Rachel tells Brendon not to do that, that he should go find out information …but then come talk to her ..and not call anyone out. They are not worried that Andrew will switch his vote, they're just worried about him. Brendon thinks Andrew is okay with questions about his religion when it comes from a genuine place like from Brendon, Kathy, and Ragan. Kathy tells Brendon that Britney said the game is more about having respect for people who keep their word than people who play hard. Kathy feels that comment was directed at her. Rachel thinks you can play hard, without lying, cheating, stealing. Brendon feels Britney and Matt have lied and played both sides. Kathy says that she really likes the group they have, she feels they will play together, and if they go up eventually, it will be because there's no other option, and it won't be personal. Brendon thinks they need to get all sides of the house on board for taking out Britney next week, and thinks Enzo might even do it. Brendon doesn't think Britney will win anything. Brendon then leaves to go workout.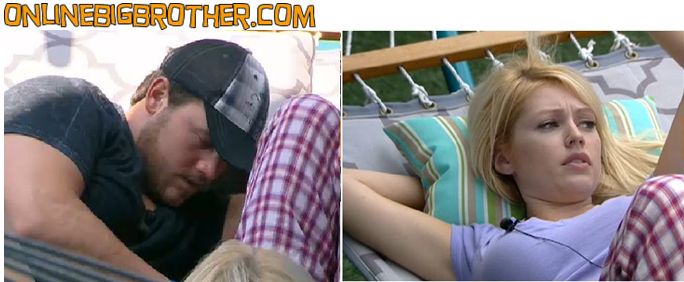 11:10am Britney and Lane are talking in the hammock. Britney says that she thinks a certain woman is a threat to her but isn't necessarily the next person she wants to get out. Brendon might be the threat to get out because she can't go toe to toe with him. Lane says something like in this game you can go toe to toe with anyone. Britney says that she doesn't think Brendon is doing that well in the mental competitions. Lane says that Brendon and Rachel have book smarts but not game smarts. Britney thinks it would have been the smart strategy for Brendon to drop right after her in the PoV, and Rachel after Monet, but instead Brendon tried to time it out. Britney says that she doesn't just want to get to the jury house, she wants to win. Lane says once jury house gets around, that's when you start playing the game, that's when the real lines come out. Britney says before jury house, there's two people she wants gone. Britney says she would obviously rather have Monet stay. Britney says that she thinks Monet needs Hayden's vote, tha'ts considering that he(Lane) and Enzo vote for her too. Britney says that she won't be doing a Brendon running around getting votes, that she isn't going to go around working for Monet. Britney says that Monet has to do it herself, weren't an alliance.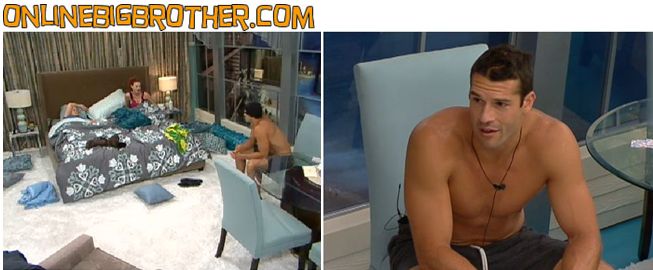 11:35pm Up in the HOH room Kathy is talking to Brendon, Rachel about how they should expose Matt for playing both sides before next HoH. Brendon to says all they need to do is tell Enzo as if by accident. Brendon says that he wants to ask Matt if he'll put Brendon and Rachel up, and wants Matt to lie to him. Rachel says that we already know Matt is a rat and a liar. They talk about how they don't want to expose Matt so much that people want him gone this week. Brendon and Kathy talk about how this weeks vote is already a done deal. Rachel jumps on Brendons back and Brendon says Its a good think I'm strong or you'd break my back before the competition. They then head to the backyard to workout…