11:35pm Kristen, Brendon, Kathy about what's up with Andrew. Kristen wonders what's wrong with Andrew. Brendon mentions that Andrew is wearing a white yarmulke and that he said it was some kind of religious thing. He says Andrew just needs space sometimes. Kristen says she can tell that something is different, and that Andrew wasn't even thankful after nominations that he didn't go up and she thinks something happened that they don't know about. Brendon says that Andrew said he would be distant for the next 25 hours. He says that Andrew is observing part of his religion, he is really devoted to his religion and it's a huge part of his life. Brendon says that Andrew doesn't open up much because he worries about being awkward or weird and he struggles with talking about it with them. Kristen and Kathy worry that Monet or Britney may have said something to upset him, that might make him switch his vote.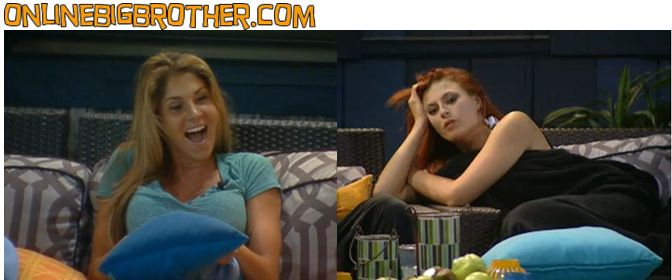 SEE what they CAN'T show you on TV! 3 Day FREE Trial
Matt, Enzo, Hayden, Lane, Britney and Monet are in the kitchen talking. The guys wonder what Kathy will to do when Rachel is no longer HOH. They joke that she is so far up Brendon & Rachel's butt that it's not even funny. They say that they think that she's just going to stick with them after her HOH is over. Enzo thinks that Andrew is playing possum in being distant right now. Britney says that what Rachel said during the POV ceremony was messed up. Rachel told Britney that she has been working on securing the votes for Monet's departure for two days. She thinks that Andrew is upset that he wasn't included in last nights pow-wow upstairs. Lane says what if your Britney wins HOH and Kathy comes up there to see you. Britney says she'll throw her fresh towels in her face. Britney says that this one week has changed everybody, it's unreal. Enzo thinks the next HOH comp will be endurance. Monet says she doesn't get why she is nominated. Monet says that it's just because Rachel personally doesn't like her which is a stupid way to play. Monet says to Britney I'll be like Lane I'll give you a lap dance if you vote for me.
12:10am In the backyard, the guys are in the hot tub talking. Matt tells them that Brendon and Rachel said exactly what he told them to do at the Veto ceremony. Enzo starts talking about Monet and says that this house ain't for you, you cry if someone looks at you, go home. Hayden says you won $10,000 have a great summer, see ya!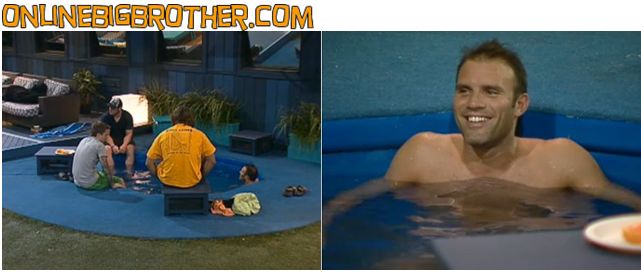 12:40am Up in the HOH room are Brendon and Rachel and Kathy joins them to talk. Brendon says that we are going to have to see where Lane stands and let him know you are either with us or against us. Brendon thinks Enzo has a mini alliance with Brit and Monet and Brendon thinks Enzo is going to try and pull Lane in. Kathy and Brendon say that they think that Monet, Enzo, Britney and Annie were in an alliance. They want to try and trap Britney by telling her that Annie told us everything, cut the bullshit, we know about your alliance. Kathy brings up the day she brokered an apology between Annie and Britney, she says Britney went pale when Kathy brought Annie and Brit together. Brendon says Britney was probably worried that their alliance would be exposed. Brendon asks Rachel if she is going to come down to the have-not room with him again. Rachel says yes, he tries to dissuade her a little because he feels bad she is sleeping in there when she is the HOH and has the big bed. Kathy says you mean I'm sleeping alone again?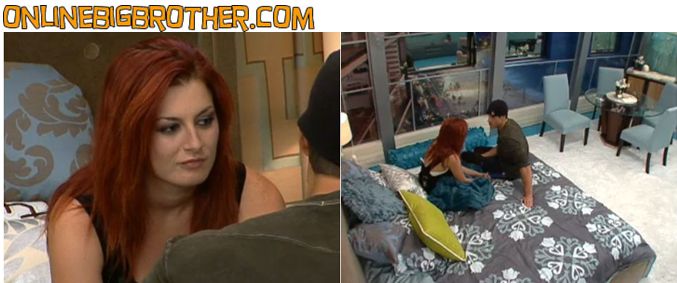 12:50am Kristen and Hayden are cuddling up to each other in bed. Kristen tells Hayden that she is really worried that Julie will ask them about them being a couple on the live show. They don't want to called out. They think they won't because Rachel and Brendon are a more public couple. They say they are just friends, they talk in bed, and then she goes back to her bed. Hay tells Kris that Brit said she didn't even want to make it to the jury house. Hayden says Britney told Lane that this afternoon. Kristen says that she thinks Britney is stupid for saying that. They both agree that they want to not only make it to the jury house, but to go all the way. They worry that Enzo might be a loose cannon. Hayden says that he thinks he and Kristen will be safe next week.

1:10am In the backyard Matt and Ragan are in the hammock talking. Regan tells Matt what he regrets doing in the game and that he doesn't want to watch the show after and say what a douche bag. Ragan says that he regrets these two things: Agreeing to vote out Rachel after Brendon won the POV no matter who went up against her, and the other thing he regrets is the entire conversation he had with Brendon, Rachel, Kristen, Kathy, and Hayden last night in HOH. Ragan then tells Matt everything about last nights meeting. Ragan says that he doesn't want to be strong armed into an alliance wants it form organically. Ragan says that Rachel and Brendon, primarily Brendon are artificially making a divide in the house. Ragan tells Matt last night the main topic was to put up Andrew or Matt. Ragan says their main reason to put up Andrew was to split the house. Ragan said B/R see Andrew as expendable and a tool they could use to split the house. Ragan says that with Matt up it's a sure bet Monet goes home, and that it doesn't force the divide that Rachel and Brendon want. Ragan says regardless the divide has already happened. Ragan says his problem is that if the divide goes down this path it would only last temporarily and the new HOH would change the dynamic. Ragan says there are people he doesn't want to be associated game play wise. He says Brendon is a snake and will through anyone under the bus. Ragan also wants nothing to do with Kathy because she is a floater and admitted to not wanting to try to win. Ragan says he was uncomfortable during last nights meeting. They kept trying to tell Ragan how Matt is playing both sides and that made Ragan uncomfortable to hang out with Matt today. And that pissed him off. He wants to hang out with Matt, he likes Matt, he likes Lane and likes Enzo and he wants to hang out with people he likes not who he is forced to hang out with. Matt says "between u and me if Andrew went up I would vote him out" he continues to say he doesn't like to be strong armed like Brendon and Rachel did to him and some others. Matt tells Ragan why he wanted to up. Brendon and Rachel told Matt they wanted him to vote Andrew to stay safe and Matt said he couldn't do that so he offered himself up. He felt he had a friendship with Brendon and Rachel and then felt strong armed by them and said if they were friends they would ask him to vote not tell him how to vote. Matt says he doesn't want to vote this week, he doesn't want to get stuck in dumb meetings. He says he may go home because of it and it's on him if he does he just didn't want to be apart of that shit.

Try the Live Feed Uncensored/Unedited streaming video for Free3 Day Trial


Ragan doesn't think Production wont do endurance this week, he says they will most likely do the game where you pick people to compete against each other in order to create more drama. Ragan says he has wanted to talk to Matt so bad all day. Says he wants to get to know people more, says he wants to through HOH, he doesn't want to have to pick two people to go up. Ragan says he has only heard one person say anything about Ragan and that's Britney. Matt is shocked. Ragan says it wasn't anything major that he heard her say I like Ragan but…. and that he didn't hear the rest of what she said. Ragan tells Matt that the 2 people who make him feel the most uneasy are Brendon and Britney. Regan says Brendon is digging his own grave. Matt agrees but says sometimes players like that slide by week after week. Ragan says like with Brendon he doesn't mind stabbing a player like him in the back. Matt says lets say you Ragan were voted out and watched the show is there anyone in the house you think you would be angry with at the wrap party. Ragan says he wouldn't go to the wrap party angry at someone. He treats people the way he wants to be treated, he will treat people the same way he is treated. He says if someone will through them in a meat grinder he will do it to them back.

Watch it happens as it happens!! Superpass 3 Day FREE Trial
1:35am Matt asks Ragan who he would put up if he won HoH. Ragan says it seems crazy but he would like to see Kathy gone. He thinks people will get Brendon out and no one will go after Kathy and will float all the way to the end. Ragan says the thing's Rachel has said to him has been borderline paranoid disillusion. She thinks the POV was rigged and that its reality television. Matt says if he wins HOH he has to split Brendon and Rachel up. Ragan and Matt tell each other not to say anything to anyone. Matt says it would hurt him as much to tell others what Ragan said as it would hurt Ragan. Ragan says a lot of the damage that was done this week can be undone. Matt says Rachel should back door matt if Rachel feels he is shady. Matt says they are smart people but dumb game players everything with them is we, we, and they keep making their target bigger and bigger. Matt says one of his deals with Rachel was to call out Monet and say that Matt is the pawn and Monet is the target. And Rachel did it even though she thinks Matt is shady. Not only did she say that she also said she gathered the house and got the votes to get Monet out which outted all the people who she wanted to help her. Ragan wants to figure out what to say to Brendon and Rachel because he doesn't want them going after Matt. Matt says well half the talk they are having is personal so it isn't a lie to say so. Says again he doesn't get how they are so smart yet bad game players. Matt says he can't wait to watch the show. Ragan says live feeders love it. Matt asks do u think they would even tell u if they wanted to back door me? Ragan says they would probably blindside Ragan with that so he couldn't alert Matt. Matt says that's even scarier. Ragan says Rachel trusts him and if he lied to her about the conversation he and Matt are having she would believe him.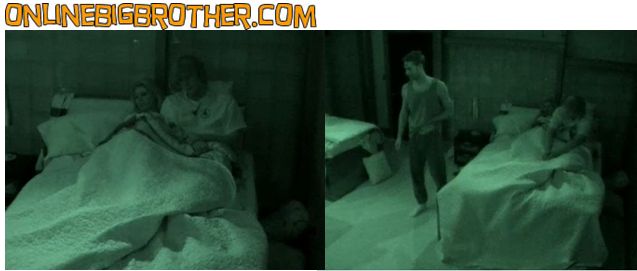 1:50am Andrew gets up and goes to the backyard and sees Matt and Ragan talking. Andrew comes back to the bedroom. Kristen asks him if they are keeping him up, he says no and tells them that Ragan and Matt are out on the hammock talking, just thought they'd like to know. Matt tells Ragan that Andrew has it out for him bad. And that Brit told him Andrew is voting for Monet to stay. So is Britney and thats where Matts worries starts. He says he was always nice to Andrew yet Andrew is gunning for him. Ragan pitches the idea that he can tell Rachel that Matt was worried he had heard Andrew is after him and thats why Matt is paranoid and thats why Ragan was comforting him (there cover for their talk right now) Ragan tells Matt how B/R think Matt is paranoid. And how Rachel liked Matt but was acting paranoid. Ragan told Rachel he thought Matt thought Andrew was the saboteur and that he was working with Brendon and Rachel. Ragan says he won't go to HoH but if he is asked by them he will just say they were talking about there lives. Ragan says it may be smart if Rachel does ask him because then Ragan will have the opportunity to call her out and say he likes Matt and just wanted to talk to him and guilt trip her. Matt asks how should he play this week? Campaign and look like a dick or not campaign and look cocky. Ragan says the goal is to keep Matt, and if he was Matt he would try to ease the suspicions of Brendon and Rachel because ultimately the only way he would leave is if he pisses off Brendon and Rachel. Matt says that he is not a big fan of this reign of terror that they're doing.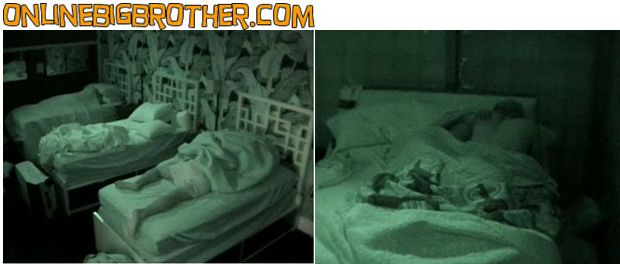 SEE what they CAN'T show you on TV! 3 Day FREE Trial
3am – 3:40am Kristen and Hayden are still up talking. Hayden says If I was to win HOH, I'd put up Britney, but against who? Kristen says I don't know I've been thinking the same thing. I'd probably put up Matt again as a pawn, what else would I do? Hayden says maybe Ragan. Hayden says that there is no place to go in the house to get away. Hayden says that he want Andrew to win HOH. Kristen asks are you sure? Hayden and Kristen talk about Enzo. Hayden says that he is pretty sure he wouldn't put us up, but with anyone, you never know. Kristen gives Hayden a kiss on the cheek and says that she has to keep it PG. Hayden It's hard to keep it PG. Kristen and Hayden start making out… the feeds cut out and when they come back Kristen is tells Hayden I'm fucked. Hayden asks why because of our situation? Kristen says yeah. Hayden says its his fault. Kristen says that it's not his fault, I've never done that in my entire life. I just feel really bad, really bad, I had no idea this would happen. Hayden says you mean with me? Kristen says yeah. Hayden says well we can stop. Kristen says but I like you so much. Hayden says I feel the same way about you, I don't know how to say it, I just want to be respectful. Kristen says she's not that type of person. Hayden tells her he really likes her. Kristen asks are you sure? Hayden says yeah I do like you, too much, too soon, too fast, especially for what we're doing in here. Hayden says America is going to hate me, call me a home wrecker. Kristen says no they're not. Hayden says they might. Kristen says she is trying to keep this as innocent as possible. Hayden says they can keep it PG. Kristen says it's going to have to stay that way. He agrees. Kristen says she is putting herself in her boyfriend's shoes, what if he were on a TV show and was hitting it off with some girl, how would she feel. Kristen asks Hayden if she thinks his girl is going to hate him. Hayden says no, she's pretty cool. He says that she knew the situation before he went in the house, he told her don't wait around for me said that they weren't in a relationship. Hayden says now America knows, they're going to hate me even more. Kristen says they are going to hate me too, they'll think I'm a bitch. Hayden says just as long as they know I wasn't in a relationship, neither were you. Kristen says but I was… Kristen asks so you want to be with that girl when you get back home. Hayden says I did before I came but now I'm questioning, she's great, I just, I don't know. Hayden asks do you want to be with your guy when you get home. Kristen says I did before, we had a lot of plans for when I get back, I think he wants to get serious with me, marry me, but the fact that this happened makes me rethink everything, part of me wishes I would have done what you did you know do your thing, I just didn't know this would happen. Hayden and Kristen go to sleep … all the other houseguests are already alseep….

Share it YO!!
Tweet