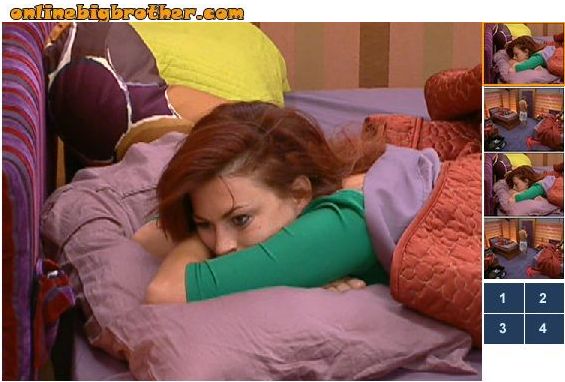 9am Big Brother wakes up the house guests for the day.  Hayden is in the bathroom talking to Enzo and Lane.  Hayden is making fun of how he was talking to Rachel in the bathroom and she just started crying and saying that everyone hates her.  Hayden says that she just looked at him and starts crying.  Hayden  says that Rachel said Hayden I am so sorry about sending Kristen home … and that everybody hates me in here. Enzo says oohh what?! Enzo says America hates her.  Hayden laughs and gets into the shower.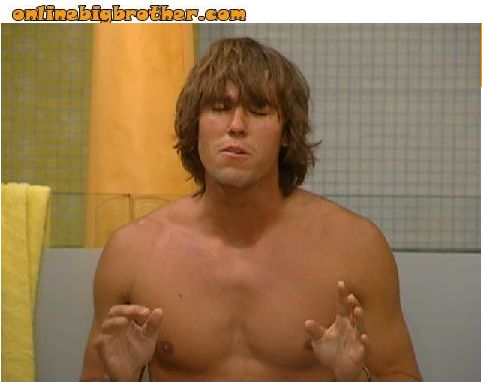 SEE what they CAN'T show you on TV! 3 Day FREE Trial
9:15am Matt and Lane are talking in the lounge room.  Matt tells Lane that he was up until 4am talking to Enzo.  Matt tells Lane that he and Enzo talked about Enzo getting in good with Brendon and making a sub alliance with him.  Britney come in and tells Lane and Matt that Rachel was crying to Hayden last night in the bedroom.  Britney leaves.  Matt says that getting Enzo to make a sub alliance with Brendon will throw the suspicion off the brigade.  Lane and Matt talk about how it's the best idea to get Rachel out now because Brendon isn't going to win shit.  Matt says that Brendon is a big dumb oaf.  Britney comes back in and says that Rachel isn't going to make pancakes this morning.  Lane says what?! …is she just going to stay in bed all day.  Britney asks Lane and Matt if they want cinnamon toast.  Lane does but Matt doesn't.  Britney leaves.  Ragan comes in and they talk about whether or not there will be a competition today.  Ragan doesn't think there will be but Matt asks why are they still working out there.  Ragan says because they are tearing it all down today.  Matt asks so they didn't do it last night. Ragan says no.  Matt asks Ragan if Rachel was still crying after she left the HOH.  Ragan says yeah, that Rachel was upset and crying to Hayden last night.  Lane says that she said she was sorry she sent Kristen home and that everyone one hates her.  Matt says the self pity is disgusting.  Lane says they disgust me …like eating something rotten.  They talk about how sore they all are from the competition.
v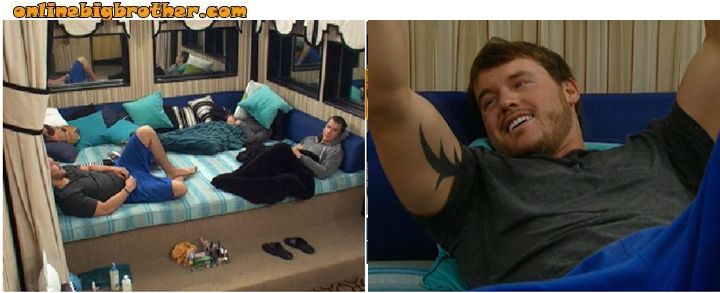 9:35am – 10am Enzo, Brendon, and Rachel are in the bedroom talking about the HOH competition.  Brendon starts complaining that the competition wasn't fair and that he just wants a real physical competition.  Enzo says that yeah it was made for people with small feet and that all the big guys were dropping.  Enzo says that he cut a deal with Kathy ….she could be a have not and he would be a have.  Brendon and Rachel laugh.   Enzo says that he feels like doo doo pie… like fresh doo doo pie.  Rachel leaves the bedroom.  Brendon and Enzo keep talking about the competition.  Brendon says that he thought at least some of these competitions would be somewhat athletic …but they're not. 
Brendon says that he cant stop thinking about how Matt is going to put up him and Rachel.  Enzo says yeah he probably is going to.  Brendon tell Enzo that Matt is probably coming after him.  Enzo says that if Rachel and you get split up and Rachel goes home …we should work together.  Hayden has no one now that Kristen is gone.  Brendon says if he goes they need to take him out.  Brendon says that he doesnt want Rachel to go before he does…. that she deserves to be here more than he does.  Brendon says that he doesnt trust Matt.  Enzo says yeah …he is always up there with Ragan or Britney.  Enzo says that he is pretty sure he is going to put you guys up.  Brendon says that Britney said that him (Enzo), Lane and Hayden are in an alliance.  Enzo says what the fuck because we play pool together.  Brendon tells Enzo that Matt had made a deal with them and now hes putting them up …and that Matt cant be trusted.

FREE Live Feeds on Superpass!!
3 Day FREE Trial



10:15am Rachel comes in to the bedroom and Enzo and Brendon are silent.  Brendon looks at Rachel and asks what?!  Rachel says nothing.  Rachel complains that she was told her shorts are too short.  Brendon asks who told you they were too short?  Who?  Brendon asks if its Big Brother telling her they're too short.  Rachel says no … and do you think any of the guys in here would tell me they're too short …no!  Rachel says that they're just jealous cuz she looks good in them and that she's got a nice ass.  Rachel says that Kathy was telling her that they look like underwear.  Rachel then changes in to a  short yellow skin tight dress. Rachel leaves and Enzo and Brendon joke about the competition. Brendon starts talking in his wizard voice about how he forgot to cast a spell to shrink his feet and to make himself smaller for the competition. They are laughing and joking around. Hayden comes in to the bedroom saying he wants to take a nap.