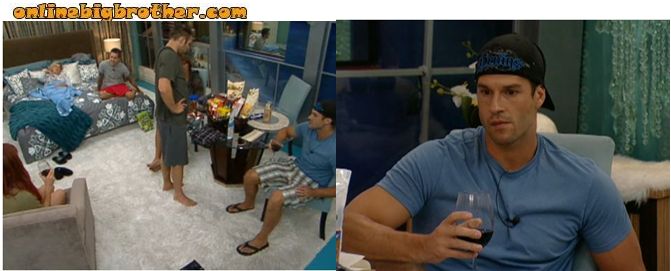 SEE what they CAN'T show you on TV! 3 Day FREE Trial
12:45am Everyone up in the HOH to see Matt's HOH room. Matt got a letter from his Mom , Dad and his fake sick wife. (Big Brother cuts the feeds when hes reading the letter, probably because he is lieing about his wife being sick.) He got White Castle burgers, ribs, California Pizza Kitchen, popsicles. Matt's music cd is Weezer. He got another picture of his wife that he has told everyone that she is sick when she really isn't. Britney looks at the photo of Matt's wife and tells him that she is so cute. Matt says his wife is Polish. Matt tells Britney that she will meet her one day. Matt tells everyone that they are welcome to eat anything they want. Matt got a lock of hair from his old dead cat. Matt says that he didn't get his fat picture. Rachel starts talking about Vegas. Brendon says here we go again.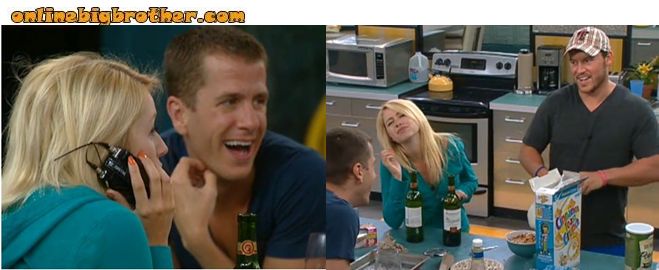 Lane is the first one to leave HOH. Britney comes down after to where Lane is in the kitchen and starts talking about being trapped and that they have to be careful using that term. Britney teases Lane that she beat him in HOH competition. Britney pretends to talk on the phone and says that she got 3rd place and that Lane should be embarrassed at his performance. Lane keeps saying that Britney didn't beat him, Lane says that he wears an 11 1/2 shoe. Ragan and Britney are laughing. Lane says that it was so much harder than it looked. Britney tells Lane and Ragan that the only reason she jumped off is because she thought it was only her and Ragan and Matt left. Britney says that she didn't want Matt to fall and have it be between her and Ragan. Lane says that he is sure he lasted longer than her and tells her to ask the diary room who fell off first between them. They start making fun of Brendon for complaining about how the HOH wasn't fair for big guys. They make fun of Brendon's feet again. Britney says she doesn't want to hear about Brendon's big feet. They make fun of Brendon for wishing for a running competition. Lane says its going to be heaven this week. Everyone else comes down from the HOH. Enzo says that tomorrow he is going on a fucking diet. Lane tells Enzo that he says that every week. Enzo then jokes that he should have taken the Have Not that Kathy was given for dropping out first.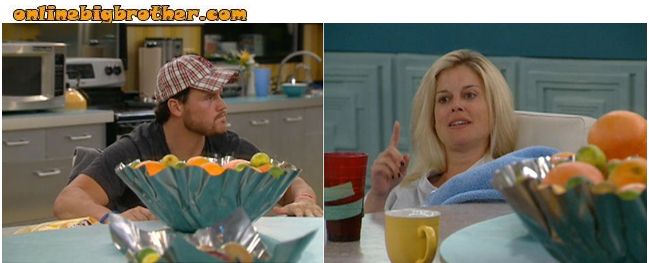 1:10am Kathy, Enzo and Lane are in the kitchen talking. Enzo talks about how he has not even starting to play Big Brother and he's already won a movie screening and a 3D TV. Enzo tells them to wait until the sleeping giant wakes up and you will see what he can do. Kathy asks Enzo if he has the power of coup d'état. Enzo says the power he has is bigger than that or anything else Big Brother has. Lane asks if Kathy felt pain up there while holding on and Kathy says she was fine up there, she just quit because she knew she couldn't make it to the end. Lane says her story doesn't add up. Enzo tells Kathy that she needs to come to the station and answer some questions. Lane says that he is going to shine a light on her face and ask her some questions. Kathy asks if Lane wants a phone book up side his head! Lane says you can't do that! Lane says that he wants her to show some cop moves and prove something. Kathy says that at least she wasn't the one up there whining like a little bitch. They all laugh. Kathy tells them that if you call a cop a bitch, that you can be arrested for disorderly conduct. Both Enzo and Lane don't believe her. Enzo says that it's freedom of speech. Kathy says you can arrest anyone if they say anything that offends someone. Enzo goes on to say that's why Europe is the home of the free because you can tell a cop to go shit in a hat and he can't do anything to you. Enzo asks Kathy if she would arrest someone who had a blunt of weed on them during a traffic stop. Kathy says no. Ragan says that he thinks weed should be legalized. Enzo and Kathy agree that it should be legal. They talk about how it could be legal by taxing it and making money for towns. Enzo says now they Kathy smokes weed. Kathy denies having smoked it. Kathy says that she wouldn't arrest them just make them put it out if they were smoking it. Enzo says he doesn't smoke weed but used to. Kathy asks Ragan if he smokes week. Ragan says how dare you! They say that if they asked for libations and got weed instead that it would turn this house upside down and even more crazy than it is now. They all think it would be fun if they could all smoke up and get high together.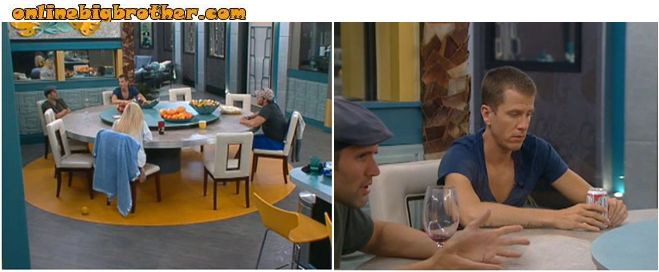 FREE LIVE FEED TRIAL! 3 Days Free With No Commitments!
1:30am Enzo, Lane, Kathy, Ragan change the subject and start talking about how they hope there will be a double eviction so they can get Brendon and Rachel out. They talk about how they all want to get Brendon and Rachel out of the house next. Enzo says he hopes Rachel goes. Kathy says Rachel will crack without Brendon. Enzo says she has been fighting from the beginning. They talk about if one of them would actually use the Power of Veto on the other if they won it. Enzo says Brendon might use it on her, but that Rachel might say she would use it on Brendon but wouldn't actually. The house guests get some alcohol. Hayden asks if it is even legal to give nine people four beer?!! They all start complaining about it not being enough alcohol. (LOL production probably didn't want Rachel to get drunk again.) Lane and Enzo head to bed and talk. They talk about how they hope they can win the POV to keep Matt's nominations the same so that they can send Rachel or Brendon home. Enzo says he is due for a win since he's played in all the POV and still hasn't won. Lane says they have to win HOH next week. Enzo says it's the 3rd most important. Lane asks why. Enzo says it's not the end yet, but it's a huge swing in numbers. Lane says they don't have any blood on their hands yet. Enzo says that it's coming and that they can't get to the end without getting blood on their hands. Enzo says they haven't even begun to play. Lane says they just need to send Brendon and then his wife home. Enzo tells Lane that he thinks Rachel should go home this week. Lane agrees. They laugh at how Brendon was acting in pain before he fell. He says you almost feel bad for him but it was horrible acting and too over dramatic. Enzo says they gave them both life for 2 weeks, week one and three with Hayden and Matt's HOH's. They both says that it is time for the two of them to step up and win something to help the Brigade. Enzo makes fun of how Brendon was acting before he fell. Lane laughs. They talk about how dumb Brendon is for trusting Britney. They don't know how Brendon doesn't know that Britney is close to both of them. Enzo asks what Lane thinks about how close Matt and Ragan are. Enzo says he is worried that Matt would choose Ragan over the brigade. Lane says that he doesn't think he would do that. They talk about who it would be best to evict this week either Brendon or Rachel and why one should go over the other.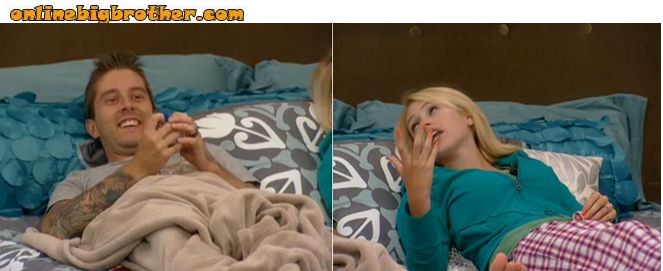 2am Up in the HOH room Matt, Britney and Ragan are talking. Britney talks about how Rachel was trying to get Britney to say if she had ever made out with a girl and Britney had refused to talk about and said that she doesn't even know anyone that has made out with a girl. Britney tells them that Rachel admitted to her earlier that she is not going to moving to Los Angeles to be with Brendon. Britney says they are going to break up. Ragan said that Hayden told him that we have to do everything we can to get HOH next week because they will be coming after Matt. Matt says he knows he's going to be taking a big hit for putting them both up and that they will come after him for this. Britney and Ragan say that they have his back. They talk about how Rachel has not missed a quiz question yet in a competition. Ragan says that it's his idea to get Rachel out first. They all talk about how much they don't what to have to listen to Brendon any more by think it would be best to send Rachel to the jury house first. They talk about how hard it would be to live with Brendon because he is so annoying. Britney says he and her have a big personality clash where they cant even talk and will never see eye to eye. They laugh about how Brendon complains about how unfair everything is for him. Matt heads down stairs.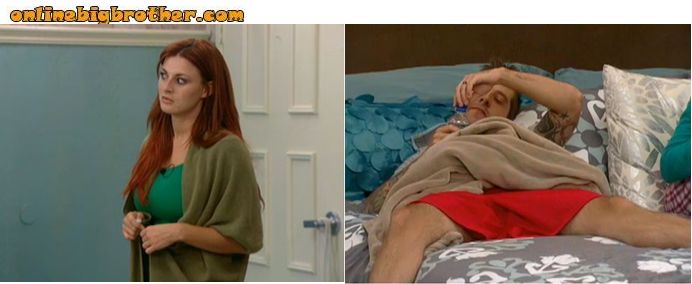 Watch all drama on FLASHBACK! FREE3 Days TRIAL
2:20am Rachel comes up to the HOH room and apologizes to Britney for putting her on the spot about talking about making out with girls. Brit tells Rachel that she is so ridiculous and that they need to hug it out. Rachel tells them to let her know if anyone wants to game talk. Britney tells Rachel to just make pancakes in the morning. Rachel says okay. Rachel keeps telling them that she is sorry for interrupting their game talk… Britney says no we were just talking. Rachel says that it just gets harder from here. They all agree and Ragan says that the more time you spend with each person the harder it gets. Rachel leaves the HOH room and Britney says that she wants to hang herself and says she can't do it anymore. Matt says that he knows Rachel knows what's going on. Britney says that she just cant fake smile any more. Ragan says that he thinks there's going to be a double eviction this week. Matt says guys, if you don't mind… obviously they are both going up but we have to get someone like Kathy out. Ragan says that he really wants to win the next HoH. Britney says that she does too at least in the next two weeks or she is going to shoot her face off. Lane comes up to the HOH room and joins Matt, Britney, and Ragan. Lane tells them that Brendon and Rachel came out of the bathroom fighting. Lane says that Rachel was saying everyone makes out with everyone. They laugh and Britney says they are still talking about it! Britney tell Lane about how she has never made out with girls and doesn't even know anyone that has. Britney says that she can't take it anymore and that she is going to snap on Brendon. Britney says that Brendon is condescending tone and his egotistical attitude. Matt says they have to keep Brendon here longer. Britney says that they have decided Rachel has to go first because she has not missed a single question in a quiz. Britney says that if they keep Rachel in the game she will win HoH next week. Ragan and Matt agree with her. Britney asks Lane if he understands. Lane agrees.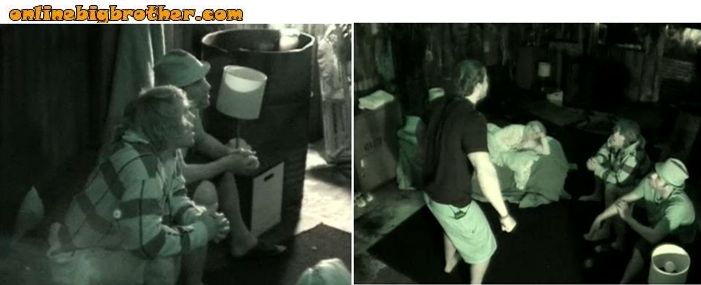 2:50am Lane heads back down stairs and goes into the have not room and talks to Hayden. Lane tells them that they want Rachel gone first. They all agree because Rachel is better at competitions. Lane repeats everything they talked about up in the HOH. Lane leaves the room. Enzo says that if he wins HOH next week he is going to put up Brendon and Ragan. Enzo says that it might be a good idea to backdoor Ragan. Enzo says that he really needs to talk to Matt. Enzo says that he thinks he and Hayden should offer an alliance with Brendon in case he wins next week. They say that they want to talk to Brendon before the nominations tomorrow. Hayden says he can talk to Brendon first because Brendon thinks he's all alone in the house now that Kristen is gone. Enzo starts talking about who is close to who, Lane is tight with Britney, Matt is tight with Ragan. Enzo and Hayden are waiting in the lounge room for Ragan to come out of the HOH room so that they can talk to Matt. Enzo says that they've got to get Ragan out because he is too close to Matty. Enzo says that Ragan is also liked in the house. Enzo says that it's awkward talking to Matt about Ragan. Enzo says they have got to keep Britney and Kathy until the final six because Kathy won't win anything. Matt comes down from the HOH and joins Enzo and Hayden in the lounge room. Hayden tells Matt about their idea to talk to Brendon about having a sub alliance with him. Matt says that he thinks it's a good idea. Britney joins them and Matt leaves.




Watch it happens as it happens!! Superpass 3 Day FREE Trial

3:30am Hayden and Rachel are talking. Rachel is crying saying that she feels like everyone hates her. Rachel says that she is probably just being an emotional girl. Hayden tells her that he knows what she means and that he has nobody now that Kristne is gone and that no one talks game with him. Brendon comes into the room. Rachel tells Hayden that she doesn't think Kristen and her will be friends outside of the house. Rachel says that she wants to but Kristen doesn't. Meanwhile in the other bedroom Britney and Ragan are laughing and making fun of Brendon's toe again. They call him the Freddy Kreuger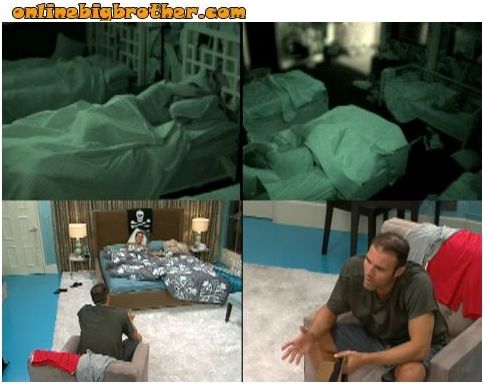 Claw and the Toe Mare on Elm St. Britney laughs and says that Brendon wears a size 13 shoe to fit the extra size of the toe but that his real size is a ten and a half.

4am Up in the HOH room Enzo is talking to Matt. They are talk about making an alliance with Brendon and getting Rachel out first. They say that they need a deal so that if Matt goes up he goes up against Kathy, Ragan or Brittany. Matt says that he is going to hang out in the HOH so that Rachel and Brendon don't bug him all day before nominations. Matt says that its time to get some business done. They think double eliminations are next week. Enzo says that it's good to have Kathy around. Matt says that they are going to cause so much drama this week. Matt says that he is worried that no one will try to win HOH next week because they think they'll be safe since Brendon will be gunning for me. Matt says that he thinks he doesn't have a choice, and that he has to put up Rachel and Brendon. The conversation changes to the competition and how Lane stayed up for awhile. Matt says that assuming they don't win the POV, they will stay on the block and they'll isolate themselves and think we are getting rid of Brendon and then we will get rid of Rachel. Enzo asks if he think that would happen, do you think she'd use the veto on him? Matt says yes. Matt says that keeping Kathy to final 5 isn't bad because she can't win anything. They talk about if they should reveal the brigade in the jury house. They says that this week is going to be crazy. They make fun of Brendon in the competition again. Enzo leaves the HOH room and heads downstairs to go to bed.

4:30am All the house guests are asleep.

8:30am The house guests are still sleeping….