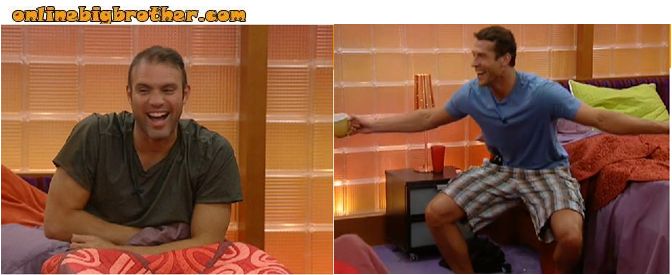 10:20am Brendon, Hayden, Lane and Enzo are all laughing and talking about the HOH competition. Brendon talks about how his legs were shaking and couldn't keep his feet on the ledge. They are all cracking up laughing. Brendon says that his goggles got knocked off. Hayden says that he got a hit right in the face with the paint and it stung his cheeks and that if he didn't have his goggles on it would have blinded him. Brendon says really?!
In the storage room are Matt and Rachel looking for toothpaste and mouthwash. Rachel asks Matt if he will we be able to talk and if he already made up his mind. Matt says sure, when they give me back my room. Matt says that he wanted to talk last night but very body was upstairs. Rachel says yeah, they don't want his to talk. After Matt leaves he says to himself please don't give me back my room. I don't want to talk with her. I rather shoot my face off. … Matt heads to the washroom and then goes up to the HOH balcony with Hayden to play checkers. Hayden asks Matt what he thinks they doing in the HOH room? Do you think its Pandora Box? Matt says that it might be too early for that but that he is taking it no matter what, even if it is something bad for you guys, I just want something to do. Britney comes up and Hayden leaves. Matt and Britney wonder what Rachel will say to save her butt. Britney asks why you think they locked you out? Matt says that he isn't sure, but that he I doesn't think its Pandora's box.

SEE what they CAN'T show you on TV! 3 Day FREE Trial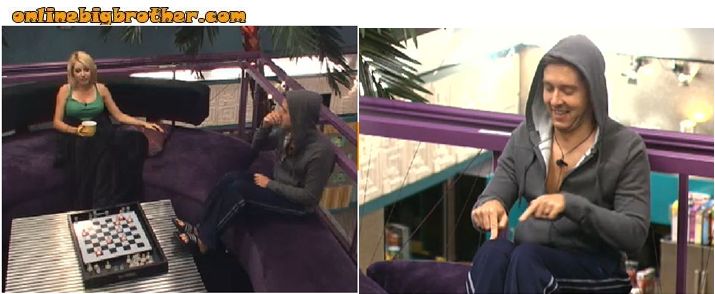 10:40am Enzo tells Hayden and Matt that told Brendon that they should work together and that he thinks him and hayden are in an alliance. Matt says that he was in the storage room and Rachel came up to him to ask him they can talk and he said yeah but that his breath stinks and doesn't want to talk right now. They laugh. Matt says that she asked him if his mind is already set and he says no. Matt says that Rachel said that she feels like everyone is trying to keep her and Brendon from talking to him (Matt). Enzo says that Brendon was trying to play it off that there is suspicion that Enzo is in an alliance with Lane and Hayden. Matt leaves. Kathy comes in and asks who was telling Rachel that her shorts were too short. Kathy says that Britney said they were and that she did too. Enzo says that she was in here saying that she got a great ass and that she looks good. Kathy asks she said that?! Enzo says yeah. Kathy says Rachel's in the bathroom popping pimples …that she might have a great ass but she has a busted up face. Kathy leaves. Brendon comes back in. Brendon says that Hayden is up talking to Matt up on the HOH balcony. Brendon says that he just wants to talk to Matt but that he isn't going to suck his dick. Brendon says its like people feel if they are always around the HOH they wont get put up. Brendon says that he and Rachel just wanted to talk to Matt last night but that people just kept coming up and interrupting them.  Kathy comes in and they talk about how last night called Lane a bitch.

1055am In the lounge room Rachel and Brendon are talking.  Rachel is making fun of everyone in the house.  Rachel says that she can't wait until this is all over.  Rachel says that she doesn't want to be friends with anyone after the game is over.  Rachel says that Britney is a fake bitch and all Ragan does is cry and act like a baby. Brendon agrees and that everyone is fake.  Rachel says that she hates Hayden, Lane and Enzo…. Rachel makes fun of Matt's letter, and that it was all about not mowing the lawn.  Rachel says that they are all fake and that she is better than them all.  Brendon tells her not to say stuff like that.  Brendon tells Rachel to not lower herself to their level. Rachel says that she could lower herself and still be on a higher level than them. Rachel says that she is going to go off on them.  Brendon asks if they are going to talk to Matt.  Rachel says that she already tried to talk to him and that he doesn't really seem to want to and that his mind is already made up.  Rachel starts making fun of the other house guests again.  Brendon tells Rachel not to be so mean. Rachel calls them all lying lame losers. Brendon asks Rachel to please not turn on him.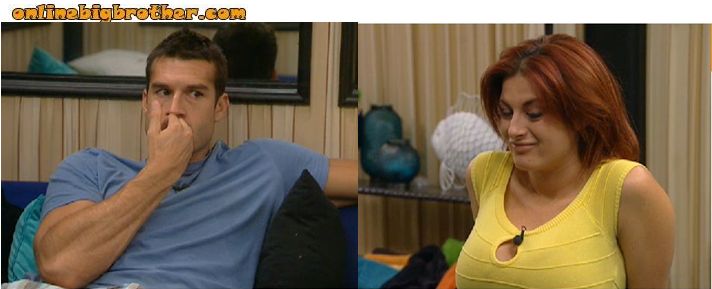 Rachel makes fun of Matt for getting dead cat hair.  Brendon says whatever, when we get out of here it is their lives not mine.   Rachel says that everyone's life sucks.  Rachel makes fun of Britney living and says that she lives with her boyfriend and has boring missionary sex with him.  Rachel keeps saying that she can't believe that Britney would turn on her this fast.  Brendon says that he knew it would happen.  Rachel says that she didn't turn on Monet.  Brendon tells Rachel to just remember that everything is being recorded and he doesn't what people to see her in a bad light.  Brendon says that he would never help Matt's wife Stacy.  Rachel says well you cant hold it against her that she is with someone so stupid.  Brendon calls Matt the Gremlin.  Brendon says that he is really surprised at Ragan for turning on them … but that he wasn't surprised at that Britney did.  Brendon tells Rachel that he guarantees that the guys in the house will keep her over Britney any day.  Rachel says that she doesnt think so and Brendon says are you kidding me she is all over Lanes dick…  Rachel says she might as well fuck him.

Free 3 Day Live Feed Trial! Superpass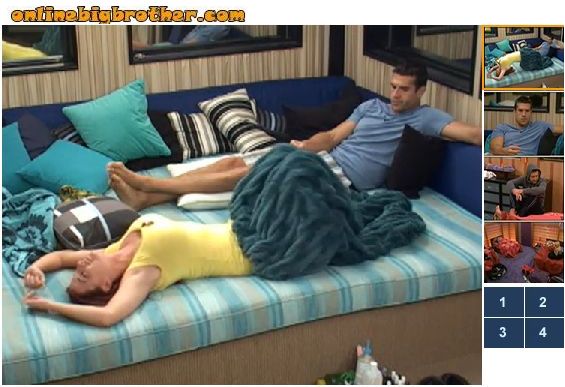 11:20am -11:50am Matt goes into the diary room and then when he comes out he says that production is looking into how it could work if he told Rachel he would keep them safe if she gave him the $5000 that she won in the luxury competition. Matt says that he would still put them both up anyway. They talk about how Matt should offer the deal with Brendon and Rachel.  Lane, Britney, Ragan and Matt are all in the bedroom talking. Ragan is pissed that Brendon called him a cockroach.  They talk about how this entire week is going to be nothing but Rachel and Brendon bashing the rest of the house guests. Ragan says Let the games begin!  Britney says that she is pissed at all the negative things they are saying, including calling Ragan a cockroach.  Ragan says that is such a stupid statement to make when they know we all talk.  Britney says that is why she was always so careful about what she said when she was up there with them.  Britney says that it doesn't make any sense for them to sit up there and dog on everyone else and think that I'm not going to talk to everyone else.  Britney says that they were asking if I was in an alliance with Lane … Britney says if you think I am why are you asking?!  Ragan says that he thinks Andrews speech outburst before being evicted was a planned effort because who did it benefit? Ragan says that he was going out the door anyways, so he was likely talked into by Brendon to benefit Brendon and Rachel in the game. Matt comes back in and tells Lane, Britney, and Ragan that production said that if any deals are made with money that he can't double cross on the deal.  The feeds cut out.  When they come back Britney says well you can donate the money.  Matt says yeah. Matt says that someone else really needs to win next week because if someone doesn't he is fucked. They talk about how they need to win the POV. Britney says that she wants to be the host if she doesn't get to play in the POV. Matt says well I think thats up to me. Matt says just watch Rachel's face when I pick you as the host, watch her roll her eyes. Britney says that Rachel will call him a cockroach. They talk about the HOH competition … Britney talks about how Brendon keeps complaining about how he lost because he had big feet. Britney says that Lane and Hayden both have big feet and they lasted longer than he did …so suck it! …suck it!

SEE what they CAN'T show you on TV! Try it FREE for 3 Days