Early this morning on The Early Show, Julie Chen introduced the new cast of the 12th season of Big Brother!

Full Biographies of the cast of Big Brother 12!

The Media Day Videos were also released today: A day in the life of a houseguest

Julie Chen gives us a tour of the NEW Big Brother 12 House!

See everything they can't show you on TV!!

When you sign-up for the Live Feeds, you will be able to watch the entire season of Big Brother 12 for ONLY $29.99!! That's $10 OFF the regular price! LIMITED TIME OFFER!

Click here for you Early Bird Discount Code: Big Brother 12 Live Feeds!




The Wrap.com
By Chima Simone
Published: June 30, 2010

Brother's Answer to "Jersey Shore":
Enzo Palumbo, a 32-year-old insurance adjuster from Bayonne, N.J.

A self-proclaimed character, he thinks he's already a celebrity and has apparently used the Jersey Shore Nickname Generator because the best he could come up with was "Meow Meow." We all know "The Situation" is taken, but really?! His strategy, plainly put, is winning. And with Mafia as part of his planned alliance name, that just may happen. By any means necessary.

The Definitive Diva of the Season:
Monet Stunson, a 24-year-old model from Glen Carbon, Ill.

Monet told the producers she couldn't wait to taste slop so we know she's a good liar. She has strutted her stuff for Gwen Stefani's label L.A.M.B, placed 1st runner up for Miss Illinois USA 2008, and one of the accomplishments she is most proud of is her "good driver's license picture." I can hear the collective "She's a spoiled, entitled, little b—-*" grumblings from here. Oh wait, that was directed at me? OK, never mind.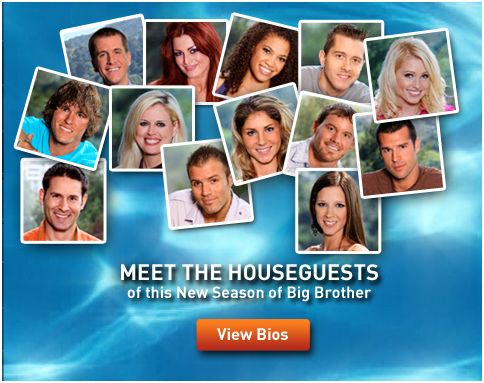 Obviously proud of her looks, this princess lives a privileged life, yet will soon get a cold shower wake-up call when she finds out slop isn't so tasty after all, especially after a full week of what I can best describe as pig's feed masquerading as flavorless oatmeal.

The Brains Are Back in a Big Way:
Matt Hoffman, a 32-year-old web designer from Elgin, Ill.

Former contestant on the fourth season of NBC's "Average Joe: The Joe Strikes Back," Matt is the smartest person to ever play the game (his words). Even telling the producers he's smarter than them. Word to the wise, Matt, don't talk smack to the producers.

A seasoned reality competitor & MENSA member whose motto is "I don't want the world, I just want your half" should fare just fine in the cutthroat "Big Brother" house.

Foxy Floater:
Ragan Fox, a 34-year-old college professor from Los Angeles

Ragan's strategy is to float-on until war is declared while also maintaining a secret alliance on the side. He plans to use his gayness for good & evil so maybe Enzo will get that "good gay guy" he's looking for in his mafia alliance. Writer, poet, and podcast producer, Ragan also brings an intellectual creativity to the game. Humor is his thing so I expect many inspired diary room sessions from him; each one presented with him possibly sporting a different color bow tie? I can only hope. Maybe his penchant for them will rival last season's Kevin Campbell's obsession with scarves.

For the Full Article:The Wrap
Share it YO!!
Tweet