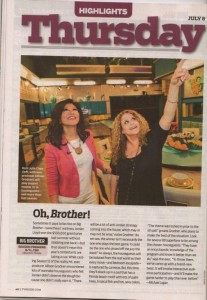 Host Julie Chen (Left, with exec producer Allison Grodner) will play puppet mast to 14 houseguests – one more than last season…

So on the CBS website there are the spots for 13 houseguests but there will actually be 14! 13 houseguests playing for the half million dollars and 1 trying to mess up all their plans with our audience participation… things just got a little more interesting … Sign-up for your live feed access …your gonna need it!! Live Feed Discount $29.99

From the article:

Big Brother
Season Premiere 8/7c, CBS
Oh, Brother!
Sometimes it pays to be nice on Big Brother-sweetheart waitress Jordan Lloyd won the $500,000 grand prize last summer without stabbing a back! -but that doesn't mean this years contestants are taking a cue. While casting big brother 12 of the reality hit, exec producer Allison Grodner encountered lots of wannabe houseguests who felt Jordan didn't deserve the dough because she didn't really earn it. "There will be a lot of anti-Jordan strategy coming into the house, which may or may not be wise," notes Grodner. "As we saw, the winner isn't necessarily the one who plays the best game. It could be the one who pissed off the jury the least!" As always, the houseguests will be isolated from the real world as their every move – and bedroom escapade – is captured by cameras. But this time they'll shack up in a pad that has a Florida beach motif with lots of palm trees, tropical fish and hot, sexy colors, "The theme was locked in prior to the oil spill," groans Grodner, who plans to make the best of the situation. Look for several BB superfans to be among the chose houseguests. "They have an encyclopedic knowledge of the program and know it better than we do," says the exec. "To throw them, we've come up with a brand-new twist. It will involve interactive audience participation – and it'll make the game harder to play than ever before."

TV Guide

Share it YO!!
Tweet