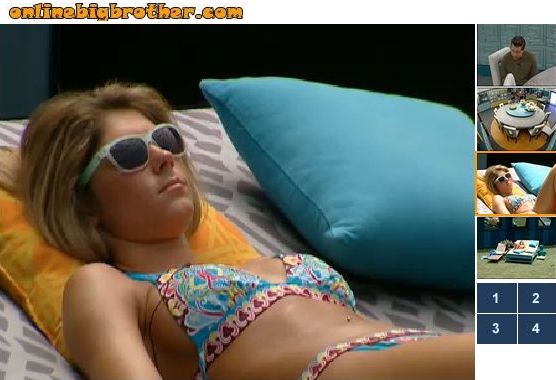 12pm Most of the houseguests are in the kitchen eating lunch. A lot of random talk. Enzo asks Should I sleep, or should I sleep today?? They all laugh. Britney, Lane and Monet all head for the bedroom to nap. Britney asks Monet what do you think the name of the girl that will be on the wedding invitation. Britney asks Lane what his last name is. Lane tells her. Lane says not Hailey because when he hear the name of someone he already knows he's going to think of them. Britney asks so why no Hailey. Lane says because we didnt get along. Britney ask what about Hailey, Reilly, …what about Krista …. Britney says she always though she would marry a guy named Brett. Britney says some times the name just sounds good. She says that Monet is going to marry someone with an odd name like Tiger Woods.

SEE what they CAN'T show you on TV! Superpass 3 Day FREE Trial
12:30pm Big Brother cuts the feeds, and when they come back everyone is in the living room. They got another saboteur message. Enzo jokes which girls have their periods in line… life long friends. Britney says that probably whoever does our diary room, sat in front of the camera. They laugh that the saboteur might be going on a sabo-tour across America. Enzo says he is wants to go to bed but that he can't because he has to decipher the saboteur message. Apparently the saboteur message told the them that he has escaped the block this week. Britney says that message didn't do anything for me, because I already knew whoever sat in front of the camera was the saboteur. Ragan says I think the saboteur is 100% real deal but that things that the saboteur says isn't necessarily true. Annie says that she wishes they would play the message over and over again so they could really decipher it. Then Kristen says well they are pretty simple messages.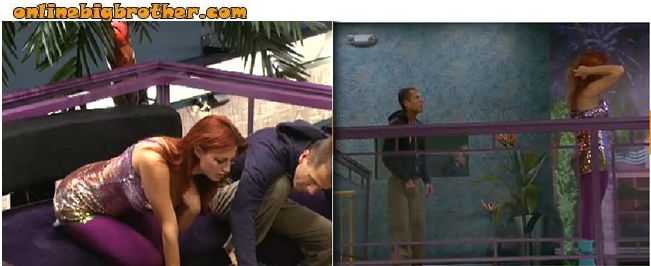 Onlinebigbrother.com 1pm Andrew is up in the HOH with Hayden talking about the votes. Andrew says that he hopes Brendon is going home. Hayden says if you are on the block against him, he is going home. Hayden and Andrew both think that Rachel is too predictable of a choice, she will stick with Brandon though and Annie is the wild card. Hayden says that message, I escaped the block this week. Andrew says BOOM I know what that means. Andrew really thinks that the saboteur is Brendon and wants Hayden to change his mind and vote out Rachel. Andrew is pretty sure Brendon is the saboteur because during the message. Andrew says again that the saboteur said he escaped the block this week. Andrew says give me the two people who have been going around saying that I am the saboteur … who do I need to knock out in the competition. Hayden says Britney. Hayden asks what about Lane.. Andrew says I know he's not after me. Hayden who do you think them …Britney and Monet. Andrew says yeah. Andrew says they are the two people he can't stand in the house. Hayden says that they will talk when he gets HOH. Andrew leaves the HOH room.

Try the live feeds for Free 3 Day FREE Trial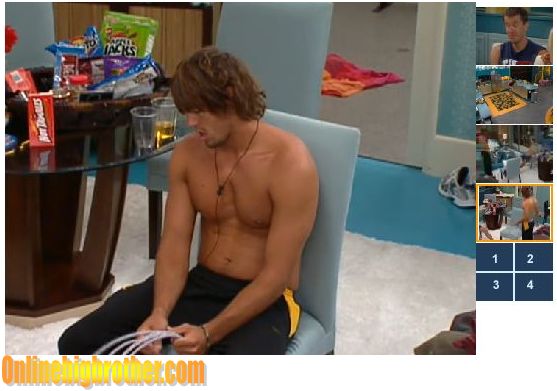 Share it YO!!
Tweet