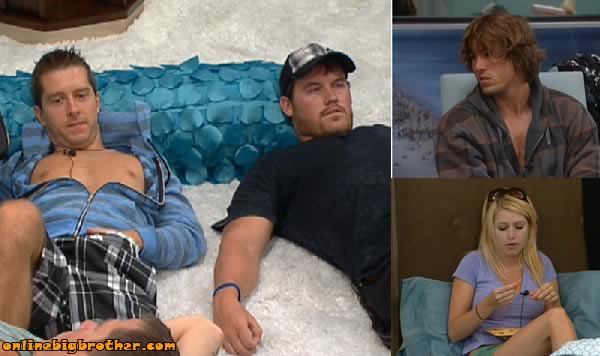 SEE what they CAN'T show you on TV! 3 Days FREE No Commitments
2:00pm HOH Hayden, MAtt and Lane talking about the saboteur and how theres nothing they can do about it all they can do is get Rachel out this week and move on from there. Matt mentions how BLANK up Rachel was when she went into the Have nots room by herself and was crying then she went into the DR and was laughing and smiling to everyone when she came out. Matt thinks it looks suspicious that the DR gave her some power. Hayden points out that her behavior today doesn't look like a person that has a game changing power or even the sab power. Ragan walks in. Lane thinks that they did tell Rachel something in that DR season that gave her hope. Ragan asks them what they are talking about, Matt: "We're thinking Rachel could be the sab". Lane: "Well we're going back and forth on it". Hayden leaves BRit comes up, Mentions that Brendon won't stop talking about the house being against people in love. Ragan says sarcastically: "we're after them because we're so jealous of them, we all want to have what they have". Ragan points out that Rachel went up to Kathy and apologized for everything and she's making a good effort to be calm today. Lane interrupts says that right after Rachel went to "apologize" to Kahty she was talking mad BLANK about her to Enzo. Ragan: "Ohh I guess things haven't changed, Wouldn't it be great if we got the both of them out these next 2 weeks" Lane: saying that Brendon is saying he's mentally quit already, he doesn't want to be here if she's not here, so he's willing to go if it's a double elimination. Lane brings up Brendon wanting to leave this week so that Rachel can stick around, but that everyone has been telling him to fight it out. Lane: "they are so crazy Rachel was going around telling Enzo that she's going to give Brendon and Him her Studying powers so they can win the quiz comps" They briefly talk about the coup d'tet power and how Jessie didn't know about it but he knew something was up. They start studying for the quizes going over the BLANK in the house and asking each other questions.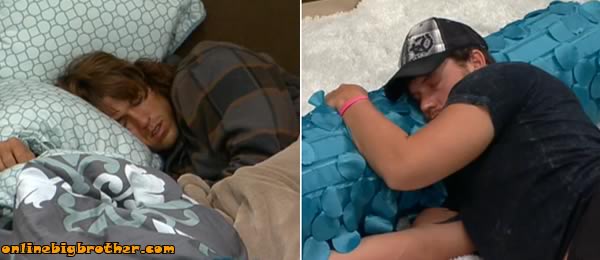 3:00pm everyone Sleeping in the house
3:35pm Ragan, MAtt and LAne Briefly talk about Rachel/Brendon apologizing to Kathy.
Matt and ragan go sit beside the hot tub to talk about the sab. Matt: "how sure are you that it's Rachel?" Ragan: "i'm keeping a open mind this time". Matt: "it's a easy vote for the house if she's the sab, to be honest i didn't think it was Annie until we voted her out and we found out". Ragan had heard some rumors around the house that Annie was absent during the blackout. Matt "this is the way I see it that video cam when Rachel was already on the block and the house already knows she's going home…. The sab planned was to put a diversion on Rachel". MAtt thinks this is a stupid move because Rachel is going home and they'll all find out the next day that she wasn't the sab. Matt thinks that this is the reason he thinks that the sab is rachel. Matt goes on about how stupid it was for the sab to focus on Rachel because she is already leaving, the sab wasted a video on someone doomed they could of used that video to pave the way for the next video and really zero in on someone. Ragan brings up Brendon's behavior during the POV how he was calling people pussy and telling Jeff/Jordan to just put the medallion around his head because he's already won 2. ragan is sure if CBS airs any of Brendon's behavior during that comp nobody will like him.
Ragan thinks that things int the house will change dramatically after the POV ceremony. He thinks they'll see Brendon working people for alliances. Ragan: "i'll pit it this was that B/R are the 2 worse players of out season" Matt:" they're the worse from the last 3 season.. none of them will be picked for allstar" Ragan thinks Rachel will be, based soley on the fact that she creates so much Drama. Hayden lingering around the backyard.. you can also hear Enzo screaming something silly.

4:10pm pool Enzo, Hayden and Lane making a whirlpool trying to figure out who the saboteur is there thinking it might be Kathy because her and Rachel would be the only 2 that would benefit from it. There thinking is that Kathy wants to make as much money as she can and she doesn't think she has a chance to win the game. They start talking about how awesome the brigade is and how never in BB history has an alliance made it this far and still be a secret. Enzo says the final six will be Kathy + Brigade and either Brit or Ragan but probably BRit. They start to joke around saying that Kathy is the 5th member of the brigade but she doesn't know it. Enzo: "She's in the brigade and she's the saboteur"