12:20pm Rachel under the covers in the big bed. Brendon comes in and asks what's wrong and she tells him about her conversation with Matt. Rachel is upset about it and Brendon gets mad. Brendon says that he's going to confront Matt after he takes a shower. Rachel keeps complaining about how everyone has been against them from the beginning. Rachel says they had to win everything. They talk about how they lost one thing and one of them is going home. Rachel wants Brendon to hug her but says that he's sweaty from working out. Brendon gives her a kiss. Brendon leaves and goes to shower. In the bathroom Brendon talks to Kathy. Brenden says that he is not coming after her. Brendon tells her that they others are planning of get rid of her in a double elimination and that she can't trust anyone. Kathy thanking him for telling her and says that she knows she can't trust anyone. Brendon goes off about people being mean. Kathy says that she cheered during the competition because she won and didn't mean anything it. Brendon says that he is coming after all of the other ones that are two-faced, back-stabbing… Brendon says that when the time comes, he would appreciate her vote. Kathy tells Brenden that she is weak from no food. Brenden offers to make slop cookies for her. Kathy says that she can deal with the cold showers and the cot… that she slept all day yesterday and doesn't have any energy. Brenden says hang in there and offers to make some food for her. Kathy says thank you.
SEE what they CAN'T show you on TV! 3 Day FREE Trial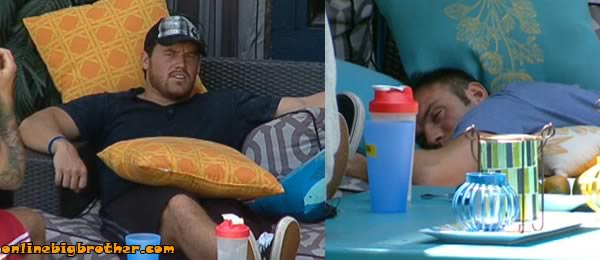 In the backyard Lane, Enzo, Matt and Hayden are talking. Enzo says that we could have sent one of them (Brendon and Rachel) home last week but we waited. So what are they complaining about? Matt says yeah, has she imparted her powers to any of you guys yet? I can't wait until the Jedi training starts. Enzo says that Brendon is going to start levitating things with his mind. Enzo says that Rachel told him just wait until everyone comes to Vegas and we'll see how personal it is. Lane says that Hayden and Enzo were playing pool and Brenden said that everyone here that Rachel likes will get to have fun in Vegas and that the people that she is mad at …..that Vagas is going to suck for them. Matt says so you can only have fun in Vegas if you're with her. Lane asks that she is going to tell the bartender not to talk to us or look at us? Matt says whatever!! Lane says we'll see who has more fun…. Branchel… that's his new name. Enzo says no it's waa, waa. Hayden now awake and says the Jedi training could have started last night but he wasn't in the mood. Now they think the training will resemble some sort of Harry Potter scenario, with an owl in there! Matt leaves to take a shower.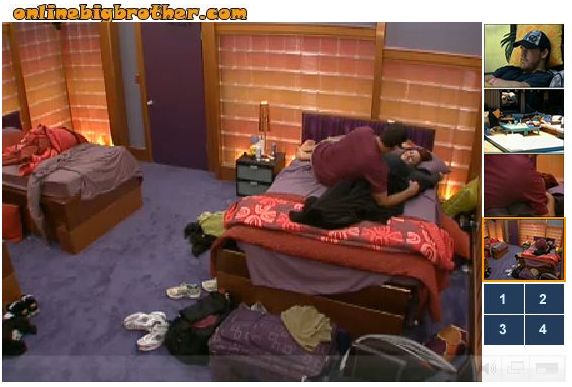 1pmBrendon and Rachel talking in the bedroom. Rachel says that she can't stop crying. Brendon says that she talked to Kathy and told her it's not personal but it's hard because she were celebrating and happy about us being out of the competition. Brendon says that it was insensitive. Brendon says that Kathy said she did not mean to be like that but she was just happy to have won something. Brendon say that he kind of believes her, but that things are insane here. Brendon says that he told Kathy they will all turn on her. Brendon says that he also told her that when one of us goes and they are still gunning for the other….so that he told her right now that if I stay I am not targeting you but I want to take out the backstabbers. Brendon says that he told her that he needs her vote. Rachel asks so you just asked Kathy to vote for you? Brendon says no. Rachel says that's what it sounds like. I thought we were not going to talk to people about voting to keep you or I. Brendon asks are you kidding me? Are you out of your mind? I would not campaign against you.
Do you think that I would campaign for them to keep me? You better not! If you keep this up, I am going to campaign hard to get myself out just to prove it to you. Would you fight hard if you stayed? Rachel says that she has no energy to do anything and doesn't want to work out…. That she doesn't want to get up…. shes depressed. … and that she has never been like this in my life and that she has had some BLANK up BLANK happen in her life. Rachel and Brendon start kissing. Brendon says you know what is crazy. I have spent more time with you than 90% of my relationships. All my past relationships are past relationships for a reason. They were all preparing me for the perfect one for me. Rachel asks even when I get stress zits. Brendon says that those are character zits. Brendon says that whoever stays in this game has to fight their heart out. It it's you, then you have to fight. You're going to be sad but this is what you're going to have to deal with when you're in Vegas and I'm in LA. It's really just preparation. Rachel says that you're going to force me to move to LA in a week, stupid wizard power. Brendon says in his wizard voice that he is more powerful than originally thought! Rachel tell him that he is silly. Brendon says that he is nerdy and wonders how people view him now? Rachel says that hey think you're a super awesome guy. You're cute and handsome. We're cute. Brendon says and handsome. Rachel says that the wizard voice probably got you more haters than fans. That's possible. But floaters grab your life vests probably got me more haters than fans. Brendon says that when I put that wizard hat on, I transformed. At least people know that I'm a real person.
Try the live feeds for FREE!! 3 Day FREE Trial!!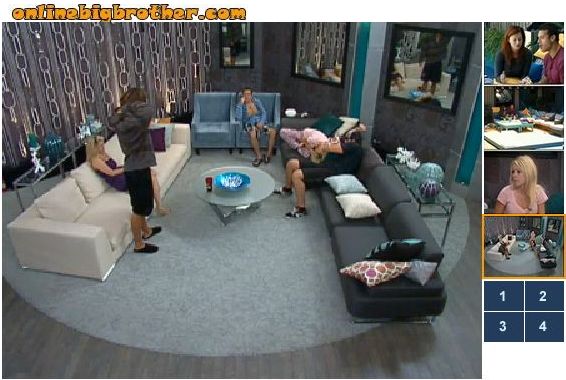 1:35pm – 1:55pm The Feeds cut out for a bit and when they return the house guests got another saboteur message.  Ragan, Kathy, Lane, Brendon Hayden and Britney are in the living room talking about the saboteur message. Britney and Matt think saboteur is messing with the house trying to get them to vote out Brendon and something was said about throwing competitions. Britney says the message is obviously about trying to keep Brendon. Britney says that she thinks Rachel is the saboteur and that the message was about votes not veto because Britney had told Rachel yesterday she wouldn't use veto under any circumstances so Rachel has given up on that so now its about votes. They think it would be funny if smoke bombs went off when Rachel leaves and they laugh about how it would be like the wicked witch meeting her demise in the Wizard of Oz. They say that this is the season of Wizard of Oz! Britney asks if she can be the good witch. Brendon is the wizard, The Wizard of Pinball. Then they talk about Brendon being the Tin Man. Rachel is in the kitchen asking why the saboteur just didn't say Rachel, everyone hates your guts! Lane wonders about the next saboteur message, like a three person alliance you don't know about. Ragan questions him. Lane says well like there's a four person secret alliance in the house. Matt says you know whatever lie the saboteur can do to mess with us. Lane says that the saboteur message said something about Brendon throwing competitions but you two can discuss that in the jury house …..so maybe double elimination?!