Watch it happens as it happens!! Superpass 3 Day FREE Trial

9:00pm Cabana Room Ragan, Matt, Monet and Brit
Ragan is telling him about his very good friend Gabriola (something like that) HE explains how they met at a poetry reading. She was running one and saw me in the crowd and got me in the front of the line. Earlier in the day she heard Ragan read a poem he wrote about a guy with a sml unit and she liked it so much they became instant friends, "The next day we're playing strip poker with your shirts off". Ragan goes on to say she died earlier this year and it's been one of the hardest things for him.. HE feels like he has very looking over him right now… The talk shifts to the saboteur, Monet and Ragan are talking about the chances taht Annie wasn't the saboteur she just said she was because she was pissed at them for being the first to go.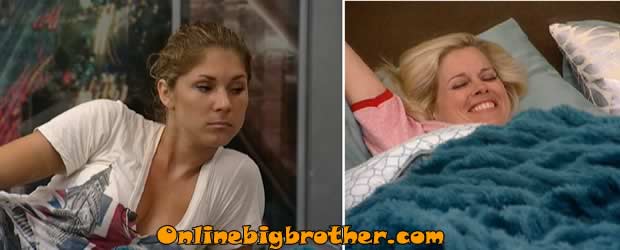 9:15pm HOH Kathy and Kristen Kathy tells her that earlier today she was outside folding clothes and Brit kept asking her "whats is wrong". Kathy is upset by it because brit kept on asking her over and over even though Kathy told her there was nothing wrong. Kristen tells her that she now knows that you can't try and be friends with everyone and still play the game. Kristen essentially tells her if Monet and Brit stay in the house it makes her job easier because she will put both of them up and not have to gain a enemy since both of those girls hate her already. Kristen then adds that if Andrew goes home it'll be so unfair and upsetting to her. Kathy wonders if she should just avoid Brit and Monet all week. Kristen tells her it's going to be tough to do.
Kathy I just pray i don't lose my cool with some body
kristen it's going to happen
Kathy it's going to get ugly something is going to come out.. i just hope your around to stop me.
kristen they do not like me because it's obvious
Kathy There jealous of you
kristen "YOU THINK? cause i've never done anything to them that would think that"
Kathy "They're Jealous because you are so pretty.. there young Girls thats what they do "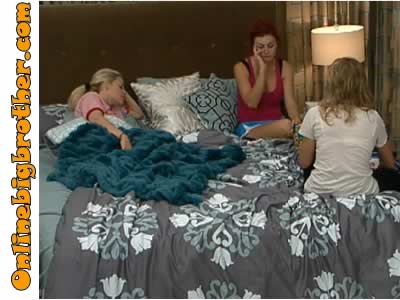 Kathy points out how scared Brit's been lately because Kristen, Kathy and rachel are so tight now. They both agree that Lane is a floater that seems to be floating to Brit/Monet. They briefly talk about Enzo and how he's got an alliance with Brit and Monet.
Kristen either I have to win HOH or Brendon has to
Kathy I would love to see they're faces if you win
Kristen: " Me or Brendon have to win"
Kristen "they're always giving be random dirty looks"
Kathy :"she gives EVIL looks to me to"
Kristen: "Kristen I wouldn't think it would be a smart thing to cause all this chaos they should be making friends instead of talking shit then saying sorry for it"
Kristen those two girls will stab each other in the back in a heartbeat
Kathy i would never do that
kristen hopefully the lines are drawn this week
Kristen I don't know what Hayden is doing he won't give me a straight answer
Kathy Why would Matt volunteer?
Kristen: "I don't know why those guys want to keep those girls around"
Kathy: Maybe they want to keep the weak ones around.
Kathy explains when Annie sat Brit down to talk to her and brit was absolutely terrified "White as a ghost". Annie was just trying to apologize to brit but Kathy thinks brit was scared because she thought her lies were getting figured out.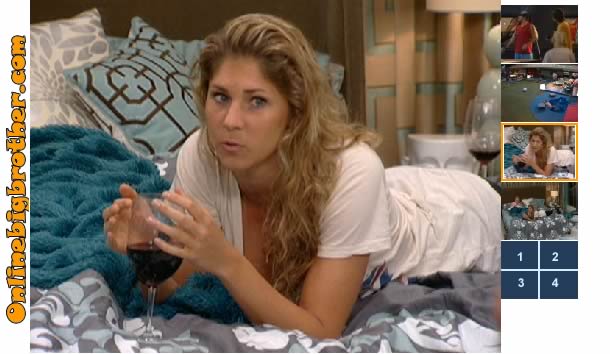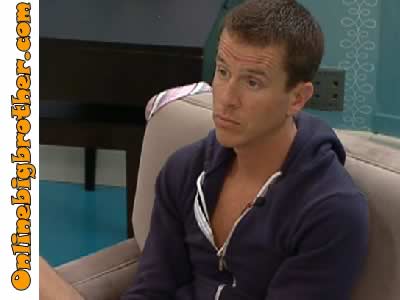 9:57pm Rachel joins them "Who wants to have some Merlot!!!".. they start drinking and chatting. Ragan knocks on the door "can I go Pee" rachel says of course.. she asks Ragan if they are trying to being him onto their side. Kristen starts telling them about thinking that Enzo is allied with Brit and Monet. She thinks this because enzo dropped 14 seconds before Brit. Kristen "She seemed so confident.. she wasn't acting like she usually she's not usually calm and collective" Ragan and Kathy agreeing with her. Kathy says that the other side is being smart.. Kristen thinks it might be a coincidence, Ragan says this part of the game is soo confusing. Brendon walks in and they start bashing brit and Monet a bit. Ragan brings up last year when Russell was HOH and was all buddy buddy with Chima but after he lost his power all shot broke out. Ragan tells them he doesn't think putting Andrew up is a good idea because someone could flip. Brendon says theres now way the 4 votes we have locked in are going to flip. Ragan explains to them that there could be a person playing both sides. Brendon says he's not worried the votes are locked in. Kristen begins to explain her theories about Enzo and the POV COMP to Brendon.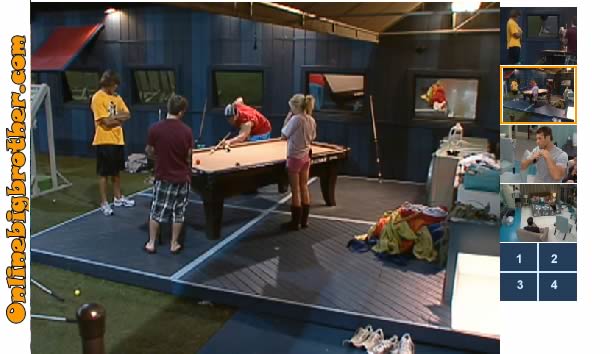 10:11pm Pool Table The Brigade Playing pool with their ladies
Share it YO!!
Tweet