Watch it happens as it happens!! Superpass 3 Day FREE Trial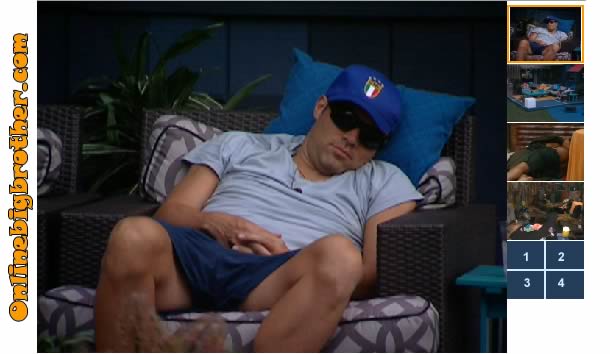 7:48pm Backyard Couch Enzo, Monet, and Kathy Very little talking going on. Monet starts talking about HOH. they ask Enzo what he asked for if he wins HOH. He says a newspaper "make up a big brother daily newpaper for me to read doens't matter if it's fake I just want somehting to do" they all giggle. Enzo tells them how board he is. They all wish they had something to do, Monet wants play-dough, Kathy wants Haydens sock monkey Enzo says this "i'll play with Barbie doll right now i would play with a cabbage patch kids." Brit joins them and they start talking about past season where Lydia ate while on slop and she got a penalty. Now talk goes to the different costumes that they have to wear. They think the bunny suites looks cool but they would be too hot to wear around outside. Enzo gets up to go work out.
Brendon lays out the plan to Andrew saying that he's going up as the replacement nomination this week. Andrew doesn't like the idea "If I go home I will come back and kick your ass" Brendon tells him it's the only way to split the house and find out where everyone sits. Brendon reassures him that theres no way we'll be going home. Andrew tells him that he could lose Andrew as a ally if they do this. Brendon goes into overdrive trying to explain to him how important this is, Brendon says Hayden, Kathy, Raga, Kristen, and himself are all going to vote the same, "the votes are locked in" Andrew doesn't exactly like the idea but will go ahead with it. Brendon reminds him not to tell anyone because right now Matt thinks he's going up. We all want to see his face when I call your name.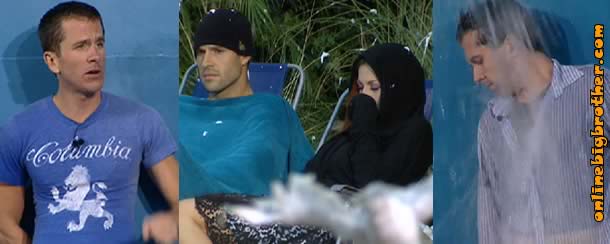 8:20pm Backyard couch Lane, Brit and Matt talking golf Brit says she like to play golf.. she's good enough to hold her own. Lane asks her if she better than him, She says probably not. Lane asks her 56 or 60 degeree what goes further? She says 60degree. He talks about all the golf he gets to play because it's part of his job. He says he plays 2-3 times a week. He talks about this one course that "average joes" can play with the pros or be a caddy with the pros. "its the only pro golf course that tiger woods doesn't play on because they use to not allow blacks in"… "but that was like 20 years ago"… Brit "WHAT 20 years!" Matt is laughin now saying" that would be like in the 80's" Lane laughs now says he met further back than that. Matt "maybe in the 20's" Brit asks Lane what he plays and he says 9 over.. Brit laughs "WHATT thats it?.. Nick shoots 1 over" Lane doesn't think so that would be awesome! Matt "isn't that pro" Lane says he must be playing pitch and put. Brit now goes on and on about how good Nick and all his friends are. Matt says that he wants to be nicks agent and all his friends. Lane "we better get that young talent now" Brit just keeps going about how awesome he his Matt and LAne just laugh. LANE "So he's basically 5 shots off from being the best golf player in the world" Brit says theres tons of people around were she's from are all good. Matt "Every second we are not with NICK managing him is thousands we are losing". "SHOW me the money Nick and JD (nicks friend) i'll make you a star baby".. "I'm going jerry McGuire on his ass SHOW ME THE MONEY BABY"

Onlinebigbrother.com is around because of your donation every year the site costs us to host the images and run the 3 servers needed to handle the traffic. If you like the site then please consider donating to keep the madness going. Thanks!
Share it YO!!
Tweet