11:20am Backyard Couch Ragan and Matt The entire house is locked down outside. Matt with one hand down his pants and another stroking his balls.. (this is fucking weird YO, has anyone seen a grown man do this so often?) Ragan is whispering to Matt that the best thing for the 2 of them will be if Rachel or Brendon win HOH. Matt agree's he says the best thing for them to do would take B/R out during the double eviction but he honestly doesn't see them lasting that long because almost the entire house is gunning for them. (My predication is Brendon and Rachel will be in the final 3) Ragan says : "Its hot and muggy I guess this is what it's like to be inside a vag!na"Matt says that is exactly what a vagina is like. Matt is giving Ragan some reasons to why they should get rid of Andrew. Ragan thinks they need to keep Andrew, "If Kathy stays to final 4 she'll make it to final 2" Ragan recommends they keep Brendon and Andrew in the house and let the 2 sides battle it out while ragan and Matt sit pretty.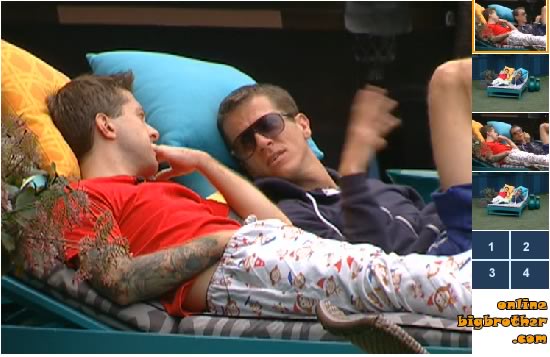 11:43am Bubble on the feeds must be the POV ceremony

12:25pm Bubbles

Onlinebigbrother.com is around because of your donation every year the site costs us to host the images and run the 3 servers needed to handle the traffic. If you like the site then please consider donating to keep the madness going. Thanks!