12:32pm HOH Brit and Matt going over the POV ceremony and Andrew's Speech. Andrew said in the speech that he's going after B/R. Both Matt and Brit believe he was sincere. Brit brings up next weeks HOH might have it pretty easy because everything is starting to unravel. Matt keeps saying that Andrew is a weird guy, "he's emotional and moody". Brit:"if I win HOH i'm not taking any risks .. unlike you matt no risk no rewards". Matt points out that if they start seeing B/R trying to keep Andrew then they know they'res something going on. Brit mentions that Andrew's POV speech had little digs directed towards matt, "He pretty much told us all that you were in an alliance with B/R".
12:47pm HOH Andrew and Matt Matt congratulates Andrew on a good speech. He tells him that he's gotta start working the house for votes because people are thinking about talking him out and MAtt doesn't want that. Matt laughs at how Rachel was huffing and puffing during Andrews speech. Andrew "She's just a actress" Matt "yeah and a poor one at that". Andrew reassures him if he wins HOH next week then matt is safe. If the vote comes to a tie and Matt keeps him he'll use that as a sign that he can trust Matt. He asks matt to keep his eyes and ears open and report to him anything that is going on. Matt explains to Andrew the angle he should take when campaigning. Pretty much Andrew needs to tell people that if Kathy is left in the house then in 2 weeks after the stronger players are gone people will start gunning for "BLANK" (whoever Andrew is campaigning to).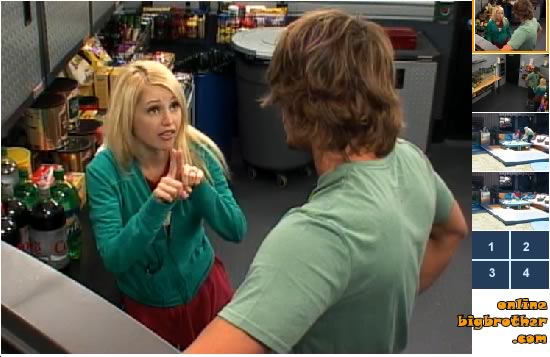 12:45pm Storage Room Brit and Hayden. Brit's telling him that now that it's obvious that Andrew's speech was a act. hayden agrees, she tells him that brendon and Andrew are together and that speech proved it. hayden thinks it's too big of risk to keep Andrew and he doesn't think that Kathy is a guaranteed vote for B/R.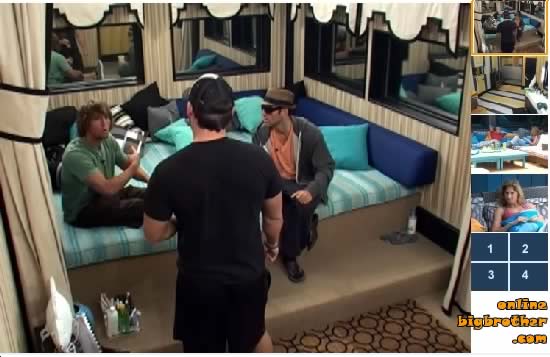 12:55pm Cabana Room THE BRIGADE minus douche boy
They have finally figured it out that the entire speech was an act.. (Cmon Brigade gets shit rolling yo) Lane: "they just gave it all away right there". They all agree ANDREW out!.. yo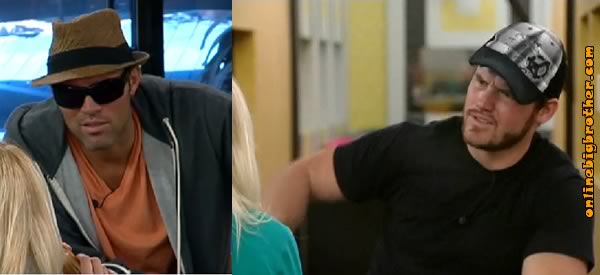 1:00pm Kitchen Brit, Lane, and Meow Meow.. i'll sum the conversation up with just one quote from Lane: "They planned this out since day one they are all together". lane and brit both agree the other side just showed all their cards during that speech. Lane says now America will see that they are the dumbest people on the how. Brit :" There so dramatic!" Brit is starting to speculate that Matt is in on it to because Andrew was trying to throw Matt under the bus. Lane isn't sure.. Enzo chimes int about not every being able to talk to fucking Matty in the HOH there's always ragan up there talking.. yo .

Things are getting good now folks.. once they find out about Matt biam.

Onlinebigbrother.com is around because of your donation every year the site costs us to host the images and run the 3 servers needed to handle the traffic. If you like the site then please consider donating to keep the madness going. Thanks!