11:50pm Up in the HOH room, Britney, Brendon, and Rachel are talking about Kristen. They all talk about how they want her out, and think that she will use the guys to float to the end. Rachel says that Kristen controls Hayden and says Kristen will go after the girls. Matt joins them and they immediately stop talking. Rachel and Brendon leave the HOH room. Britney tells Matt that Kristen is Rachel's target. Britney says that she still thinks Rachel and Brendon have a deal with Andrew. Britney tells Matt all the things that Rachel told her. Britney says that Rachel wants to keep Andrew because Kathy is a vote for Kristen. Matt says so after you told her that, will you still put those two up? Britney says yup, they aren't coming after her so it would be her doing it for the house and not herself, so she doesn't know. Matt tells Britney his plan to mess with Rachel's head so that she will want to quit if Brendon is evicted. Matt says that if Brendon gets evicted he will have conversations around Rachel where they talk about how Brendon is out and he gets to meet people and that hes a really good looking guy. Matt want to insinuate that girls will be all over Brendon when he leaves the house.  Matt thinks Rachel will quit and leave and that it will make really good tv to see someone leave because they love someone.  Britney says that she is glad that she and Matt are safe if Rachel and Brendon win HOH. Britney says that if she won HOH it would suck, she worries that if she put up Rachel and Brendon, Kristen would still be going after her. Matt and Britney talk about what the HOH competition might be. Britney says that it will be a pick two, and Rachel and Brendon will have no chance. Matt says that he thinks that Big Brother might not make it a pick two because of that. Matt says that he hopes it's a co-ordination game. Matt says that the complacency of the house might win Brendon and Rachel the HOH this week. Matt says that he thinks only Kristen and Hayden will fight to win because everyone else thinks someone else will do it. Britney says that them winning would be too dangerous for her.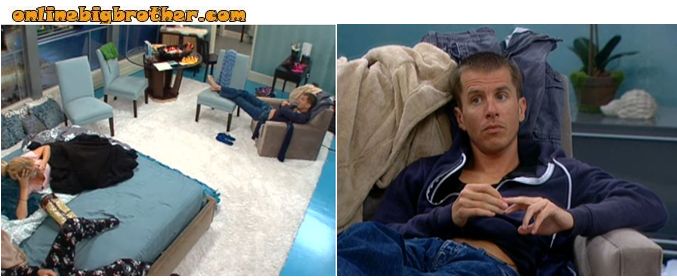 12:30am Ragan joins Matt and Britney up in the HOH room. Britney asks Ragan what he would do if he won HOH. Ragan says that he doesn't know, it's hard to say. Ragan says that both of them would be fine. Britney tells him he will be safe too. Ragan says that he worries that Brendon and Rachel on the block together would be hard-core theatrics. Matt says Brendon going would be best because he's bringing Rachel's game play down and they really like her. They talk about how Brendon is a monster at competitions and is ruthless. Ragan says that he thinks the next HOH is huge and he thinks fate will step in. Ragan says he wonders if the viewers understand how important it is. Britney says that she thinks that the whole house is geared towards getting Brendon and Rachel out. They talk about Andrew and his speech at the POV and how that was the nail in the coffin, and he did it to himself. They all agree that next week the house is going to be crazy. Ragan says that this is the first week Big Brother is going to do the shorts on the nominee's families during the live show.



Ragan says that they will probably do pieces on Kathy and Andrew's families. Ragan says that he thinks there is going to be a double eviction soon. Ragan says that he thinks they will lose three people in the next two weeks. They talk about what the next HOH competition will be. Britney says that she thinks it will be a true or false and says that, that one is a real crap shoot. Matt asks Ragan if he would put up Brendon and Rachel. Ragan says that he doesn't like to vocalize who he would put up until he is actually in the position. Britney says that she agrees, she says her and Ragan would both be in a difficult position as HOH. Britney says that she doesn't think this week is going to be a unanimous vote, she says that Brendon is voting for Andrew to stay. Ragan and Matt think that Brendon is a pussy and will vote with the house, and says that he would be stupid to go against the rest of the house.

SEE what they CAN'T show you on TV! 3 Day FREE Trial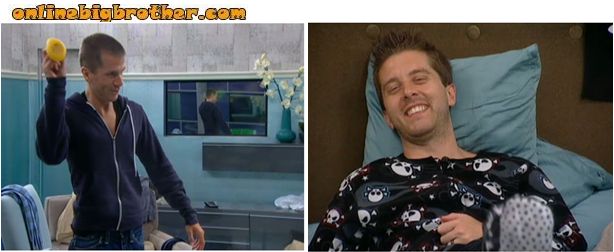 12:40pm Up in the HOH room, Britney tells Matt and Ragan the fight that Rachel and Brendon had about couples getting a prenuptial agreement. Britney says that things got heated between Rachel and Brendon. Britney says that Kristen was egging Brendon on, agreeing with him that couples should get a pre-nup, which just upset Rachel more. Britney says that Rachel just stormed off. Britney sees the good in pre-nups but says she doesn't plan on having one. Ragan and Britney leave the HOH room.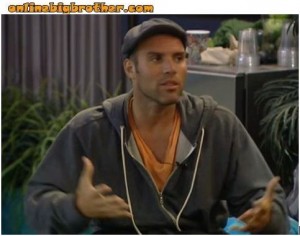 In the backyard Enzo, Brendon and Hayden are talking. Matt comes down from the HOH and joins them. Enzo talks about the jury house. Brendon says he would be okay with being in the jury house as long as Rachel is there. Enzo says that they can make it happen. Brendon laughs. Enzo asks Brendon if he thinks they will have a relationship out of the house. Brendon says that he is going to try, and that he really likes her. Brendon talks about his schooling that he has to start right way this fall and how Rachel would have to come to him in order to see him. Brendon says that he is trying to convince her to come to California. Brendon says that Rachel is a handful, but that he doesn't think he would have to worry about her cheating. Enzo says that Rachel is a genuine girl. Matt and Enzo say that all girls are a handful. Enzo says that his wife is a still a handful and he has been married to her for seven years. Britney joins them in the backyard. Britney talks about her bubble bath that she took earlier and how nice it was. Enzo says that he wants some champagne and shades, and wants to shut the door and sit them all down to talk. Enzo saying that he will says what are you going to do for me? They all laugh. Enzo says he will wear his HOH robe while in the bath. Hayden says that he wants to see him read his letter. Enzo says he can't. Hayden and Matt say you have to read the letter out loud if they get one and that Big Brother told them to do so. Matt jokes and says if he cries he will get a penalty nomination. Hayden laughs and says that he wants to see Enzo cry. They ask him who his wife most sounds like out of the girls in the house. Britney asks is it like Kathy and then makes fun of Kathy's accent. They all laugh. Enzo says that his wife probably sounds most like Kristen. Enzo says that if he gets pictures of his kid and wife then reads a letter he'll be a mess. Britney then asks who farted…because it's bad!!! Brendon says it was him and that he's sorry. The guys all laugh. Enzo says that Brendon tried to sneak one during the conversation.

SEE what they CAN'T show you on TV! 3 Day FREE Trial

1:15am Britney asks Enzo how much he cheated by sneaking food when he was a have-not. Enzo tells Britney …lets just put it this way, I wasn't a have-not. Britney wonders how Enzo pulled off eating. Enzo says that you do what you got to do, he says I can't give away my secrets. Enzo says that if he messes up again with food restrictions he will get some sort of penalty vote/nomination. Enzo says that he ate a slice of pizza in front of Britney. Enzo says that he thought everyone was going to get the pizza. Matt says yeah even though Rachel explicitly said they were a have not after the competition. The conversation changes to tv shows and prank phone calls….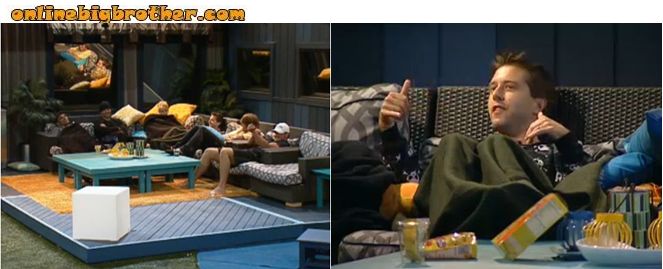 2am All the houseguest head to bed.





3:30am Ragan can't sleep and is now lying in the hammock in the backyard. Ragan says that his mantra is to playing to win, and not to go to the jury house. Ragan says to himself …to America and says okay, last thing and I'll go to bed, my live feeders, if any of you are watching… Ragan then says that if he intends to just outright throw the competition on Thursday, which he says that thinks he is going to, he will wear a long-sleeved navy shirt. Ragan then gets up and heads to bed….

4am All the houseguests are now asleep…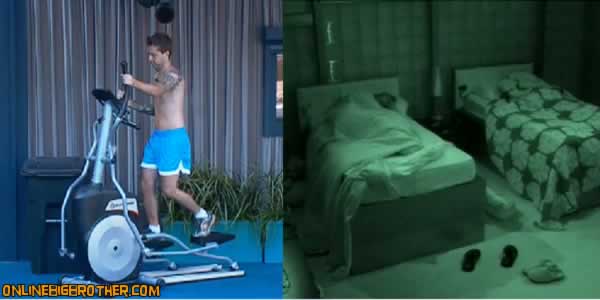 8:27am Backyard/bedrooms

Matts the only one I see up on the feeds… he's working out like a mad man knowing that he's in good bb shape next week regardless of who wins HOH.

Onlinebigbrother.com is around because of your donations. Every year the site costs us to host the images and run the servers needed to handle the traffic. If you like the site then please consider donating to keep the madness going. Thanks!