10:15pm Backyard Matt, Lane and Hayden Matt is telling them about his conversation with Andrew earlier today. Matt explains it as "Crazy TaLK.. bad shit CRAZY TALK" Matt explains that Andrew told him that if Matt keeps him in the house that he'll tell him about an alliance that spans 3 people. Matt adds that Andrew told him if he tells anyone this he Matt will never know the truth. LAne starts laughing "WHAT the FUCK".. Brendon and Andrew walk outside.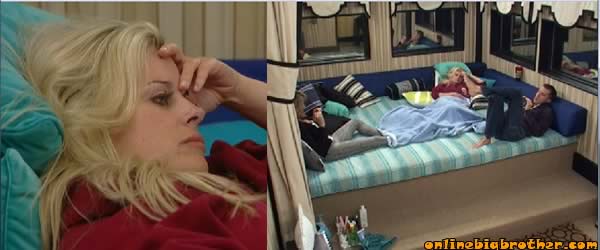 10:20pm Cabana Talk Staring I gotz chew in my mouth kathy and Cool girl Kristen Kristen is wondering if the entire show is going to be about Rachel and Brendon. She feels like she's making plays in the game and the DR isn't really talking to her about it. A lot of questions are about r/b. Kathy has noticed that to. .. feeds cut..
Ragan is now in the room and he's complaining about how hard it is to be on slop, Kath tells him it'll be alright he's got only 2 more days to go. She tells him next week she'll throw the have nots competition so that Ragan doesn't have to be. Rachel says that kathy will de-attach from Kristen on thrusday then attach to whoever has HOH.. She will continue to do this until the end. Rachel points out that during Rachels HOH "Rain" Kathy was up there all the time but she didn't do anything regarding game, she was called into the DR just once the whole week. Brit ask her who brendon will put up if he wins this week. Rachel isn't going to name any names but she sure that Kristen will be the primary target. They briefly talk about Ragan they know he's close to Matt and that he's not targeting them yet and thats about it.. at 11:30pm Ragan comes in.

10:25pm Hot Tub brit and rachel Girls still up there bashing Kristen and KAthy. They are trying to figure out how to get rid of Kristen. They suspect because she's so close to the guys that a super pawn has to be used. They figure they'll put up a guy that way she only has 3 guy votes. They both think Kristen is trying to float through with the guys and let them fight it out while she sneaks to final 3.
they start talking about how they would vote in the jury house. Both say they'll vote for the fighter even if that person wasn't their "friend" in the house. RAchel bring sup that Brit really proved herself to Rachel when she won POV after Rachel put her up on the block. Rachel throws in a little campaigning to keeps Andrew. She says that even though Andrew is coming after her she still thinks he should be spared because he's such a fighter. Talk goes back to the super pawn.
Rachel tells Brit that to make sure Kristen doesn't win HOH and put both her and brit up she should throw the HOH to Rachel and Brendon (yeah brit do it). Rachel reminds her she has nothing to fear they only want to get Kristen out whose a threat to them both. Rachel says the only concern that she has with Brendon winning HOH is that it will put a even larger target on him.
11:10pm Backyard Pool table Hayden and LAne talkign about Andrew's "secret alliance" knowledge. Lane thinks it's about Brendon, Rachel and Andrew and Andrew wants to pull matt in on this side to be the fourth man. Lane points out how Andrew and b/r avoid each other around the house. Lane asks what other alliance is there we're the biggest so he had to of meant one of us. Hayden thinks it could be Kristen, himself and Andrew because Kristen is close to him and i'm close to Kristen.
hayden reminds Lane that they need to start thinking beyond the brigade they need to think about who they need in the jury house. Hayden thinks that Matt and Enzo are obvious votes for them, Kahty is a vote for them but they need to get her out. Lane brings up that Kathy is telling everyone she doesn't want to win just wants to make it to the jury house for the stipend. Hayden mentions ragan is more than likely a vote for them. There not sure about Brendon though.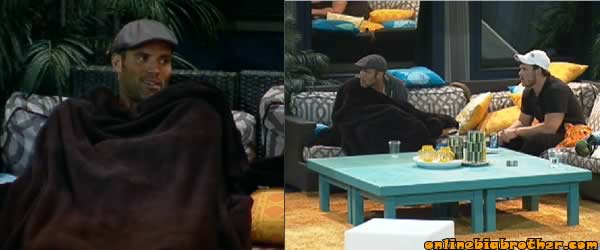 11:40pm Backyard Couch Enzo and Lane Enzo says was talking to Brendon and Brendon said he wasn't scared of Andrew because Andrew losses control sometimes. Enzo mentions he brought up the fact that Andrew is one person coming after yo in the house and Kathy is one person who likes you why don't you keep kathy… Enzo continues taht kathy is talking MAD shit about b/r now saying she's going to tell all their "secrets" eznos says that told him she's not goign to say a word about it until she knows she's safe and then she'll tell everyone what Rachel and Brendon were talking about up in HOH. Hayden joins them… kathy not too far behind
Enzo July 27th cam 1 6:24pm

Onlinebigbrother.com is around because of your donation every year the site costs us to host the images and run the servers needed to handle the traffic. If you like the site then please consider donating to keep the madness going. Thanks!