1025am – 12pm Rachel and Britney are in the kitchen talking about random stuff. Andrew is up near the HOH room eating something and playing chess with himself. Kristen and Kathy are laying out on the lounger trying to nap.  In the kitchen Britney and Rachel are talking about the iPad and the Kindle. Britney says that her mom has a kindle but would never buy one herself because she thinks they are too expensive and it won't pay for itself. Britney says that she only reads one book at a time anyways so why would she need to carry around something that has numerous books on it. Brendon joins in on their conversation. The subject turns to the twilight series. They then start talking about the Big Brother house and how different it looks from what they though it would be like.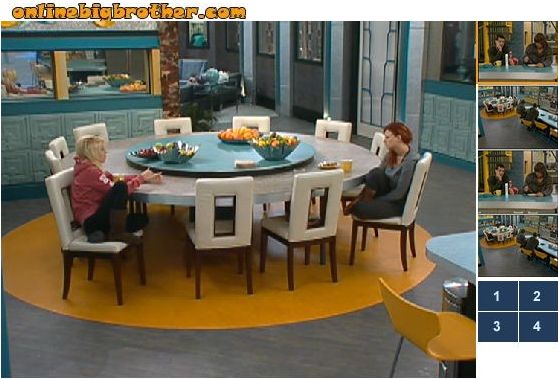 Rachel leaves to go to the bathroom. Kathy joins them in the kitchen. Kathy says that she really doesn't want to be booted. Ragan joins them. Britney asks if Ragan if he is okay, because it looks like he is having a bad day. Ragan says that he just doesn't want to eat slop. Ragan mentions that Kathy looks down. Ragan asks are you okay? Ragan and Britney reassure Kathy that she isn't going any where. Ragan says trust me, I would pee my pants if you were voted out. Kathy leaves and to have a smoke and then lays down to take a nap in the lounge room where Andrew is already sleeping. In the kitchen Ragan, Britney and Rachel are all talking about school and Ragan tells them about how he teaches his students. They discuss tests in schools and then Ragan and Rachel start talking about psychology. Meanwhile Brendon has been on the elliptical for the last hour. Rachel, Ragan and Britney talk about being in sequester. Rachel says that she hates being alone and craves attention from others. They talk about how emotionally draining to be in the house… and all they think about is the game and being in there. Britney says that once you are in this house you only exist in this house, we exist one way only. Ragan says that they only have one role in the house.. they are a houseguest.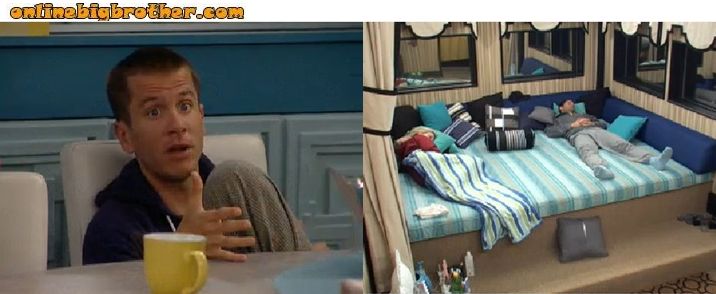 12:10pm Enzo and Hayden out on the backyard couches dreaming about winning the next HOH…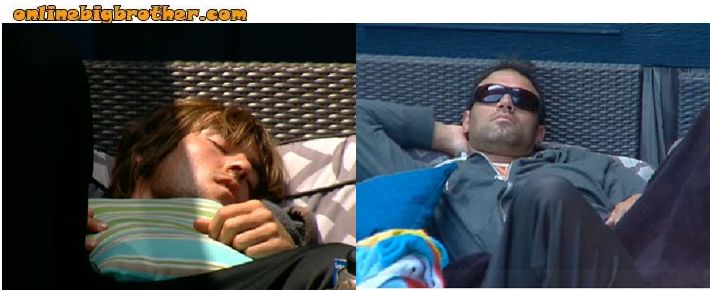 Onlinebigbrother.com is around because of your donations. Every year the site costs us to host the images and run the 3 servers needed to handle the traffic. If you like the site then please consider donating to keep the madness going. Thanks!