9:10am Big Brother wakes up the houseguests.  Lane, Enzo and Kathy are laying on the couch in the backyard.  Rachel is making breakfast in the kitchen while Brendon cleans dishes.  Brendon asks Rachel why she didn't give him a kiss goodnight.  Rachel asks why is it always her that needs to go to him.  Brendon says it isn't he just would have liked a kiss.  Rachel asks why is everything a game to you. Brendon says because everything is a game.  Brendon then kisses her.  Brendon asks Rachel why shes always making breakfast for everyone, and that she doesn't need to.  Rachel says because she likes making breakfast and because she's bored.  Rachel says that she needs to talk to Brendon about something later.  Rachel says that she had a dream last night that Andrew could mind control her and Brendon.  She says there was a dot on her forehead and that meant he could control her.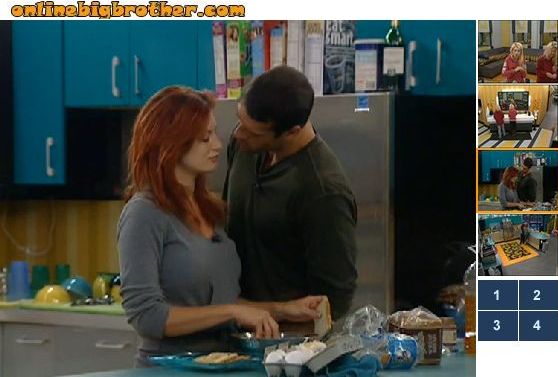 9:40am – 10:10am Rachel, Kristen, Hayden and Britney all sit down at the kitchen table to eat the French toast that Rachel made.  Hayden and Brendon talk up at the bar in the kitchen.  At the table Britney, Rachel and Kristen talk about really random stuff like Christmas decorating, Martha Stewart, kids… Rachel starts talking about this person in Vegas that has a three year old that swears and is out of control.  Rachel says that this person talks about how she wishes she never had her little girl.  Britney talks about a friend she knows that had a child and she was the type of person that you would have thought should never have kids.  Britney says that she is the best mom, and she never would have thought it.  Britney says that little 15year old boys have porn stashes and she had wedding magazines.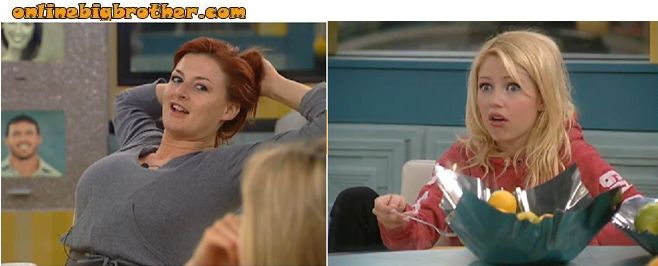 Onlinebigbrother.com is around because of your donations. Every year the site costs us to host the images and run the 3 servers needed to handle the traffic. If you like the site then please consider donating to keep the madness going. Thanks!