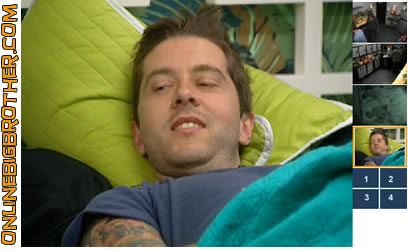 SEE what they CAN'T show you on TV! 3 Day FREE Trial
10:30am Matt and Ragan are still talking in the bedroom.  Matt says that the meeting last night was a flamboyant performance …. throwing me under the bus in front of a whole group of people. Ragan asks when I was in HOH with her, what she was saying was so convoluted.. I am interested to see how I'll do in an endurance competition that should be coming up. Matt says me too, if it comes down to me and Brendon, I'm not making any deals, I am not dropping. Ragan says sometimes when you see it on TV and you see someone drop, it's like… how could you do that? Hayden comes into the room.  Matt asks him if Brendon and Rachel have talked to him about last night.  Hayden says no. Matt asks are you still cool with everything? Hayden says yes.  Hayden leaves. Matt says to Ragan, he's too handsome not to trust. Ragan asks that if Rachel's intent was to expose you but not get you out.  Matt says that Britney even came up during Rachel and me talking. Matt says that he is pretty sure she was campaigning for Monet after I left.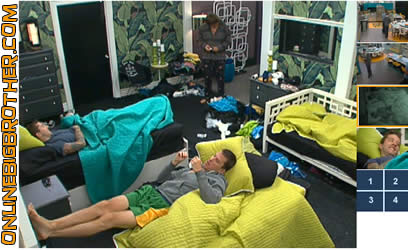 Ragan says that he's hungry. Matt says he is too, but that he is afraid he will throw up. Ragan says that he wants to eat a burger. Matt says that he feels like he's on my last meal, like on death row. They talk about how the awkward moments of silence during the commercial breaks while their sitting on the couch. Ragan says that he was even sweating the Annie vote and it was ten to zero!  Matt says it will be crazy crazy tension this Thursday. Matt says that he wants to be jazzed up to watch it but he doesn't want to be a part of it like he is going to be. Matt asks if he should call someone the most horrible despicable person …calling them Ronnie.  Ragan laughs. Ragan says that Ronnie could not have been more of a dork, he out dorks himself. Ragan says that he thinks the HOH competition will be hanging. Matt says he thinks it will be a swinging competition. They talk about what the longest HOH endurance competition was…  they think it was about 8 hours. Ragan says that he thinks there will be prizes if people drop off early and they both agree that there will be people who will drop.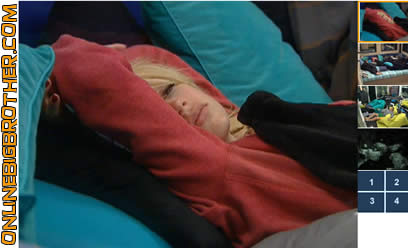 Live Feed Flashback to all the drama! Try it Free for 3 Days
11am Up in the HOH room Andrew and Kathy are taking all alone. Andrew asks Kathy what her thoughts are about what which way she will vote.  Kathy says that there is more going on in here than I know what's going on, that's part of the game. Kathy says that she has to look out for herself. Andrew asks Kathy who is more likely to come after us …. Matt or Monet? Andrew tells Kathy that Matt is going after him. Kathy says that some of the stuff Matt said in the meeting made sense and some of the stuff Rachel said made sense.  Andrew says that Matt is for sure in an alliance with Ragan and Lane.  Andrew says that he doesn't like Matt saying that he couldn't vote for Andrew at the meeting. Andrew asks Kathy which of the two are going after us?  Andrew tells her that he thinks Matt is going after him. He says that Matt was called out in front of everyone.  Kathy says yeah, but then they were all outside having a party last night, so who knows what's going on. Andrew and Kathy both leave the HOH room.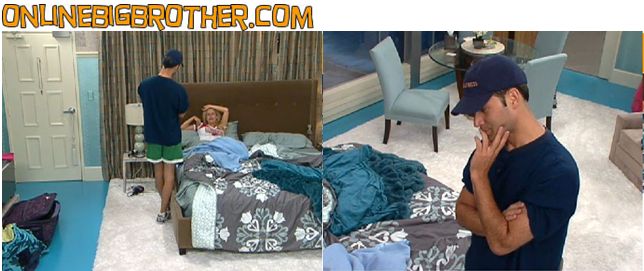 11:30am All the houseguests are in the kitchen making lunch and talking about random stuff….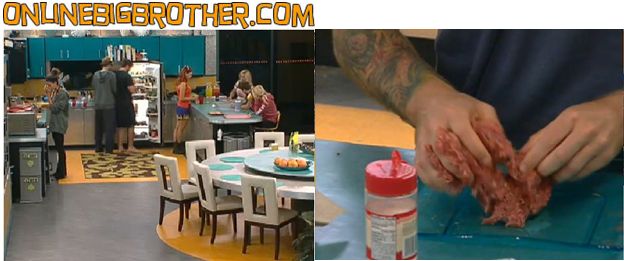 Share it YO!!
Tweet