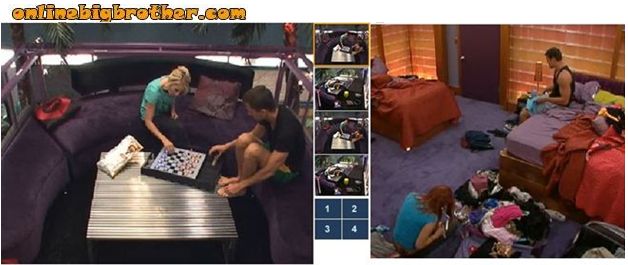 Try the Live feeds for FREE! Superpass 3 Day FREE Trial
1pm Ragan and Britney are playing checkers on the HOH balcony.  All four cameras are on them and they aren't really talking.  Britney says that she just thinks its so funny. Ragan asks what?!  Britney says BLANK-a-Roaches!  Britney says it's hys-terical!   Meanwhile, Rachel and Brendon are in the bedroom talking about how they can change and control there own destiny.  Brendon talks about how half the battle for people that have cancer is believing they can beat it.  Brendon tells Rachel that he is so excited to show her his school and labs …that there are so much cool stuff.  Brendon talks about this scientist that froze a mouse and then thinly sliced it to examine each slice.  Rachel interrupts him and says that she has already heard about it. Brendon questions her asking really?! Rachel says yeah and then explains what the guy did.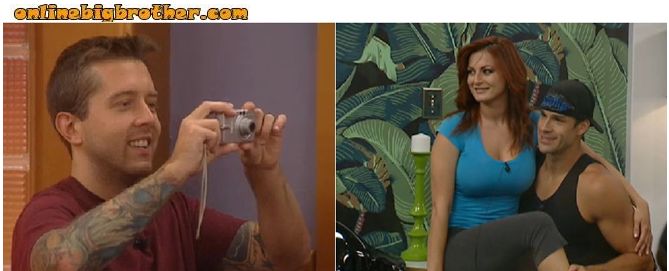 1:20pm Matt gets the HOH camera and starts taking pictures.  Matt comes into the bedroom where Rachel and Brendon are and tell them he needs a scandal pic.  They pose and then he takes more of them in the other bedroom.  They all head to the cabana room to take the usual entire house guest cabana pic. After the picture Ragan and Britney head back up to their checkers game. Ragan asks Britney is Matt actually talking to them? Britney says yes. Ragan says that he is so much more diplomatic than I am. Matt takes a few more pics and then heads up to the HOH room to write his blog post. Before going into the HOH room, Britney tells Matt to delete the photos of Rachel and Brendon. Matt heads into the HOH and is looking through the pictures… then the cameras switch…

Watch all drama on FLASHBACK! Free 3 Days TRIAL!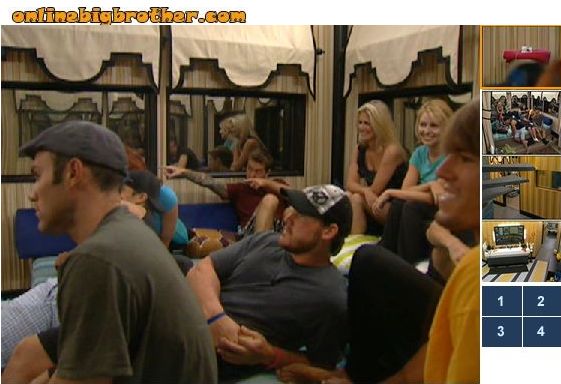 1:40pm – 1:50pm Britney and Ragan are up on the HOH balcony counting all of the chains and big links that are down on the living room walls. Ragan looks over and counts and then tells Britney. Britney adds them up by writing on the couch. Lane comes up and scares Ragan asking them what they are doing. Lane says that he hid Enzo's pool tournament trophy under Enzo's bed so that he couldn't find it. Lane goes back downstairs…. Ragan whispers to Britney that they should start hiding things to freak the other house guests out. They talk about the things they could hid and where they could hid them.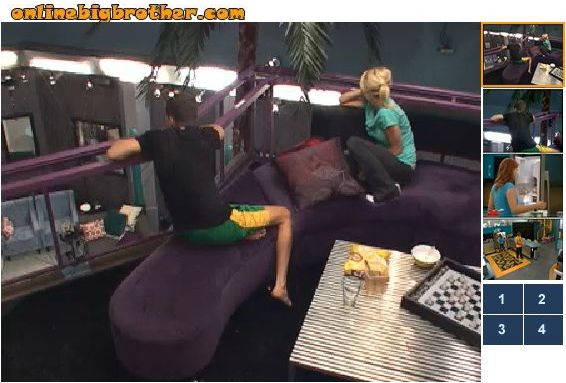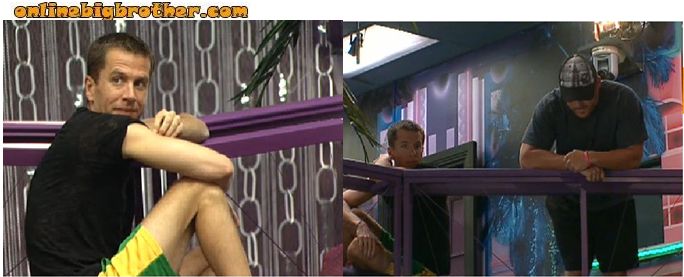 2:10pm Brit and Ragan are going around the house hiding things. The hopes is that B/R will notice and will start thinking that the HOH questions will be based on missing things around the house. They have informed the brigade about their plan and then go sneaking around the house moving shit.