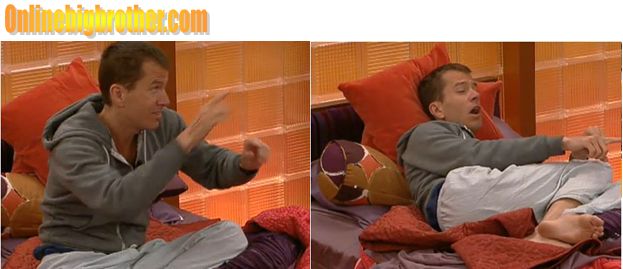 1pm The feeds are back from TRIVIA… In the bedroom, Ragan and Brendon are talking about the HOH competition that happens tonight.  Ragan says that he thinks it will be an endurance competition.  Brendon says that he hopes it is too.  They then talk about last season's endurance competitions.  Brendon talks about how the big athletes don't do too well like Jessie.  Ragan says yeah, but look at how well Russell did.  Brendon says yeah.  Ragan then talks about an an endurance contest he did, how he did it till his hands burned.  Brendon asks how did you do? Ragan says he thinks he won. Brendon says you think you did until you're done.  Brendon asks Ragan about how he got into poetry slam.  Ragan explains how he first got into it.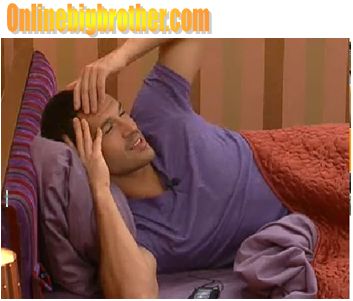 On tonight's LIVE show we will find out about the identity of the SABOTEUR and see who is evicted!! See what they can't show you on TV! 3 Day FREE Trial!
1:15pm Enzo comes into the bedroom and says that he wants his shirt to audition tonight.  He says see look at this one… BooM and BOOM!  That's what I'm rockin'…  Enzo says he's gonna get his hair cut by Rachel for tonight .. Ragan asks what if it doesn't look good.  Enzo says well then I'll wear a hat I don't care.  Lane comes in and tries on a black dress shirt.  Enzo asks WHAT is THAT?!  …is that bullet proof??? They all laugh. Ragan and Brendon tell him that he'll be hot in that.  Lane says yeah I know I'm not wearing this …I'm just doing a fashion show.  Lane then leaves the room.  Ragan and Brendon talk about the eviction tonight.  Brendon says he doesn't want someone coming up to him saying you didn't talk to me … and that he doesn't like fake people. Meanwhile in the lounge room are Hayden, Kristen, Annie, Matt and Monet are talking about tonight's show and other random stuff..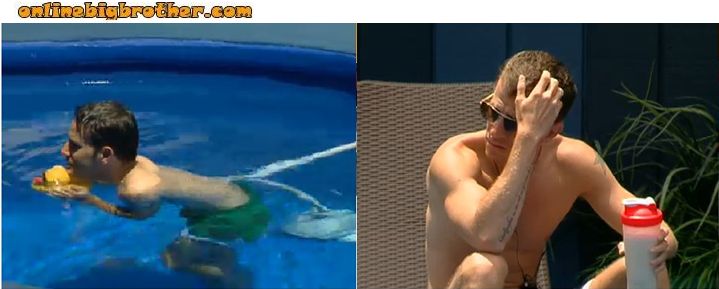 SEE what they CAN'T show you on TV! 3 Day FREE Trial
1:25pm In the bathroom Rachel is cutting Enzo's hair and Matt is shaving Lanes neck.  Andrew comments and jokes that Enzo looks like a 15 year old boy from the back. Brendon says nice job, I'm impressed.  Rachel says Thanks, I'm good at other things too…  Brendon and Hayden both laugh.  Rachel says what… Hayden laughs and says I didnt get any kind of sexual connotation out of that … they laugh.  Brendon says yeah I wanna see what else you're good at … like chemistry …and cooking…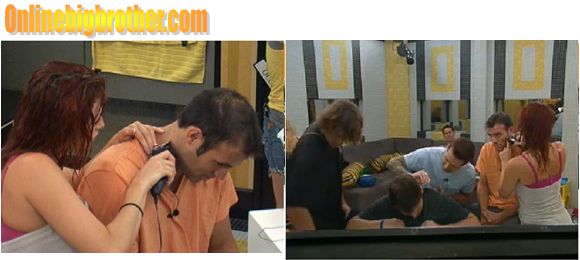 1:40pm – 2pm Monet, Matt, Ragan and Lane are talking in the lounge room. Ragan knows what he is going to say to Julie, but won't tell them because he doesn't spoil it for them.The are talking about what they will wear tonight. Lane asks Ragan what he is going to wear. Ragan says that he is going to wear a v-neck so low that you can see his balls. Hayden says he's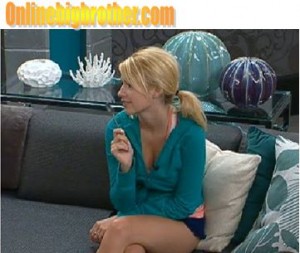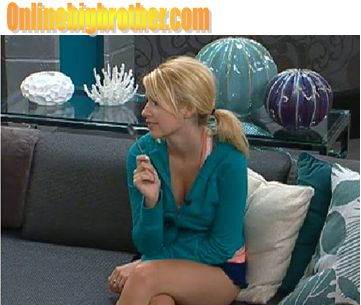 going to wear a v-neck too. Ragan says that we should all wear v-necks. Lane says yeah me too. Ragan says that you need an invite to be able to wear a v-neck. Hayden asks Ragan how they're we going to initiate Lane into the V-neck club… Ragan says Lane has to eat one of the dead fish in the tank. The camera switches to the kitchen where Brendon, Andrew and Britney are talking. Britney asks so do we have to go up there at 2pm? Brendon says no their going to give us a run down of the rules at 2pm on the couches in the living room. Then the feeds cut to the we will be right back screen.


Free Live Feeds! 3 Day FREE Trial

Sitting on the living room couches are Lane, Hayden and Britney talking about tonight. Britney asks Hayden if he is ready for his reign to be over. Hayden says yeah, I want to be done here more with everyone else. The talk about how Hayden was up there as HOH for a week and a half. They talk about how the person that gets HOH tonight will have to make their nominations tomorrow… She says that most people already know who they'd put up. Lane starts flexing his biceps and when Britney looks at him .. He tells her to stop looking at him. Britney laughs and says well stop flexing. All the houseguests are just sitting around and getting ready for tonight.