Try the Uncensored/Unedited Live Feeds for Free! 3 Day FREE Trial
12:45pm Matt comes into the HOH room to talk to Brendon and Rachel. Ragan stays while Matt starts telling Brendon and Rachel what he needed to tell them. Matt says so here's the deal. Matt says he already told Ragan. Matt says that he is 100% positive that Britney is the saboteur. She was the first one in the house… she took the ideal bed … Then we had the hotdog things and she just dropped and hurt her knee. He says then she was the one to point out the locker room door. Matt says its like what Ragan was saying how magicians distract people to do the trick. Matt says that's exactly what she did …and she was the only one to point out the lock on the door. Matt says that then he was up in the HOH when he heard who Hayden was nominating. And 20minutes later she was spreading it and starting shit. Matt says that's when he first started watching her. Matt says then the caramel competition how she was told there was a tooth right there and she still didn't go get it. Like how do you not go get it when someone points it out to you. Matt says then she went and stirred up shit with Andrew last night …like why the fuck would you do that!? He say a) you didn't even see it and b) why the fuck would you stir up shit there was no need to!! Matt tells them to not say anything to Britney or anyone else …. Rachel gets called into the diary room. Ragan, Matt and Brendon continue to talk about the game and how it really shows people true colors.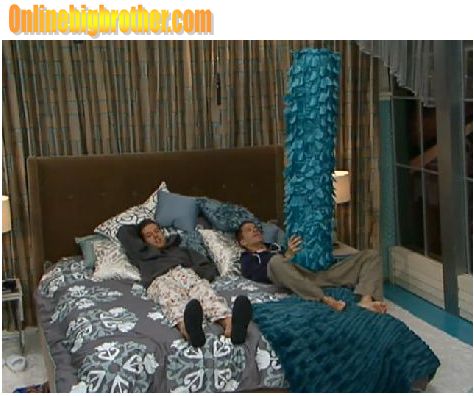 SEE what they CAN'T show you on TV! 3 Day FREE Trial
Matt and Ragan are laying on the HOH bed talking to Brendon. Matt has his hand down his pants. Ragan grabs this really large prop from the HOH room and lays on the bed beside Matt. And then Ragan says I want to see Matt sit on this and say that its not big enough for him. They all laugh. They continue to talk about how crazy this game is …its not the real world. Brendon asks Matt what he thinks about Lane. Matt says he's a nice guy and he is loyal to the house because he was friends with Annie but didn't even give her the sympathy vote. So at least we know where he stands. Matt says that he works out with him but doesn't really know that much about him like how he hangs out with or anything. Matt asks if Brendon cut a deal with Hayden after the POV to save Rachel. Brendon says no, no … I just campaigned about him saving her. Brendon says its hard to go through the game with someone that you care about. Brendon says that if Rachel had gone home and he won HOH he would be gunning for Hayden … but it all worked out so he's not going after Hayden ….right then the feeds cut to TRIVIA…
1:05pm The feeds are showing TRIVIA….
2:41pm Still Trivia