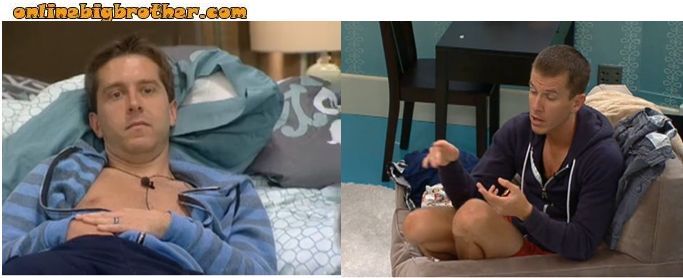 SEE what they CAN'T show you on TV! 3 Day FREE Trial
11:50am Up in the HOH room, Ragan tells Matt what happened with Rachel, Brendon and Britney. Ragan tells Matt that he thinks Brendon is an idiot but that he is just smart enough to be dangerous. Ragan says that he felt like adults talking to a fucking retarded monkey. Ragan says that is really starting to think that Andrew and Brendon are the life long friends, and thinks that Rachel may have figured it out. Ragan says that he doesn't trust Rachel and Brendon at all after the conversation tonight. Ragan says that he wants Brendon out of the house next week, but that he still plans to throw HoH this Thrusday. Ragan says that he doesn't want a player like Kristen to leave next week. Ragan asks Matt how he would vote if it was Hayden or Lane up against Kristen? Matt says at this point in time he would have to vote for Hayden or Lane, only because he hangs out with them more and works out with them. Matt says that could also change. Matt tells Ragan that he has told Britney to talk to Kristen, and for her to not rely on what Rachel tells her about Kristen being after Britney.



12:10am Rachel and Brendon are talking. Brendon says that he likes Ragan but does not like it when people tell him his opinions are wrong. Rachel says that she was upset too and that is why she tried to stop Ragan and stop Brendon. Rachel says that she doesn't want them to lose Ragan as an ally. Brendon says that he doesn't either. Brendon is going over the votes for Andrew. Rachel explains that Andrew just doesn't have the votes and that he will be leaving. Rachel tells Brendon that Andrew made several mistakes. Rachel reminds Brendon that he is here to win the money, and not here to make friends. Brendon says that he still isn't sure if he will still cast a sympathy vote for Andrew. Andrew comes into the bedroom and tells Brendon and Rachel that he is going to say something in his speech tomorrow that will take the target off of them(Brendon and Rachel). Andrew says that he is super excited about it. Rachel asks Andrew if what he is going to say is about Hayden and Kristen having a secret alliance. Andrew doesn't say anything at first. Then Rachel tells him that everyone knows about the Hayden and Kristen alliance. Andrew says it could be, but at least it will be out there and either way it has nothing to do with you guys it can't hurt you. Rachel tells Andrew that they will see him in Vagas. Andrew says you know it!! Andrew leaves the room. Rachel tells Brendon that it is stupid for Andrew to say something about them. Brendon says that it has nothing to do with us.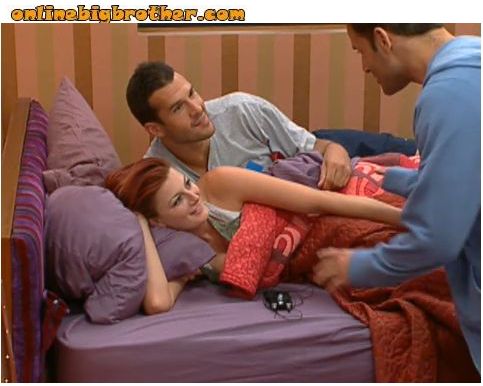 Lane, Enzo and Hayden are talking about what they told Andrew. Lane refers to Brendon and Rachel are needle dick and his princess. Lane says that he is looking forward to getting needle dick out this week and then it's a free ride to the end. Lane says that he thinks Rachel will eliminate herself once Brendon is eliminated. Enzo says that he think she's smarter than that; she won't give up that easily. They start talking about different scenarios. Hayden says that he thinks Brendon would put up Gaygan (Ragan) if he got HOH again. Lane says that he hopes that he would put up two of the Brigade members so they would have a better shot at winning the POV. Hayden says jedi training. Enzo says that they need to win HOH. Lane asks what if the entire brigade gets to play POV. Lane then says that he would put up Britney as a replacement if Rachel or Brendon win POV. Enzo says that when Britney gets to comfortable, that is when we send her home. Britney comes and joins them. Lane says that he is going to a gay bar with Ragan when they get out of the house. Britney says that she loves gay bars. Hayden says he's never been. Lane says again that he wants to go just to experience it but that he doesn't want to get hit on. Britney tells him not to go with a girl… Lane says that he doesn't want to go to one of those gay bars where people where leather straps or have drag queen shows. Britney says that she wants to go to see the drag shows. Britney is up in the HOH complaining to Lane about Kristen. Britney says that she would never be friends with Kristen in the real world. Britney says that Kristen is so condescending, and acts like she is better than everyone. Britney says that she hopes they do a montage of Kristen walking around farting. Lane tells Britney that people are noticing that her (Britney) and Rachel suddenly seem to be best friends this week. Britney says she definitely doesn't want that and will keep her distance.




1:10am Matt talks to Hayden and tells him that Ragan is a million time ten on board to getting rid of Brendon next week. Matt says that Ragan was fuming when Brendon and Rachel were telling him and Britney a load of bull as to why they should keep Andrew. Matt also says that Ragan said that Brendon and Rachel were talking about going after him (Hayden), Kristen, and Lane next week. Matt lets Hayden know that Ragan is also considering throwing HoH.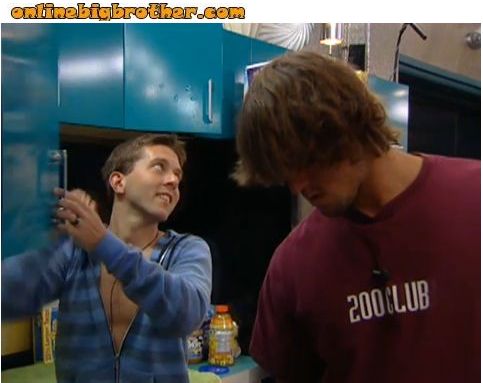 Up in the HOH room Matt, Lane, Hayden, and Britney are talking. Hayden says that he thinks its odd that Britney is spending so much time with Rachel. Britney gives excuses that it's not intentional. Lane says Brendon is now nicknamed NeedleDick, and says that anything douchey is now Brendon. Andrew sticks his head in the HoH and immediately walks out. They tell him he can stay but he leaves anyways. Britney says that Brendon told her and Ragan that Andrew maybe should stay. Britney says that Ragan came unglued pointing out how it makes no sense for Brendon to want Andrew to stay when he said he was gunning for him. Britney thinks that Rachel and Brendon are two separate people and that while they ultimately are a pair, they have completely different ways of playing this game. Hayden asks if Britney would put up Brendon and Rachel. Britney says that it seems to be the house decision, right? They all agree. Hayden says that he thinks he is most at risk if Brendon and Rachel win HOH. The others say that they are also at risk.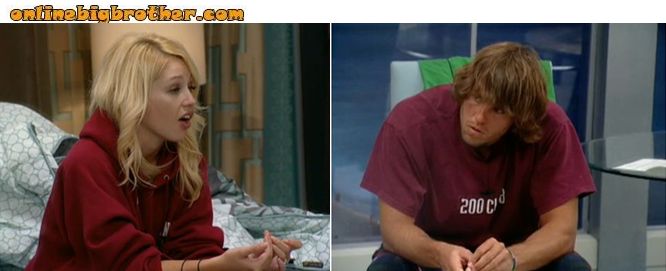 FREE Live Feeds! Superpass 3 Day FREE Trial
2am In the storage room, Andrew tells Enzo about his plan to have a speech tomorrow to out a secret couple that is trying to get him out of the house. Enzo says he has a lot of respect for Andrew after his speech today at his meeting and that he could never do that and hopes that no matter what happens they stay in contact. They leave the Storage room. Enzo then goes up to the HOH room and tells them that Andrew is going crazy and is going to give a big speech about a secret alliance. They talk about why Brendon would want to keep Andrew. Hayden says he can't wait to go home and watch the entire season. Britney says that Andrew is so paranoid, and that they talk about all the weird stuff he does, always looking at the cameras, peeking around corners. Enzo says that Andrew has got to go home. They talk about how crazy tomorrow is going to be. They talk about how the whole house is going to change and that it could either be really good for them or Brendon and Rachel could win and who knows what would happen. Enzo says that Brendon has the personality of a wet mop. They all laugh. Enzo says that half of the people in the house don't want to be HOH. Enzo says that's a problem because it increases the chances that Brendon and Rachel will win. Matt asks Britney and Enzo is they want to win HOH. Enzo says hell yeah, he wants to see his wife, he want to be a have. Brit says that this week is going to be crazy for HOH, she worries about all the drama, she also worries that Rachel and Brendon would make her life hell if she won HOH and put them both up on the block. They tell her not to worry about that, and that have her back. Hayden leaves the HOH room.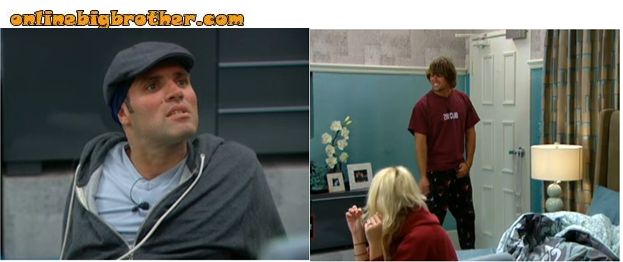 Matt, Britney and Enzo all wonder who Andrew will be calling out tomorrow. They think it could include someone from Andrews bedroom. They think maybe Kathy and Kristen. Matt says that he thinks the vote will be unanimous and that he doesn't think Brendon and Rachel will go against the house. Enzo says that Brendon and Rachel both told him they were voting Andrew out. They laugh about how Brendon and Rachel have always been on opposite sides of have, have-not competition so they haven't been able to spend the night together. Enzo says that he kind of feel bad for Brendon for having to put up with Rachel. They all think that Brendon and Rachel's relationship will last only a month out of the house. Enzo says Rachel talks about liquor like every hour. They joke about Enzo getting a penalty nomination. Enzo talks about Andrew's POV speech. They laugh about how crazy it was. Enzo says it would have been great if Brendon did use the veto on Andrew and then Rachel would go up. Enzo says America would probably love Brendon if he did that. Enzo says that if Brendon did that he would tell Brendon that he wants to be in his alliance. Britney leaves the HOH room.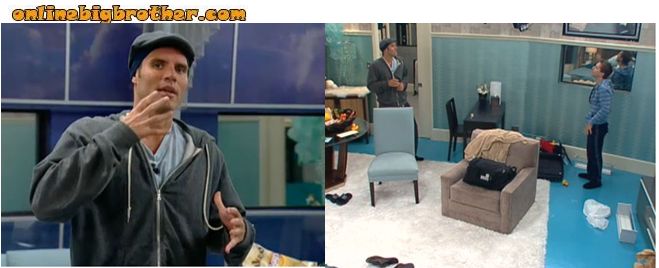 2:45am Matt and Enzo continue to talk in the HOH room. Enzo is worried that the Brigade might possibly being found out. Enzo thinks that Andrew is going to reveal the Brigade alliance. Enzo says that Andrew has taken note that the guys work out together and are close. Enzo then says even if people believe him, who cares, they can still get Brendon and Rachel out and the whole house will be scared of the Brigade. Enzo says that he'll tell his wife to make him four Brigade shirts and to just put them in there (HOH basket). Enzo heads downstairs to go to bed.

3am All the houseguests are asleep.

Onlinebigbrother.com is around because of your donations. Every year the site costs us to host the images and run the 3 servers needed to handle the traffic. If you like the site then please consider donating to keep the madness going. Thanks!
Share it YO!!
Tweet