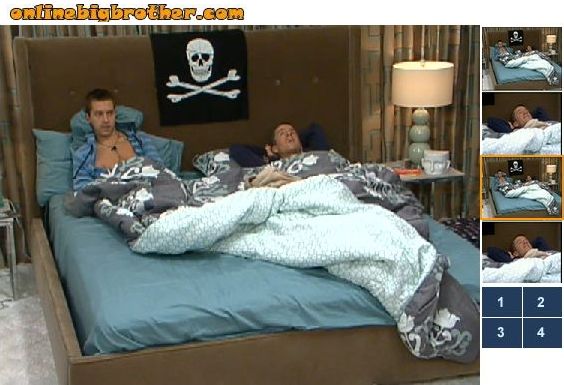 10:35am Matt and Ragan are in the HOH bed together. They talk about how the POV meeting will be soon. Matt: We are not locked down or anything are we? Ragan says that we will be when the producers call Britney into the Diary Room. Ragan and Matt laugh that Britney has her Veto speech all ready to go. Ragan says that he hopes they don't get a bunch of made for TV speeches today. Ragan says that he thinks Rachel will be dramatic just to make the TV cut.
Matt wonders if Rachel has been spending the last two days trying to get Brendon to sacrifice himself in the game and ask Britney to use the Veto on Rachel, not him. It would point to her being the Saboteur. Matt says they have to make sure Rachel believes they are sending Brendon home. They just don't want to deal with her drama. Ragan says that the look on Rachel's face when she gets the 6-0 vote will be sweeter than honey. Ragan dreads confrontation and says that he wont even be able to look at Rachel when it happens. Matt says that he cant wait and will tell Ragan all about it. Ragan wonders what Rachel, Brendon's reaction will be on Thursday when the votes come down and they both realize it was Rachel going home the entire time. Ragan says that he thought of such a great line for my goodbye video to Rachel but I think I will do it during my vote now. Ragan says that he thought of such a good line to say at the vote…. He says he is going to say "Julie I wish what happened in Vagas stays in Vagas! I vote to evict Rachel. Big Brother calls Britney to the diary room. And the feeds cut out. When they come back Ragan asks why if you are fighting for your life to stay in this game are you doing table dances??

Watch everything you miss on Flashback!! Superpass – 3 Day FREE Trial!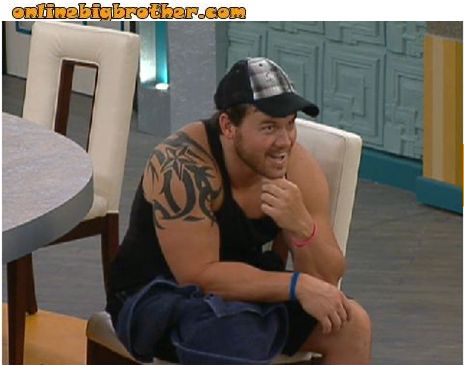 10:50am In the kitchen Enzo, Kathy, Lane and Brendon talking about the saboteur getting a special kit from Big Brother that contains green tape, ninja stars and flame throwers… They laugh about the saboteur calling everyone into the front room for a house meeting and then blowing them up with a grenade as a last resort since nothing the saboteur did ever works. They talk about how the POV ceremony is going to happen soon. They say that it normally happens at 11am. Brendon says that he and goes to have a shower. The cameras switch back to Ragan and Matt in the HOH room. They are going over strategies for memorizing what happened when in the house. Matt tells Ragan how to remember how many hours, and minutes they have been in the house. Ragan says that he is going to spend an hour today going over all of the events in the house.

In the backyard Matt and Lane are talking. Matt tells Lane that he needs to keep Britney close to him and continue to have an open alliance with her so that they can use it against Brendon, in case he wins HOH. Matt says he was up late last night playing with his ducks and thinks the final 4 is in the grasp of the Brigade and that nothing can stop them. Lane promises Matt that if he is on the jury and Matt against Enzo or Hayden in the finals he will give the money to Matt because of his wife's situation.
Matt says dude, thank you so much. Matt says that he hopes that telling people about his wife doesn't end up hurting him in the end.  Matt says that he wonders if he should have even told everyone about his wife's situation.  Lane says that he cannot wait to visit Matt in his hometown. Lane says that all he asks for is that Matt puts them up in a suit in his hometown so that the Brigade can visit. Lane says that he wants his own suit too … Matt says oh yeah for sure …I'll even buy you a house so that you can stay and visit any time. Lane asks Matt if he will invest any money he wins? Matt says that the surgery is expensive, so it will use up a large portion of the money.   Matt says that whatever is left he will try and help out his parents and invest some.. Lane tells Matt that he should put the money into a charity fund for his wife so that it will be tax deductible. Matt tells Lane that's a really good idea, I never thought of that.  Lane tell Matt that he should invest in oil also and says that's what his dads company does and that Lane has been knows everything about the oil industry because that's what he does for work.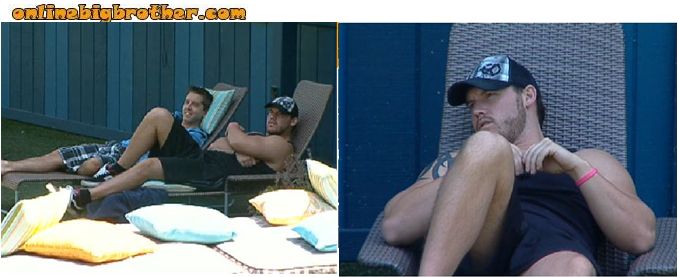 11:30am The feeds switch to the we will be right back screen….

SEE what they CAN'T show you on TV! 3 Day FREE Trial