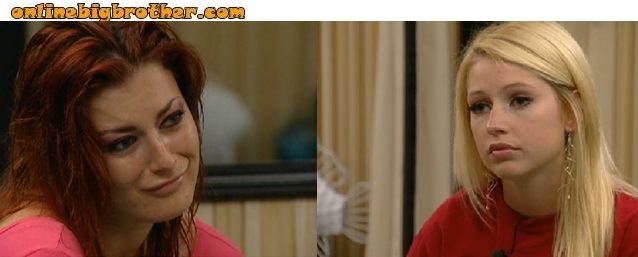 11:50am The feeds come back from the POV ceremony. In the lounge room Rachel is crying. Britney and Rachel are talking about what Brendon said during the POV ceremony. Britney says that she doesn't understand why Brendon said the things he did to Lane. Britney says that she doesn't blame Rachel, she blames Brendon for the comments. Britney says that she gets it and that she would defend her boyfriend too. Rachel says that she doesn't know what Brendon is doing. Rachel says that she told him not to say anything he would regret. Britney says that Brendon was just waiting on his chance to attack me. He doesn't like women. I say this from observing his behavior. He doesn't like women. Britney says that for a man to yell at women in a public forum like that is not right. Britney says that Brendon yelled at her and called her a spoiled little brat. Rachel says that she is sorry. Britney says that she appreciates Rachel's apology. I don't think you told him to say anything. Rachel says that she told him to be quiet. I didn't tell him to say those things. Britney says that she doesn't know why he would say the things he said. Rachel says that she doesn't know what he is doing and that she told him not to do anything or say anything stupid.

WATCH all the DRAMA on Superpass! 3 Day FREE Trial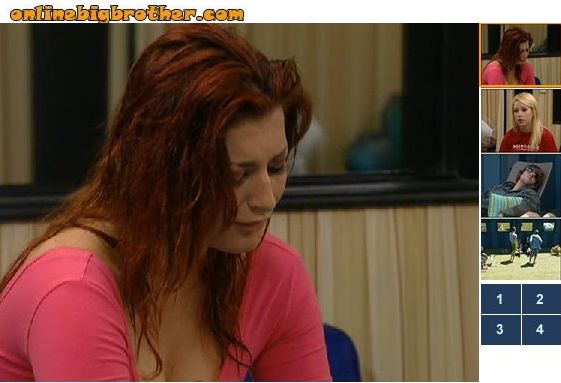 12pm Britney tells Rachel that Brendon talks bad about everyone, he attacks everyone, he is the biggest gossip and everyone knows it. Britney is sorry Rachel has to deal with the fallout of Brendon's comments. Britney says that she asked the producers if she could just read the script and not say anything. They told me I had to say something. Rachel says that Britney's comments sounded like she practiced them for days. Britney says that Brendon's behavior was horrifying. Britney says it looked like Brendon through a ball at Jeff and Jordan during the competition.

** UPDATED **

Britney and Rachel are still talking in the lounge room. Britney tells Rachel that she is not gonna engage him anymore… she is going to leave it alone has to change between you and me. If you want to come up and talk that's fine with me. If you want to hang out with Brendon thats okay with me. Rachel says thanks, I dont think you are a spoiled brat. Britney says thanks, I appreciate that. Britney tells Rachel that she doesn't want her to be in an awkward situation. Britney says that she feels bad that she will feel the repercussions of what Brendon did. Britney says nothing has changed between them and if she wants to talk or hang out, it's fine and she won't be upset at her hanging out with Brendon. Rachel and Britney hug. They go the backyard. Hayden asks if Rachel is okay. She says she is, and thanks him for asking.

SEE what they CAN'T show you on TV! 3 Day FREE Trial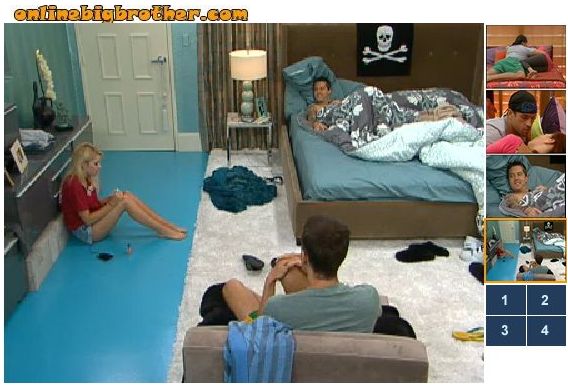 Up in HOH, Ragan and Matt agree that Brendon's speech was all planned by Rachel. Matt and Ragan think that Brendons speech played right into their plan to trick Rachel into thinking they're keeping her. Matt tells Ragan that he should apologize for their blow-up and tell her that Brendon just really upset him. Ragan saying he can't handle Rachel's tears and says that if he talks to her he will have to tell her that as soon as she starts crying the conversation is over. Matt saying they just need to be fake nice to her and make her think they are voting Brendon out. Ragan says that this is so evil and brilliant. Matt says if Brendon thinks Rachel is staying, he won't study for the competition, Rachel will. Matt says that he wishes he spoke to Britney before Rachel nabbed her to tell her to be extra nice to Rachel so she thinks Brendon is going home. Britney enters the HOH. Britney tells Matt and Ragan about what she to Rachel in the lounge room. Matt, Ragan and Britney believe Rachel just proved even more she is the saboteur. Britney says that Brendon's speech was so repulsive. Matt says that he think Rachel planned the whole thing. They mock Rachel for fake crying before the ceremony ever began. Ragen says that when you cry and no tears are coming out. Ragan says that their theatrics are so stupid and with every fiber of my been as we see through their theatrics, I hope they don't see ours and are totally blindsided on Thursday. Ragen tells Britney to listen to what he is going to say in his goodbye message "I wish what happened in Vegas would have just stayed in Vegas, I wish to evict Rachel. Britney says that she should say I vote to evict herpes.




12:10pm Brendon and Rachel are in the bedroom whispering. They laugh about what just happened. Brendon asks do you think it worked? Rachel asks you think? Brendon says he that he tried to pull an Andrew with his speech. Rachel says that she feels bad about what they did. Brendon and Rachel are whispering. They talk about the things that Britney has said and what Lane has said to Britney about Brendon. Rachel tells Brendon the conversation she had with Brit. Rachel says that she won't talk with anyone and doesn't trust anyone in the house. Brendon says that Rachel and him are like Scooby Doo and Shaggy. Rachel thanks him for what he did and promises to take out Matt and the rest of them. They think that their plan worked and that Brendon will be voted out and Rachel will stay.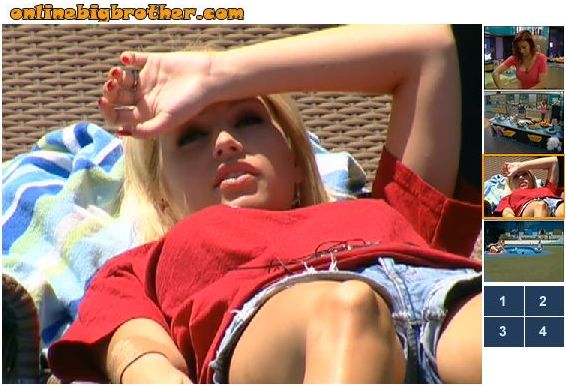 Try out the live feeds and watch all the DRAMA! 3 Day FREE Trial
12:25pm – 12:55pm In the backyard Hayden and Enzo are by the pool while Lane is in the pool. Enzo says that it would be good for Brendon to win HOH. Enzo says that Bren could take out someone for them. Hayden agrees. Enoz laughs and says that his wife need to make an extra shirt for Kathy. Lane says hers will say alternate and that theirs will say Meow meow, Animal, The Beast, and Gremlin. Britney joins them in the backyard. Britney says that Brendon only goes after women, he is disgusting. Britney says that she's trying really hard to be classy. Ragan says that Rachel and Brendon's POV speeches were a good cop/bad cop. Ragan says that crying also doesn't work if there aren't any tears. Britney says that she wishes Brendon would punch her in the face so that Lane could kill him. Enzo says that Brendon would get kicked out. Britney says she would take it like "Snooki." (Reference to the Jersey Shore Show where a girl named Snooki got punched in the face by a guy.) Hayden and Enzo laugh about how Brendon would know the physics of hitting something. They all tell Britney that her response to Bren's attack was perfect. Britney says that they are horrible people. Brendon comes to the backyard and the guys talk about sports. Britney is in the back ground mocking Brendon and everything he says …. Britney is saying stuff like …Ohhhh, yeah that's so funny …. so hysterical. Britney then goes off about how her boyfriend is only 5'4″ …. then says oh no I'm laying …he's only 4'9″ … actually I made him up too …I dont really have a boyfriend. Brendon is totally ignoring everything Britney says when she is mocking him …they are so close to each other it is obvious that he can hear her…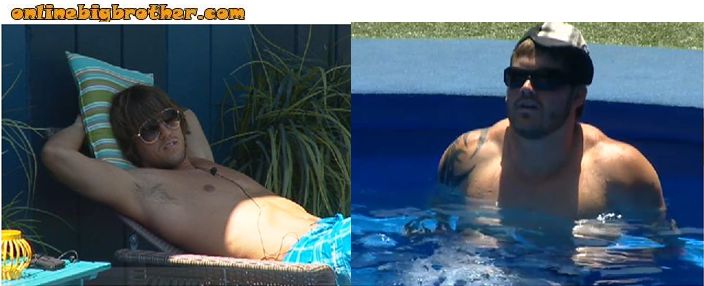 1:40pm – 1:55pm In the kitchen Matt, Ragan, Enzo and Britney are talking. Ragan tells Matt that Britney was being pretty funny mocking Brendon in the backyard. They laugh that Brendon didn't even say anything back. Ragan says that Brendon will only say things when the camera is on him or behind people's backs. Enzo says that he thinks Brendon is trying to be like Evel Dick. Matt jokes they should call Needle Dick Brendon. Ragan says more like little dick. Britney calls Brendon nasty and disgusting. Britney says that they can't get back in the pool because Brendon's toenail has been in it. They all laugh… Ragan says tjat Julie will pull the switch on Thursday and says that Brendon, by a vote of 6-0…you are safe. Ragan says it will be great. Then he says that he is actually getting his1st boner in the house. Britney again calls Brendon a disgusting pig and says that she hates him. Ragan says that Brendon only goes after people he thinks are weak. Britney says it's going to be worse when Rachel is gone. Ragan says it will be the ultimate trap game… it will be so much fun. (lol) Ragan says that if he is not HOH, he is dedicating his whole week to trapping him. Enzo says that he's not worried about HOH, but about Brendon winning POV. Britney says she is going to fight to win HOH. Ragan says that he will be more than happy to do everything he can to throw Brendon off. Britney says that it disgusts her to look at Brendon's face. Enzo says that Brendon is making himself look stupid on TV. Enzo wondering why Rachel talked to Britney after POV was over. Matt says its good that she did because it makes her think that she is staying …
Share it YO!
Tweet