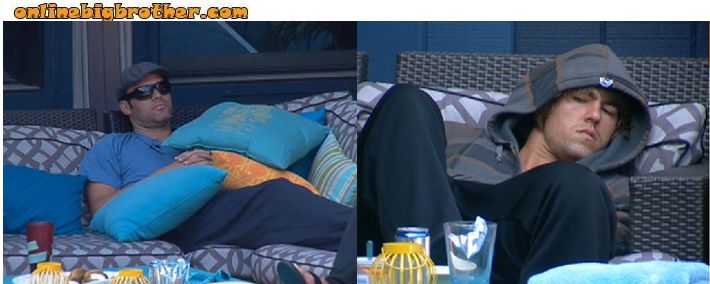 Try the live feeds for FREE with no commitments: 3 Day FREE Trial
9:05am – 9:50am All the house guests are sleeping when the feeds switch to the we will be right back screen. At 9:35am the feeds come back. Enzo, Kathy and Hayden are sitting on the backyard couch talking about the music that was played this morning to wake them up. Enzo says that they played a nice set today. He says they played Umbrella, and Drake… and the feeds cut out again. Enzo talks about how he was up with Matt and had to come down with him to be an eye witness just in case some thing happens yo! Hayden says that he did that too. Brendon, Rachel, and Lane come out and join them on the couch. Enzo says yeah you cant be too careful, just in case something happens. Enzo says he's gonna take a nap today …get in the pool …so some doggy paddles. They talk about Olympic swimmers. Then the conversation changes to all the people Rachel knows who have been on other reality tv shows.
9:50am Enzo asks if there is still an POV competition when it gets down to the final three.  Rachel says yeah there is always a POV its the most important thing to win, its more important the winning the HOH's.   Rachel says that at the end the three part HOH always goes …enduance, quiz, skill,  …then she says quizzy skill.  They start talking about the saboteur… what the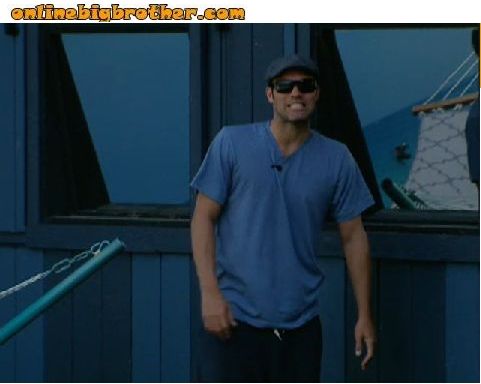 messages mean … what incentive the saboteur has …  Britney says that she thinks the saboteur messages are all lies.  Britney thinks the videos are all about what makes the most drama at that moment.  Brendon wonders if the saboteur is actually someone in the house that has it out for him and Rachel.  Britney says that she doesn't think so, it could be just where production hands them a note telling them to read this and they think really you want me to read this?!

10:15am Rachel, Brendon, Enzo and Hayden are the only house guests still out on the couch talk about the saboteur.  Brendon says that maybe its Kathy because she has been sabotaging my workouts by smoking near me.   Enzo says that Kathy sabotages us all by not doing the dishes any more. … They laugh.  Enzo gets called to the diary room.  Brendon tells him to find out about the saboteur.  Rachel goes into get ready to work out on the elliptical.  Lane and Enzo talk about working out.  Enzo comes back into the backyard and Lane asks you're already out?! Enzo says yeah.  Enzo goes over to work out with Lane.  Enzo is yelling and talking real loud saying yeah YEAH GET IT!  UGGHHH!!  Lane starts yelling too saying he wants to fulfill his BITCH-ESTINY.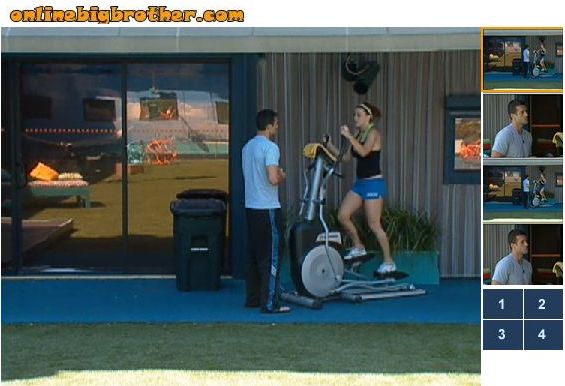 10:30am Rachel comes out and gets on the elliptical.  Brendon comes over to talk to Rachel about game.  Brendon says that Britney is only good at winning POV's. Brendon says that this season is difficult because everyone is no good… they are only looking out for next week.  Rachel says that they want to get her out because she is a good player.  Brendon tells Rachel that she needs to control her emotions.  Rachel says no I can't.  Brendon says that he wants her to stay in the house and for him to go home because she has a better chance at winning this thing.  Brendon says if I say things and piss people off …you have to promise me that you won't do anything.  I can handle myself.  Brendon says that at this point in the game I want blood.  Rachel says that if some doesn't take out Matt he is going to take everyone out. Rachel says you know if I stay I am going to have to win every POV …every week because I am going to be a target every week.  Rachel says that they already tried to make a deal with Matt.  Brendon says that no matter what he says and does she (Rachel) cant come to his rescue… because if she looses control then they are right back where they started.  (Brendon is planning on saying and doing something to get the house to evict him instead of Rachel)….

Watch everything you miss on Flashback!!Superpass – 3 Day FREE Trial!