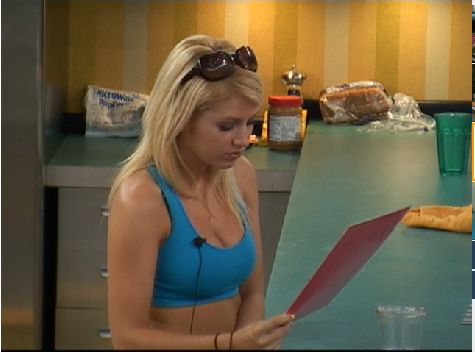 11:30am In the kitchen Britney is talking about her fiance and how he comes into a room naked pretending to look for something and make a small talk just to announce his nudity.  She says that he does it to try and suggest they do it.  Then she says that if shes in the shower …she gives her fiance three minutes before he climbs in naked too and says so what do you think of the oil spill?  They all laugh.  Lane asks Annie if she has ever heard of bean dip. Annie says shes never heard of that. Lane explains that its when someone bends over and you stick your thumb up their butt. They laugh and says they've never heard of that. Britney says that doesn't even make sense. Lane takes a minute then explains why its called a bean dip and says that she probably knows it called as something else. Britney says yeah, but I don't want to say it. Then Britney says it, she says they call it a corn dog… but its with your knee, when someone bends over you kick them with your knee in their gouch.
SEE what they CAN'T show you on TV! 3 Day FREE Trial
11:50am Britney, Monet, Enzo and Kathy are all talking about Annie. They talk about how hard Annie was working to swing votes last night and how they all still agree that she is the one to go this week.  Enzo says that next week they should putting up two pawns and backdoor Brendon.
Britney says that one of them should to win HOH next week, then put up Rachel and a pawn, and backdoor Brendon if they can, but if they can't they'll still get rid of Rachel. Enzo says that's a great plan. They tell Enzo Annie will blow his mind when she tells him something personal she told them last night. They tell him that she will tell him and that its not their place to tell him.  Enzo says I don't wanna know… I dont wanna know.. Kathy says that Annie has told a lot of lies. She says that someone who doesn't smoke wouldn't pick up the cigarette the way Annie did last night.  Kathy says it was the Jerry Springer Show last night … it started off as the Dr. Phil Show and turned into the Jerry Springer Show.  Britney says there's no way on earth shes voting to evict Rachel this week. Enzo says he wants to be on Howard Stern after the show ends Kathy is watching Ragan workout and tells him that there are thousands of men out there that want him after the show.  Kathy tells him to tell America what he wants.  Ragan is pulling weights to his chest and yelling out:
Number 1 ..I want to be on Letterman
Number 2 ..I want a boyfriend
Number 3 ..I want a secluded place to masturbate
Number 4 ..I want a man BLANK
Number 5 ..I want Enzos Chicken Parmesan
Number 6 ..I want to sleep on a bed with matress
Number 7 ..I want to be on slop ever again..
Number 8 ..I want a showmance with a gay man that you throw in here at the last moment..
Number 9 ..Uh Uh … I dont know what I'm talking about …
Number 10 Uh Uh……..
Superpass 3 Day FREE Trial


12pm – 12:30pm Big Brother calls for an indoor lock down.  Everyone goes inside to make lunch.
SEE what they CAN'T show you on TV! 3 Day FREE Trial
12:35pm In the kitchen are Annie and Kristen.  Kristen asks if everything is all cleared up now between her and Britney.  Annie says that Britney apologized. Kristen says well she should do it in front of everyone.  Annie says that Britney did says that she was scared of me coming after her.  Annie then says that she thinks she has a chance now.  Kristen says yeah its fifty fifty right now anything could happen.   Annie tells her that shes going to go take a nap, Kristen says yeah me too.
12:40pm – 1pm In the lounge room, Kathy, Ragan and Matt are passed already taking a nap.  In the bedroom, Enzo and Britney, and Lane are in bed. Rachel is sitting on Lanes bed smacking and chomping away at her lunch.  Rachel starts asking them about past Halloween costumes that were their favorites.  Rachel tells them that a friend of hers had pasties on her nipples and a G-string and thats all she wore.  Britney says but thats not really a costume …and Rachel says I KNOW!
Share it YO!!
Tweet