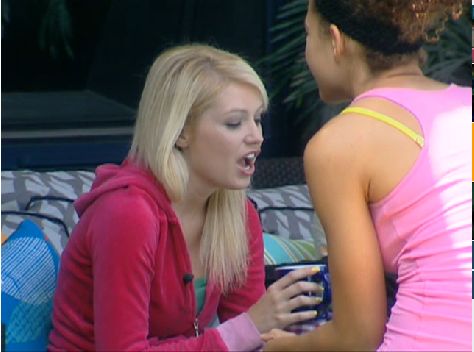 10:20am Matt and Lane are working out on the bench. Enzo and Annie are running in the yard. Then Annie goes over to Lane and he asks her if she can spot him. Annie says how can I spot you, you're lifting 100lbs! Lane says no spot me down there. Annie yells gross!! Annie goes over to the couches where Brendon, Kathy, and Britney are she talks about what Lane just said and then asks them if they saw Andrews boner this morning. They all laugh. Matt asks Lane what they are going to do. Lane tells Matt that they are going to do 35 bench presses. Matt says WHAT?! Lane says well maybe just 10…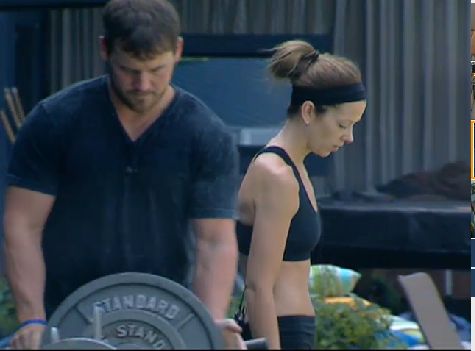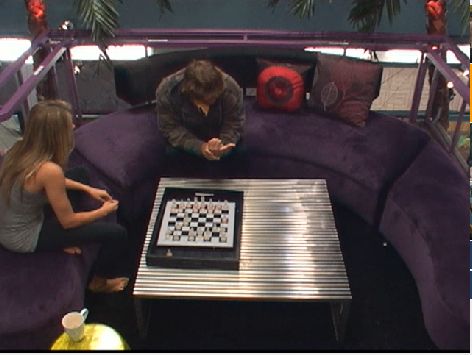 SEE what they CAN'T show you on TV! 3 Day FREE Trial

10:35am – 11am Hayden and Kristen go up to HOH balcony to pretend to play chess while Hayden explains what happened last night. The talk for a second and then get up and go into the HOH room. Hayden asks if it is still best to get rid of Annie and Kristen says YES! They talk about how Annie and Britney both kept coming up to talk to him last night. They agree that Annie is just trying to get sympathy votes. Kristen then asks do you think we have enough votes. They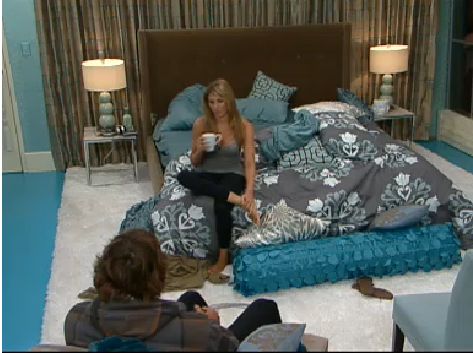 discuss the votes. Kristen tell Hayden to watch out because there is still the saboteur and they could be telling you one thing but vote another way. Kristen and Hayden both tell each other that they are the people that they trust the most in the house. Kristen talks about how Britney keeps giving her looks and doesn't understand why. Kristen says that Matt is always asking her questions and trying to figure out what she knows. Hayden thinks that Matt feels threatened by Kristen. Hayden says that Matt is sold that Britney is the saboteur. Kristen says that Britney would be one of her choices for nominations next week and that all the girls need to go except Kathy and Rachel. Kristen tells Hayden that he needs to get rid of Brandon. Hayden and Kristen both agree to keep their alliance a secret because they don't want to have a target on them like Brendon and Rachel. Hayden asks what his goal is today.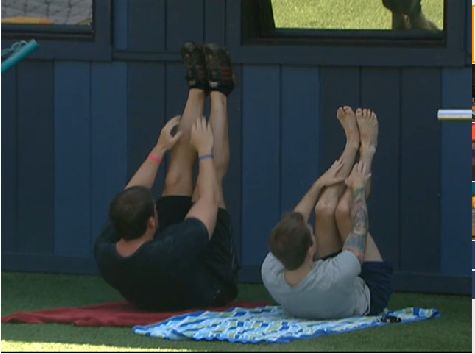 Kristen says maybe to talk to Andrew more. Hayden asks if she thinks Andrew was really drunk last night. Kristen says that she wasn't sure and then asks Hayden if he saw his boner this morning. They laugh. (Andrew was walking around the house this morning with a boner and it is the talk of the house.) They think that Brendon and Andrew are trying to form an alliance. But they think that they can trust Andrew and Kristen says she would stick her next out for him. Hayden says that Annie told him that Brendon is after him. Kristen says yeah maybe not right away but he will be… Kristen leaves the HOH room to lay out in the sun and Hayden says hes going to take a nap.

11:15am In the backyard Brendon is doing sprints across the yard while Lane, Matt, Rachel, Andrew and Ragan continue to work out. Britney is just walking back and forth across the yard.

Share it YO!!
Tweet