12am Up in the HOH room, Ragan and Britney are talking and making fun of Rachel. Ragan says do you think people believe her BLANK and like all their conversations revolve around Brendon and her. They make fun of how Rachel eats. They read Matt's letter and laughing at it saying that it is passive aggressive. Ragan and Britney talk about how emotional they would get if they got letters. Britney says that she remembers seeing Rachel at the pool during casting and says she probably owes her being cast to the stuff she said about Rachel and one other guy during the casting. Ragan says he talked smack about some of the people in his group too. Lane joins them up in the HOH.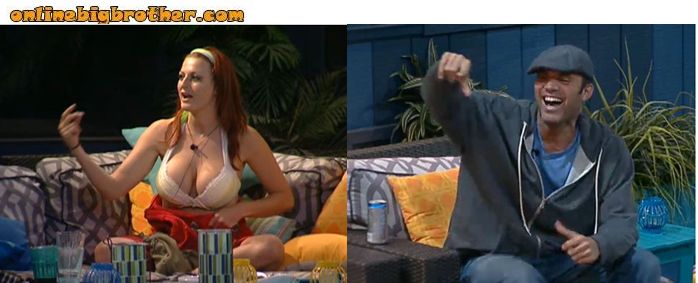 SEE what they CAN'T show you on TV! 3 Day FREE Trial
In the backyard Rachel is drunk and talking with Matt and Enzo. Enzo talks about his jeans that haven't been washed in 6 years that he only wears on the weekends. Matt says that Enzo has inspired him, that he is never washing his Pj's. Enzo and Rachel joking with Matt about his Pj's. Enzo says that he would cut the arms off. Rachel says that she would too …and then says that she would turn it into a thong. Enzo and Rachel talk about them having charisma…. And that the show is all about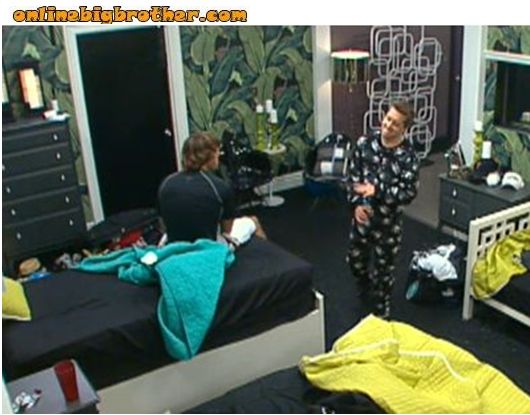 him and her. Rachel says that they are talking away half the show. Enzo says that she BLANK up at the beginning by taking away the wrong people.
Hayden and Matt talk about the Brigade saying that they are golden and that the only thing that can throw a wrench in it is the coup d'etat or saboteur. Matt says they are so safe. They talk about food and says he'll fire up his pizza kitchen. Hayden says he's going to take shower.
Rachel is trying to campaign to Enzo. Enzo tells Rachel that she has to give him her powers if she leaves. Rachel warns Enzo about Britney and Ragan and that they will give him a run for the money. Rachel tells him that he has a good chance of winning. Rachel tells Enzo that she will vote for him against anyone. Rachel tells Enzo that her social game sucks. Rachel says that in endurance she would gave Matt a run for the money and that's why he wants her out. Rachel says that she's not good at skills. Rachel tells Enzo that he, Brendon and Hayden have to stick together to make it to the end. Rachel says that Matt offered to be pawn and told everyone she put him up and Rachel says he's playing a good game but also a sneaky game and will back stab them all. Rachel says she'll fight her BLANK off if she stays and will not campaign against each other. They talk about the Saboteur. Enzo says that he thinks its Kathy. Rachel asks what the Saboteur wanted and today's says that they wanted everyone to think Brendon was a strong competitor and for them to turn on each other. Rachel says that Brendon is not competing and try to reinforce that Brendon is the target and says that both of them are going because the Saboteur said you'll have to talk about it in jury. Enzo says that it's either Kathy or Matty and says that Kathy has nothing to lose. Rachel says that she is ballsy.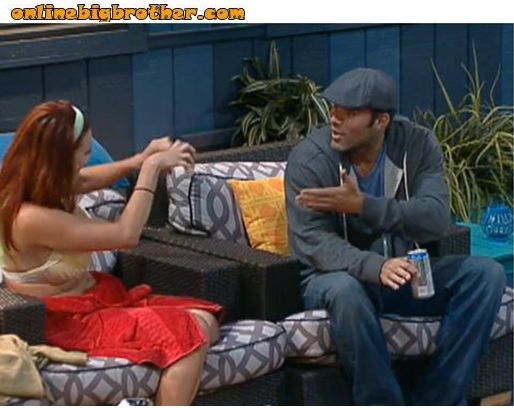 Free Live Feeds! Superpass 3 Day FREE Trial
Rachel tells Hayden and Enzo they need to trust each other. Rachel is trying to get Enzo and Hayden in an alliance with Brendon and tells them that they will go after Brendon first, then Kathy and you guys are next. Rachel says that they have to know that. Rachel says that Matt and Ragan are together, Britney and Lane. Rachel says that Britney tried to make an alliance with her and Brendon and went back on it when she didn't use the POV on her. Brendon gets Rachel to come out. Rachel says that she is trying to see Hayden's package. They leave as Enzo says we have Brendon and Britney and Ragan have to go. Hayden agrees and says that if Brendon wins HOH he'll put up Ragan.
Brendon tell Rachel that he could hear her outside the bathroom and that he is upset. Rachel is tells him that you have to work. Rachel says Matt and Ragan are in an alliance and Brendon everyone assumes they are. Rachel says Britney and Lane are a pair and will do anything to stay and Hayden needs to understand that. Rachel says that Britney, Matt and Ragan are a huge powerhouse and will beat anyone in a quiz. Brendon says not him and she says yes they will and tells him to quite being egotistical, that they can beat him and warns him the Ragan and Britney will give him a run for the money. Rachel says that she's good and has people backing her. Brendon whines about the size limiting competitions and then says that Big Brother needs to looks at the last finishes and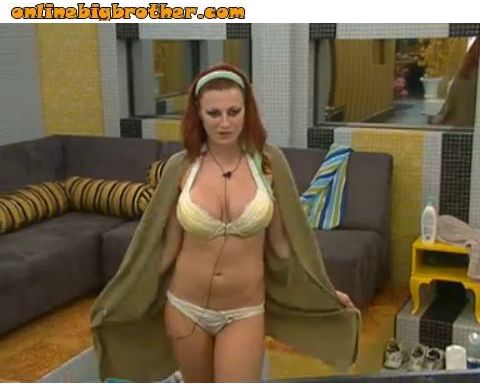 then Big Brother will realize its unfair. Enzo comes out says that Britney is getting lucky against him in the POV's. Brendon whines that there's no guarantee. Rachel says that Britney is better and more dangerous than he gives her credit for. Brendon says he can't tell something to Lane without Britney knowing. Rachel says Lane is telling Britney everything and warns both Enzo and Brendon about Britney. Brendon goes on about unfairness. Rachel says no it isn't. Enzo says it was a tough challenge for big guys. Rachel says she's going to go lay down and offers Brendon her wine.
Rachel is in the bathroom talking to Lane. Lane is in the shower. They talk about motorcycles and Rachel says that she was on the cover of a magazine with Steven Tyler. Rachel says she isn't tooting her own horn! Rachel says America hates her. Rachel says that her boobs are to big and her personality matches and says they live in a bible and will not know until Set. Rachel says she would rather be curvy than skinny. Lane agrees that skinny girls are out. Rachel says she's out and apologizes for drunk Rachel to Lanezo. Rachel looks at herself in the bathroom mirror.  Rachel says boom, boom, pow these BLANK are clockin …. jockin' my style. Kathy heads into her have not room. Rachel says if she wore six inch heels she would look skinny.  Kathy tells her that she is skinny…that her bones are sticking out of her hips.  Rachel says thats awesome. Rachel is in a bikini looking at herself in the mirrors in the kitchen.  Rachel gets up on a kitchen chair and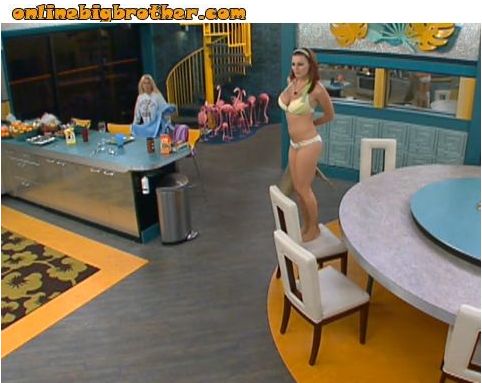 starts dancing and singing boom, boom, pow…and the feeds cut out.
1am Up in the HOH room Matt, Ragan and Brit talking about Andrew's little shorts during the surfboard competition. Ragan says he tried to talking to Andrew while they were up there and he wouldn't respond to him, he was totally ignoring Ragan. Ragan says that he wishes there was a spy camera in the backyard so he could see Rachel and her muff parade around. Ragan says this house is perfect for her, she loves having mirrors all over. Ragan says he can't stand watching her pick at her face in the mirror. Ragan says that she looks like a beat up prostitute. They talking about all the things Rachel has done that have been disgusting or that they think she will be embarrassed about. Ragan now saying that he thinks Rach is lying about her chemistry degree because she says words wrong. They start talking about the saboteur. They hope it is over this week. Matt says it's dangerous to get up to go to the bathroom during the middle of the night because people will be suspicious and could think you're the saboteur. Matt tells Britney that the highlight of the entire season for him is going to be watching her diary room sessions.
Try the Live Feeds Free For 3 Days!!! Superpass Trial!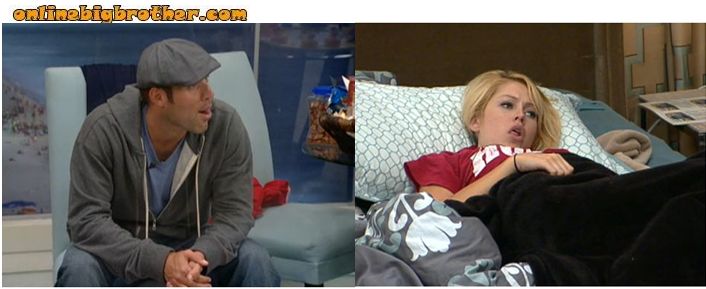 In the backyard Rachel and Brendon are talking game with Enzo and Hayden. Rachel says that Matt and Ragan are intimidated by her and that is why they want her to go. Rachel talks about the paint can HOH competition and says that she would have given both those guys a run for their money. Lane comes outside and Enzo heads in. Enzo is in the kitchen with Lane. Enzo says that Brendon and Rachel are desperate for an alliance. Enzo says they keep asking about Lane, Enzo says they are interested in an alliance with Lane! Enzo worries that Matt is getting too close to Ragan. Lane says that Ragan is expendable. Enzo hopes that Matt feels that way about him. Enzo talks about Rachel and says BLANK you're going to the jury house this week. Enzo says that he is taking her powers just to get out Brendon next week. Enzo says the best case scenario next week could be Brendon winning HOH next week because they could get rid of Ragan. Enzo says that if Brendon wins HOH, that him and Lane need to stay close to him. Enzo says that him and Hayden are going to take Rachel's powers and that they are going to use her until Thursday, then vote her out and use her powers to get rid of Brendon. Lane and Enzo are surprised at how close the end of the game is. Enzo says that Britney and Ragan better start to worry. Lane says once the Brigade makes final four the show is over. Enzo thinks they should make a deal to share the half a million. Lane says he is going to bed. Enzo asks without Britney? Lane then points to the HoH camera and points for her to come down. Enzo says that Britney is already divorced. Lane goes up to HoH to say good night and Britney says she will be there soon. Lane then farts and leaves.
1:30am In the backyard by the pool table Brendon and Rachel are talking game with Hayden. Rachel tells Hayden he can't trust Matt. Brendon and Rachel agree that their biggest mistake in the game was getting rid of Kristen and keeping Matt around. Rachel says that her and Brendon had a deal with Matt and he went against that deal by putting them up this week. Rachel says that if her and Brendon are gone, then the only person Hayden should trust is Enzo. Brendon says that Ragan and Matt are looking out for each other and Lane and Britney are the same. So Hayden should get with Enzo, Rachel and Brendon both say that they trust Enzo. Rachel says that Britney told her that the house would do what Rachel and Brendon decides regarding who leaves this week. Brendon says that between the two of them they can decide which one should go this week and the house would honor that. Brendon and Rachel head inside. Hayden says he'll be inside in a bit because he doesn't want to draw attention to the three of them.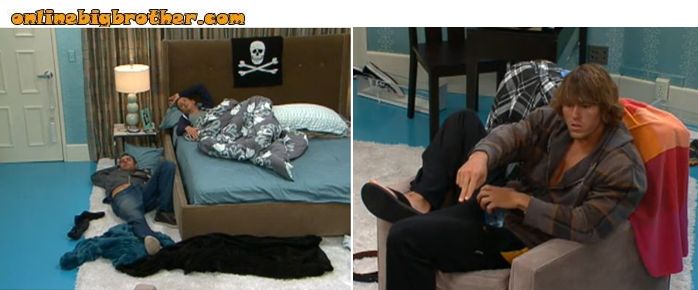 Big Brother 12 Live Feeds: Superpass 3 day Trial
2am Up in the HOH room Enzo tells Ragan and Britney about how outrageous Rachel was acting tonight. Enzo says that she was dancing for the camera tonight, in her bikini, shaking her BLANK on the table. They are shocked Brendon doesn't tell Rachel to stop showing her Vagina on live feeds. Enzo says her nipples are always popping out. Britney says that she is so disgusting, so nasty. Enzo and Ragan talk about how large Rachel's nipples are. Enzo says they are like two silver dollars, her boobs are too big. Ragan says he would rather have her huge nipple in his face all the time than have to listen to her laugh. Enzo says it's tough being in the house. Ragan agrees and mentions they are half way there, Enzo is glad for that. Enzo says he can't wait to put on his cell phone when he gets out and talk to his family. They bring up how Natalie got a phone call home last season. Matt and Hayden join Ragan and Enzo in the HOH. Hayden says he got trapped tonight by Brendon and Rachel out by the pool table. Matt says Rachel is obnoxious. Hayden tells them about what Rachel was saying about how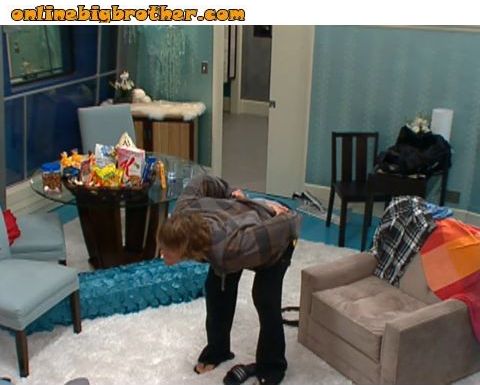 Brendon & Rachel will be deciding amongst them who should go home. Enzo says it's not their choice who stays in the game. Hayden says that there is a zero percent chance that she is staying in the house. Hayden is showing the guys how Rachel was doing a stripper dance in the kitchen. They talk about how quickly Rachel and Brendon's relationship will be over when Big Brother is over. Ragan says that there is a better chance of him and Matt being together a year from now than Rachel and Brendon. Ragan says Rachel should have been cast on Bad Girls Club, that she would have been a better fit than Big Brother. Matt says she can go on Celebrity Rehab. Ragan says the only problem is she isn't a celebrity. Ragan says she could be on Dr. 90210, having something removed from her labia! Matt says he just wants to be on The Soup. Enzo says he wants a job through CBS, then says Put me in a movie and I'll be happy. They ask Ragan what he wants out of this experience, he says $500,000. Ragan then goes on that at this point in his life, he's got a lot of things but he would really like a relationship. He hopes this experience helps his self confidence. Hayden and Ragan say goodnight and leave the HOH room.
2:40am Matt and Enzo are talk about the Brigade. Matt says this is getting too easy. They joke that Kathy is the 5th member of the Brigade! Matt mimics Kathy's accent. Enzo laughs. Enzo says when his wife sends him the Brigade shirts; he wants Kathy to wear one! He wants his wife to make him a Grenade shirt too and a new meow, meow one. Hayden and Ragan come back up to HOH and say they just had a conversation with Brendon and Rachel. Ragan thinks they should let Brendon think he is going home this week then evict Rachel, they say after that he'll be shaken for the HOH competition. They agree to screw with Brendon's head to throw him off his game for the HOH competition. They start to run scenarios for the next week. They think that they should just put Brendon up against Kathy. Enzo doesn't think he'll win the POV. Matt says he will probably be checked out after Rachel leaves so he won't really be a threat to win POV and save himself. Ragan says he has alienated everyone here; he'll be on his own when Rachel is gone. Ragan and Hayden again say goodnight and leave HOH room.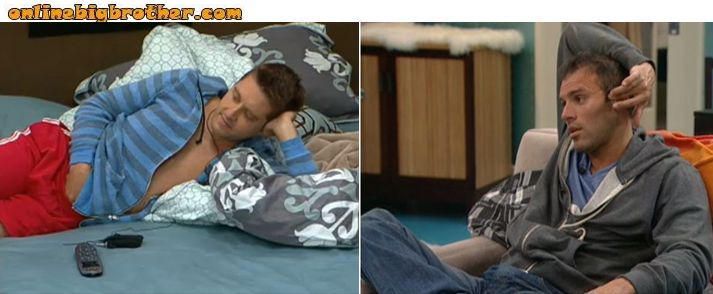 Enzo says he isn't going to snap on Brendon yet, just in case he wins HOH. Enzo says that best case scenario is Brendon winning HOH because Ragan or Britney will go home. Matt says he may go up, but they say that even if a Brigade member goes up they have the votes to stay. Matt says he hopes Kathy, Britney or Ragan win HOH because Brendon will go home. Matt says his is so fun, I am loving every minute of this game, the final 4 is right in front of us unless we do something so stupid to mess this up. Enzo tells Matt that Rachel told him that Kristen was telling people that they needed to get rid of Hayden and keep her because Hayden, Lane and Enzo are in an alliance. Matt says he heard some talk about that last week. Enzo says he is so glad that Kristen went home; he says that she threw him, Lane and Hayden under the bus. Enzo says that Britney is always up in the HOH, he says she is a sneak. Matt agrees and says she is devious. Matt mentions that he came up to the HOH today and Ragan and Britney were in the HOH bed napping. Enzo says that when he is HOH, it's going to be by appointment only. Enzo says that he isn't going to have everyone hanging around the HOH at all hours. Matt hopes they will get a video on Friday after voting out Rachel that tells them that Rachel was the saboteur. Matt says that will be the end of the saboteur for the game; he says they wouldn't bring a 3rd saboteur into the house. Enzo says his first reaction was that Kathy was the saboteur. They both think it is a possibility that there is no saboteur; and that Big Brother is just screwing with them. Enzo wonders if before the show started this season, did Big Brother groom two saboteurs in the event that the first saboteur got voted out. Enzo can't believe they would ask someone half way through the season to become the saboteur. Enzo says that he doesn't understand why someone would risk that! Enzo says goodnight and goes downstairs to bed.
Watch everything you miss on Flashback!! Superpass – 3 Day FREE Trial
4am All the house guests are asleep.