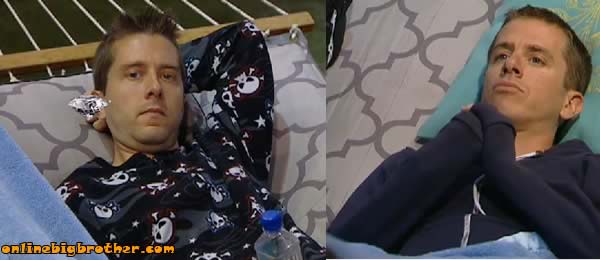 SEE what they CAN'T show you on TV! 3 Days FREE No Commitments
10:12pm Hammock Ragan and Matt They are briefly going over the past seasons of Big Brother and how there hasn't be a "real" double eviction for awhile. Matt asks if BB10 had one, Ragan doesn't know he didn't make it through that one. Matt remembers BB10 there was a double eviction but it was late in the season, Ragan says that last year double eviction would be coming up. Matt thinking this week coming up may not be double eviction. Ragan: "can you imagine that theres a power that they have".. Ragan runs through a scenario where B/R stay this week and it gives us all the chills. Ragan was thinking that maybe they need to try and backdoor Brendon this coming week because then theres that small chance of him not playing in the POV. Ragan is now thinking that it might backfire because then what if Brendon wins POV takes Kahty off the block then we have to put up a person we like. Matt agrees he thinks the only way to be safe is to put brendon up. Ragan: "He just can't win HOH, cause he'll put us up" Matt: "yeah it's going to be like that but i'm going to fight I won't be a whimpering whinny BLANK like they are"
10:18pm Taj, Rachel and Brit Rachel is wanting brit to use the POV, she's always tried hard to be friends and she really likes Brit. Brit sticks to her reasoning says that it doesn't matter if POV is used or not one of B/R is going home and if Brit uses the POV everyone till be after her. Brit advices Rachel to get out there and start to campaign for votes. Rachel doesn't think anyone will give her a vote to stay. Brit doesn't think Rachel will know until she tries. Rachel doesn't understand why Brit doesn't want to team up with her she's such a strong competitor. Rachel offers the 5 grand tells her it's been her dream to be on Big Brother for so long. Brit pleads with her to understand what she saying, if brit uses the POV on Rachel Brit will be fighting off the house. Rachel we can beat them. Rachel whimpers that she isn't even good at bowling and everyone was after them during the POV. Brit tells her that b/r are the biggest competitors in the house of course everyone wants them out they're winning back to back POV's and HOH's.
Rachel says it's like you and Nick being on the block what would you do if it was you and NICK. Brit: "I will prbably just let the house to decide that is asuming that we both want to be in the game" Brit brings up that they've heard brendon saying he doesn't want to be int he game and h never really wanted to be in it but was persuaded.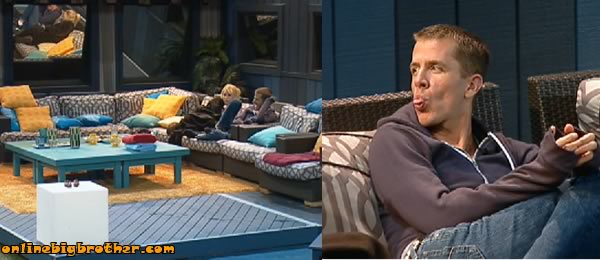 10:50 Backyard Couch Brit, Ragan Brit giving them a run down of the conversation with Rachel. She tells them how exhausting it is to talk to Rachel because Rachel just doesn't get it. Brit: "It's not personal rachel, we're afraid you've run out of medication and you need to go to jury and get that refilled". Hayden joins them to find out whats up, Brit gives a quick rundown of the conversation, Brit warns them that rachel is wearing a swimsuit where you can see her nipples. BRit mentions that Rachel was saying that she's not going to campaign like Kristen because Kristen was campaigning against Hayden by asking people why should they vote for hayden to stay. Ragan gets pissed by this because he's heard her say "why vote me out over Brendon" and this is exactly what Rachel blames Kristen for doing. They start some bashing, ragan: "The most disgusting liquid on planet earth is Rachel's bath water."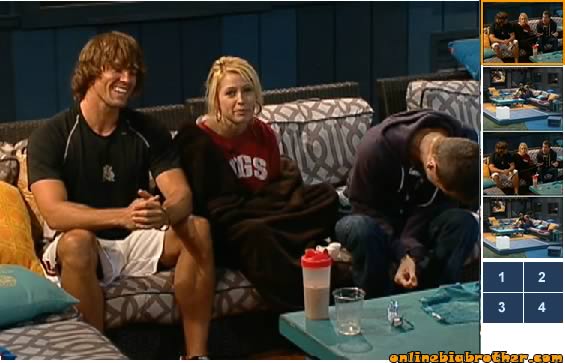 "Big Brother Tips", ragan: "let break it down live feeds"
(there talking about Rachel)
Brit: "Removable hair extensiosn not aloud
Ragan: "Theres no need to be talking about diarrhea coming out of your body when your at a party with a gourp of business nen"
Ragan: "Theres no need on national television to talk about waking up with vomit all over you clutching onto 100 dollar bills that you've received for turning multiply tricks in Las Vegas"
Brit: "I think the ruleof thumb in the big brother house is to always think is what i'm saying classy or not if it is not you need to rethink the statement.. and even if you are not going to say something classy and still want to say something perhaps don't say something that'll make you look like a giant BLANK… If you have slightly BLANKish moments then just try and not talk about it constantly and nobody want to see your aeurilos"
Brit: "we don't think what is ok is rachel working out in her bikini..I think that in the future covering your labia is a good idea"
Ragan: "I just think it should be recommended to future houseguests to not walk around in underwear with their vagina's hanging out"
Hayden: "players should follow the WWJD"( what would julie chen do)
They start laughing at Brendons toe Ragan picks up a hunk of fruit tells the camera that if your toe looks like this cut it off (this is funny as BLANK well worth a flashback if you missed it)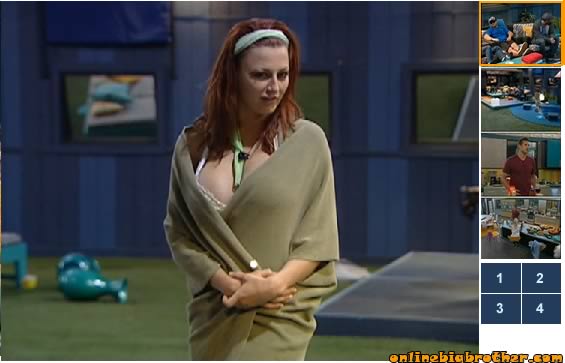 11:32pm Rachel comes out tells everyone outside she's drunk and asks them why they aren't drinking. Ragan says he's just not in the mood. Rachel: "Every day of the week I want to drink"
SEE what they CAN'T show you on TV! 3 Days FREE No Commitments
Share it YO!!
Tweet