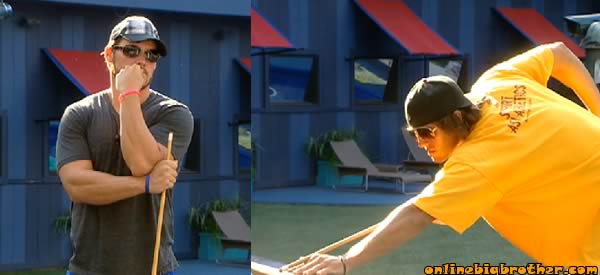 5:42pm Lane and hayden playing pool.. hayden points out how lame being in the house would be if they didn't have a pool table
5:45pm Backyard Couch Enzo, Brit, Matt, ragan chit chat
Brit: "I date nice mushy wonderful guys.. don't like guys with the bad boy persona"
Matt: "so you woulnd't date enzo"
Enzo: "we're form different worlds" He goes on to explain that he's not like this around his family he's tamed down a lot. He tells them that to him theres nothing more important than family, he would take a bullet for my family. ragan tells them about how he has a lot of trouble finding a good guy in LA, he thinks it's because of were he is geographically. Matt agrees says LA is a bad spot to meet people… Matt starts to bring up west Hollywood and how huge it is. He explains all the "hot" locations to go and how their is usually a crowd of paparazzi waiting outside. Brit lists off some places that she see in the show the hills. Ragan: "Oh i would DIE for a nice meal" .. Ragan tells them he's seen Drew Barrymore and a bar called FUBAR.. there is only one bathroom no men or female stalls and he was waiting in line. He was "Totally" Wasted and was talkign to this "really" pretty girl in the line after a few minutes he figured out it was Drew Barrymore but he never said anything cause he didn't want to be that guy. Everyone has a Star sighting story to tell, Brit went to Reagis and Kelly and saw Kathrine Zeta Jones. .. Ragan says he knows Artemas from It's Always Sunny in Philadelphia (great show BTW give it a see, Artemis is fucking insane on it).

Onlinebigbrother.com is around because of your donation every year the site costs us to host the images and run the 3 servers needed to handle the traffic. If you like the site then please consider donating to keep the madness going. Thanks!