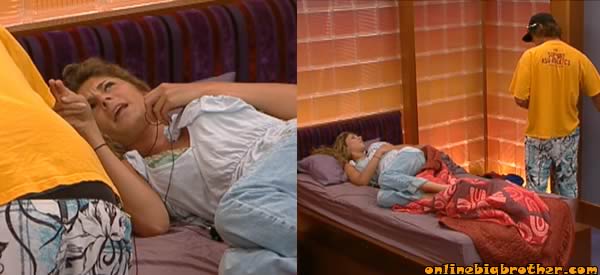 3:41pm Taj Room Hayden and Kristem
Kristen saying that Brit and Rachel are constantly together now and Rachel is spreading rumors about me, I think they are coming after me "IM PISSED". Hayden says he's really gunning for HOH this week if he wins He's putting up Brendon and Rachel no more bullshit. I'll say to them "You guys are spreading Rumors so thats why i'm putting you up. Kristen says she was thinking of putting brit up as a pawn and then one of brendon and rachel.. probably Brendon. Hayden doesn't think they should risk it anymore just incase one of them gets the pov and takes the other off.. They are going to call Rachel and Brendons showmance out.. to stir it up. hayden says that Brendon asked him today if he was in a showmance with Kristen, Kristen's reaction, "Oh my god are you serious" Kristen asks HAyden to keep quiet around Kathy she doesn't want her to get involved in all this. (Kristen is PISSED shit is going to fly between her and boy george for sure)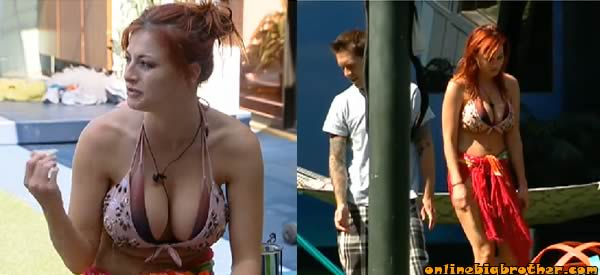 4:00pm Backyard Rachel and Matt are rearranging the ball soutside, Brit is telling Brendon, Enzo, Hayden, Lane, and Kathy about how she wouldn't be a very good interior decorator.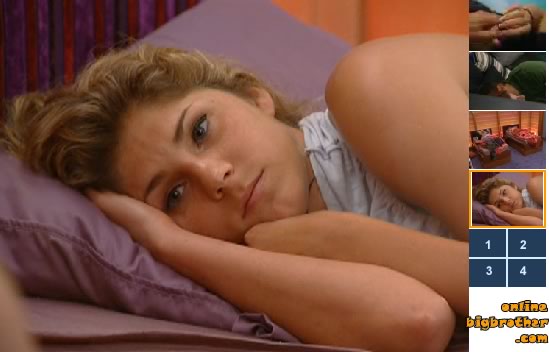 4:21pm Taj Room Kathy and Kristen Kathy says that her feelings are very hurt by what Matt said about her being a weak person in the house. Kathy: "I save pepole's lives every day at work i'll take a bulllet for someone.. don't you go and say that i'm weak…" Kristen agrees. Kahty goes on about Matt saying that she is up because she's voted against him in the last eviction, Kathy brings up that Brit voted to evict Matt as well. Kathy now bringing up that someone needs to get b/r out. She brings up how much Rachel drinks so much it's embarrassing. Kristen tells her Hayden, Andrew and Kathy are the 3 people she wants left in the house. Kathy tells her if she stays and wins HOH she's putting B/R up (but you'll never win HOH so your comment is moot) Kahty wants to see one of B/R to be taken out before going to the jury house because a) they will vote the same and b) she wants to see them be apart and miserable. (Strong words coming fomr a person who days ago was B/R's servant)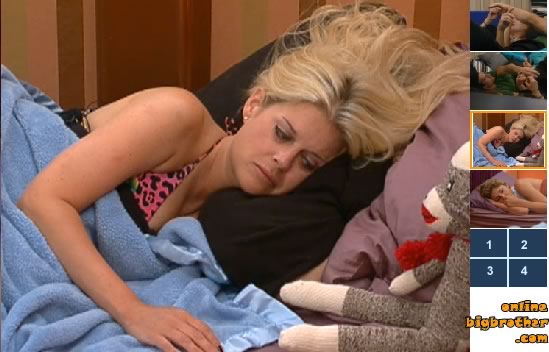 4:30pm Same room, Krsiten and Kathy They are still hating on B/R with a little Matt hate for not taking them out when he had a chance. Kristen taller her that if b/r win HOH then she'll go up maybe with hayden. She would like to take Rachel out because if she gives Brendon the boot rachel will team up with brit and come after her. She points out to Kathy how close brit and Rachel are all of a sudden. Kahty thinks Brit is just keeping herself safe because she's lost Monet. Krsiten tells her that she's on a mission now and she knows what she has to do. Kathy tells her that rachel and Brit were telling her earlier that she shouldn't campaign for votes she should just wait and see whats happening. Kristen: "They want you to go home"
kath you know he had enough Gaul to ask me? He asked me if he took me off the block if they would put up rachel… "umm duh why would he ask me that" Kahty "You can't compare them to Jeff and Jordan to compare them makes me want to throw up". Kristen says that people can see through all there bullshit. kathy says if she's left in the house she will help take down B/R thats her only goal. Kathy brings up how rachel is saying that Andrew is being mean to her, Kathy can see threw all that bullshit.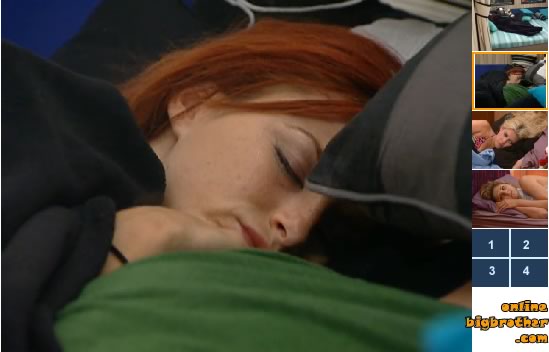 4:43pm Cabana room rachel and brendon .. can't hear what they're saying becuase I threw up in my headphones. I can only assume she is dreaming about drinking,…

4:50pm Backyard Couch Enzo, Brit, Ragan, Matt, HAyden and LAne.. chit chat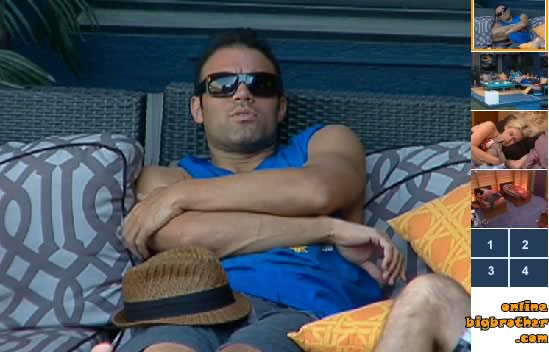 5:33pm Same bunch on the couch.. Enzo says that his wife is either in puerto rico or at home watching him.. "I don't even know whose looking after the KID what the fuck"

Onlinebigbrother.com is around because of your donation every year the site costs us to host the images and run the servers needed to handle the traffic. If you like the site then please consider donating to keep the madness going. Thanks!