9:00pm Palm Room Brendon, Ragan and Rachel. Brendon is complaining about being a have nots 2 weeks in a row. He says it's especially hard because he knows theres people in the house that haven't been HOH yet. Brit and Ragan agree that its tough being on slop. Brendon starts playing what if… "what if we had voted out MAtt then Ragan would of been HOH" Brit counters "what if we we evicted Rachel then I would of Benn HOH last Week".. Brendon stops playing the what if game. Ragan mentions that he have no idea how Monet Or Annie would of done. Brit says see thats why we don't play the what if game. Brendon brings up how the last HOH was given to Matt because he had the perfect body type. Ragan and Brit defend Matt saying that matt was ready to win it he knew he had to win it or he was in trouble. Brendon "ya I'm surprise Andrew did so well he's a taller guy" Brit says "when i looked in Matts eyes i saw fire he was determined to win that Competition". Brendon moves to the the first HOH and how the Competition was tailored to favor tall people like Hayden. He goes on to explain the physics behind why someone with a high centre of gravity would have an advantage in that competition.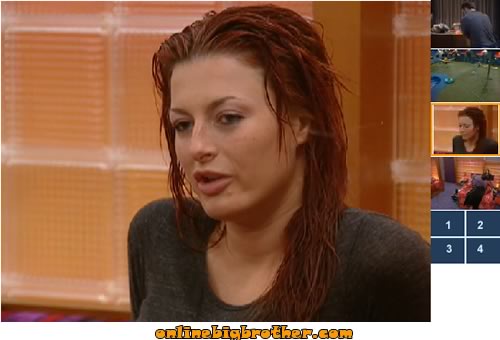 9:15pm Taj Room Brendon and Rachel snuggling together. Brendon doesn't want Rachel to put so much Make up on.. She says she needs it to be pretty. He reassures her she's pretty enough, he doesn't like all the mascara on her face cause it gets smeared when they kiss.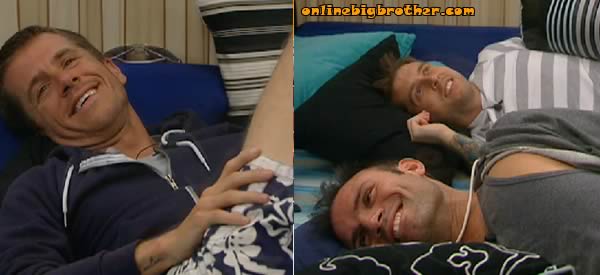 9:21pm Cabana Room Enzo and Matt talking about it's 3 vs 2 because theres not chance Kathy is going to win anything. Ragan joins in. enzo I can't wait to see this contest, "yo it's going to be called the Pythagorean theorem ".
Ragan "No it's going to be who can read hebrew the fastest"
Matt "So much of this show seems rigged but it's really not"
Ragan "you gotta understand that in this weeks POV contest over 1/2 the houseguests get to play"
Enzo" ya thats true"
Matt thinks it's going to be coordination based with prizes. Enzo thinks it's gong to be mental and geared towards science knowledge. Enzo says all this POV shit is exciting it makes it fun to play the game, Matt agrees.
They go back to trying to name the competition ..
Enzo : it'll be name the Periodic table of elements
Matt: no it'll be a drinking competition
enzo: how many casinos can you name in vegas
enzo: how to use the vanuilla extract
enzo: swimming in slop
matt: I hope kathy wins
enzo: that will be like usa beating the russian



9:44pm Backyard Brigade hanging out some are exercising.

Onlinebigbrother.com is around because of your donation every year the site costs us to host the images and run the 3 servers needed to handle the traffic. If you like the site then please consider donating to keep the madness going. Thanks!
Share it YO!!
Tweet