10:05pm Taj Brendon and Rachel
Standard B/R Flirting, snuggling, kissing, hugging, whispering lovely things to themselves. Ragan joins them says POV will be used unless one of them wins. Brendon knows that he's glad he has a shot though. They start to discuss the previous years POV's. B/R have a strategy for the POV game called Hold 'em and Fold 'em. Ragan says it could be a golf based game or a counting game. Rachel says they've been going over everything in the house and she's sure they have it. Ragan explains the counting POV last year where Jeff won, the secret was Jeff counted the quarters in his hands and then based on hoe much he had he would aproximate the dollar value . Ragan tells them if prizes are involved do not take them just go for the POV. Brendon and Rachel says they are both going after the POV. Brendon "I'm going to be bald with a bazooka up my a$$" Ragan thinks the POV is going to be tough, for some reason Ragan thinks that the game is especially hard this year.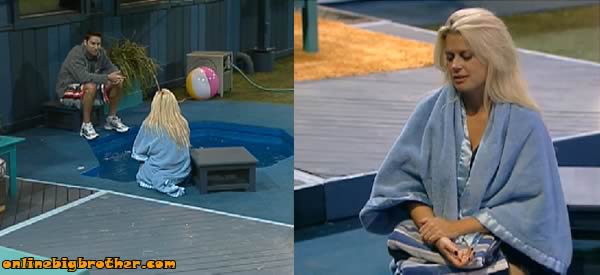 10:15pm Hot Tub Andrew and Kathy Andrew tells Kathy that if it comes down to just them he wants her to win. She tells Andrew that she's the one they have targeted to evict because she voted for Matt to go home.. she explains that Matt is a snake she voted against him on principle. Kahty "I knew what the risk was I took that risk "
10:39pm Backyard Brit and Lane. Brit tells Lane that Hayden and Kristen are twins. Lane thinks she's crazy. Brit is Certain they are. Brit mentions their birthmarks, "There Identical" she says. Brit asks him what the fucking odds of that are. She was always wondering why they put such a ugly picture of Kristen up and now she knows it was to throw use all off. Matt joins them. Brit goes over the conversation she had with Ragan and Brendon in the palm room (the post before this one) They all agree that Brendon is by far the sorest loser they have ever seen. She says that every single competition that Brendon has lost he as an excuse for (she's right he does I've heard them all) Brit retells a story about how Lane was showing Ragan how to do some lifts and right after Lane left Brendon ran up to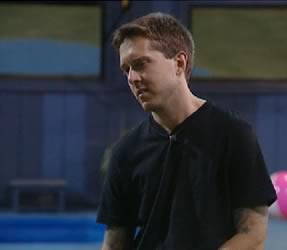 Ragan and told him he was doing it wrong. Ragan said "can you just show me on Monday" Lane laughs at brits story because Ragan had came up to lane and told him about it and how much he hated it when Brendon did it. Matt thinks that america must love Brendin and Rachel because of all the shit that is going …… FEEDS CUT….. when we come back both lane and brit are telling him there is no way that Boy George and Brendon are america's favorites. Brit says "Rachel is in the DR wasted 3 times a week What the F**k" Matts not convinced, he thinks America loves them, "there the new jeff and jordan" Brit thinks he's gone nuts, she thinks CBS loves them. She thinks America hates them and Rachel is the lest popular. They start talking game and decide if the POV is used then they will take Brendon out because with him gone Kathy will have nobody and Rachel will go insane. Matt says sorry and leaves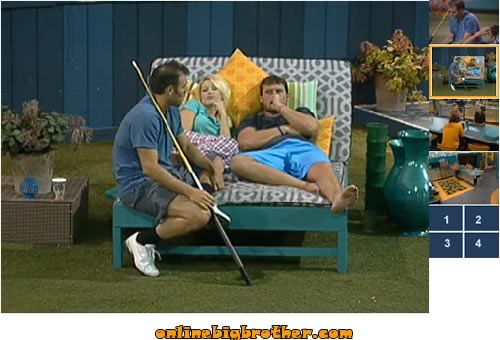 Brit telling Lane that Matt took too big of a risk by not putting at least one of them up.
brit hayden and kristen are coming after me
Lane why do you think that
Brit because i can tell Kristen is 100% coming after me
Lane no no.. Hayden will talk to us first before he does anything
Lane its easy to manipulate the HOH..
Enzo joins them and they start talking about who they want to win POV, Enzo thinks Andrew will win because he's fighting for his life and he knows it. Lane wants Matt to win because then he would of survived eviction, won HOH, WON POV and he'll put Brendon up.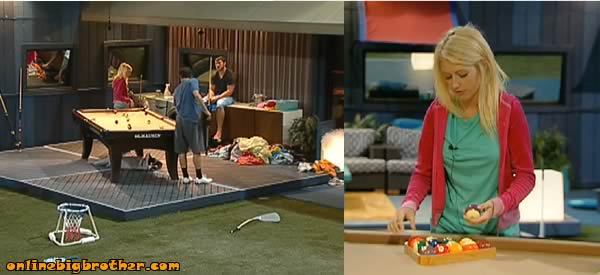 11:20pm Enzo, Brit and Lane chit chatting
11:38pm Kathy telling a story about when she had cancer and her husband was looking after he. He had to find someone to operate their timber business so he got his friends to do it. They stole 500K in timber from Kathy… Hayden tells Matt about opening a board shop. Hayden says that business school is hard he has to remember a lot of things.

Onlinebigbrother.com is around because of your donation every year the site costs us to host the images and run the 3 servers needed to handle the traffic. If you like the site then please consider donating to keep the madness going. Thanks!
Share it YO!!
Tweet