9:40pm Storage Room Enzo and Lane confirming that the brigade is still good.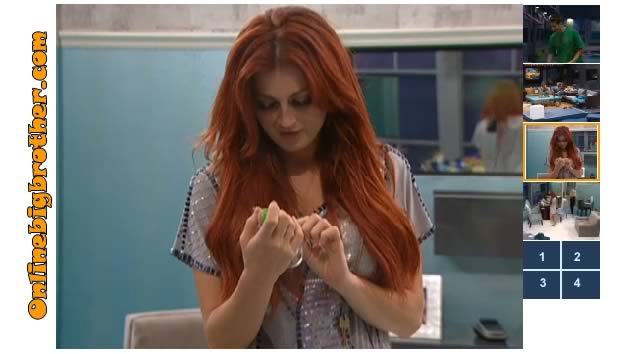 9:50pm HOH Kathy and Rachel Rachel is still going on about not haveing her stuffed rotti. Kahty points out how Monet and brit are starting to act fake she thinks you'll start seeing more houseguests like being like that. Rachel tells kathy not to worry she will not put her up even as a pawn. She goes on and says that Monet and Brit would of put her and Brendon up if they had won the comp so she wouldn't feel bad for putting them up.Rachel has no idea why the former have nots can't sped the night int he HOH, Kathy thinks they should be able but she thanks Rachel for offering up the room. kathy goes on and on about how proud she is of Rachel. Rachel keeps saying how wonderful Brendon is "he's the most wonderful person I have ever met" She brings up helping the fight for cancer and how she has this website beign set up were young artist liker herself but donate their works (she's fucked), "People meet me and they don't think i do much charity work but I do. " Kathy says she was touched by Brendon's story about working on cancer.
10:00pm Hammock Ragan and MattMatt is Telling ragan about his el Salvatore theories, He's really pinning it on Brit and Andrew. He goes through all the evidence he knows. He says brit picked the best bed to be able to sneak out, she "fell" and hurt her knee but the next day she was fine, and Britney told Annie Hayden nominations .. Matt adds that he knew Brendon's real job from before so he knows he can trust him. Ragan says that to know someone in the house that you can trust is the most valuable thing one can have. Matt says that Andrew is coming after him and he's not sure if Andrew is aligned with Brendon and rachel.

10:02pm Kitchen Enzo, Brit and Monet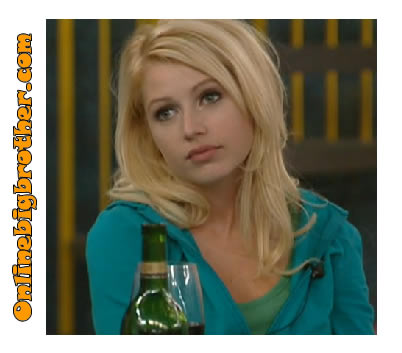 Enzo's telling them he's glad that the nominations are tomorrow so they don't spend 1/2 the week waiting around he hates waiting. Brit tells him not to worry Monet and her are going up. Enzo "NAh" Brit: "Yes they want use out". she explains that they were the last 2 in the HOH comp. Britney pints out about Rachels letter saying she moved to Vegas to be a chemist? Brit "I thought she said bartender to us" They talk about the "Showmance" and how Brendon and her might get frisky tonight. Monet decides to head up to HOH.. brit follows.

10:20pm HOH Brit, Kanty, Rachel and Monet Chit chat… trying to be nice to each other. Cathy won't stop saying how Awesome listening to music is. Brendon comes in and brit/Monet tell Rachel they'll leave so they can get frisky together. Brit says build a tent! Monet "Eww gross Lydia did that last year and it was lame"..

10:38pm HOH Brendon and Rachel Drinking their tequila… They start talking about how awesome they are rachel says "There nothing you can do that can screw this up especially since I won HOH and you won POV we're the power couple.. no season of BB has had a couple like us"

Onlinebigbrother.com is around because of your donation every year the site costs us to host the images and run the 3 servers needed to handle the traffic. If you like the site then please consider donating to keep the madness going. Thanks!
Share it YO!!
Tweet