10:50pm July15 HOH Brendon and Rachel Rachel is pretty drunk from the Tequila.. she keeps saying how its not affecting her but it's pretty obvious from her behavior that it is. Brendon admits that he's a bit buzzed. Rachel brings up that she doesn't trust Enzo, Brendon will try to find out where enzo is at. Rachel starts talking about going to Vegas and they both get pretty excited about it. Rachel is happy she has her man and her tequila she screams THANKS CBS Brendon screams THANKS CBS.. She says they are Big Brother superstars a unanimous vote. They get some diggs on Annie in saying she's full of bullshit and lies. Rachel tells him that Annie was trying to break them up "nobody messes with my man" They say the house has been split there is "our" side Kahty, Rachel, Brendon, Ragan, Hayden, Andrew and their side which is Ezno, LAne, Brit and Monet. rachel thinks that Kathy is split.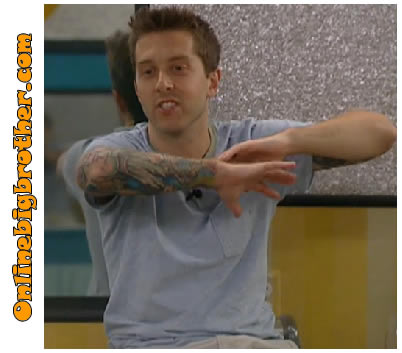 Brit is told over the PA to stop talking about her diary sessions. Rachel says "ohh there scheming" She says it would be a good idea to put Brit and rachel up and evict brit.
10:55pm Have Nots Zane and Matt Matt is worried that he's going to get put up. Matt explains that he's got some solid evidence that Brit is the saboteur and he's going to unleash it. Lane tells him to not worry about it, Matts cool right now. Brendon wants Monet or Enzo gone this week and Brendon is the one controlling HOH. Matt is happy he's going to keep his mouth shut this week. Lane says he's worried about Enzo they have to keep near him and make sure he shuts up.
11:14pm Kitchen Monet, Britney, Hayden, Zane, Matt
Talk is about the nominations there not saying much but Monet mentions she's going up. Hayden mentions he could be going up. They change the subject to how stupid the Salvatore is and how everything the Salvatore ended up doing was lame Matt "nobody cares about it anymore" Monet agrees "anything would of been better than what they did"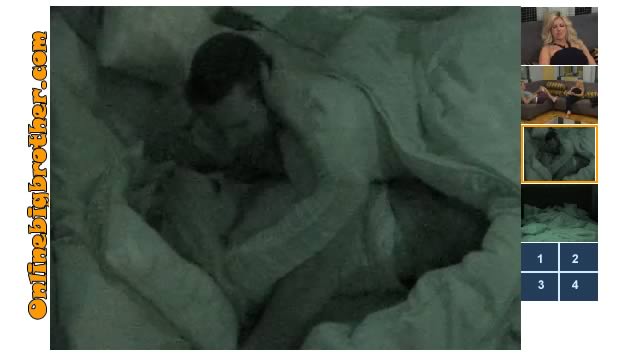 11:33pm HOH Brendon and Rachel Kissing Brendon says "your a science nerd whose beautiful with a sexy body" Brendon says he'll never ask her to move to be close to him. Brendon says he's here for the experience not just the money so for gameplay reasons maybe he should of listened to Annie but he's found something worth more to him than 500K. (lol this guy)… they give each other kisses and continue to tell each other how special they each other is. Brendon whispers to her: "Your brain is huge but your heart's even bigger". Brendon says he wants to be honest to her he's scared of being hurt he's been hurt before. Rachel says she will never hurt him.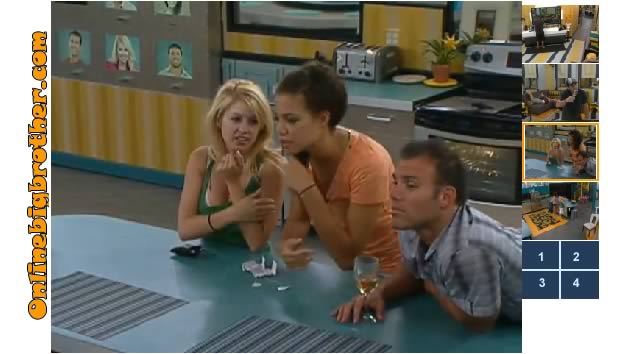 11:49pm Rachel is Drunk and falling all over the place (It looks like she's faking it a bit) Enxo, monet and Brit are in the kitchen and they can see her walking to the the cabana room with Brendon. Brendon is walking around with a giant wine glass he looks a little tipsy to. After a little show to all the houseguests Rachel is called into the DR where she drags Brendon in saying "They want to film us TV was Made of This"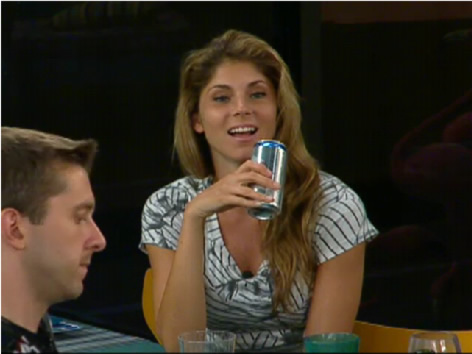 Midnight Bathroom Brit, Monet, Kathy. they are going over the nominations are they're feeling sure it'll be Monet and Brit. Monet tells them that it make sense now that Andrew has an alliance with Brendon and Rachel. Brit brings up talking to Rachel and monet thinks they should wait because right now Rachel is getting hammered by questions. Monet says Brendon /rachel might want to have the evict go as cleanly as possible and pick or pawn than either monet or brit. Monet mentions that the last bunch of seasons the person nominated the 2nd week but stayed alive.
Kathy says "thats crazy" Monet: "i'm sure is all a coincidence. Brit says she wants to go to bed but there somych noise and she can't sleep with it. Monet says she's going to have trouble Sleeping because she can't get the HOH out of her head. Monet saying again they should of kept Annie. Brit tells her not to worry they find out whats going on soon enough.