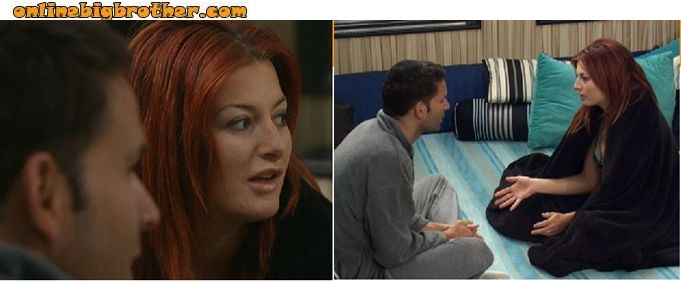 SEE what they CAN'T show you on TV! 3 Day FREE Trial
9:25am Rachel asks Andrew if Hayden is going to vote to keep Kathy here. Andrew asks why are you telling me this, is this your way of trying to find out what I am going to say?! Why are you telling me that people are going to vote me out …I already know that people are voting me out. Andrew says that unless you have an alliance with someone else in the house … Rachel says that she is only with Brendon. Andrew says then trust me you are going to want me to say what I am going to say. It will take the target off of you two. Andrew says trust me I have always been on your side. They talk about how Kathy kisses who ever is the HOH. Andrew says that he wants her to know that he literally took a bullet for Brendon and that he really wants him to go far in the game. Andrew tells Rachel to just enjoy the day with him and that after his speech the whole house will be turned up side down. Rachel and Andrew talk about why they haven't been that close in the game. Andrew says that he told Brendon not to say certain things to Rachel because Andrew says he knows that girls talk a lot. Rachel tries to guess some more if Andrews speech is about Kristen and Hayden and how Kristen wants to float till the end. Andrew tells Rachel that when he outs Kristen and Hayden tonight will help Rachel and Brendon. Andrew says that Matt did a stupid thing. It blew up on me. Both Andrew and Rachel agree that Kristen back stabs everyone once you don't have power in the game anymore. Rachel says that her and Brendon still have to win tonight. Andrew says that he want them guys to move on and do well. Rachel says that she will never turn on her friends, and would not throw them under the bus. Andrew says that he knows that. Rachel calls Kristen and Kathy fucking bitches. Andrew says don't start any fights like I did. Let's enjoy the day today, and just know, that I took a bullet for Brendon. Rachel says her and Brendon are the only ones fighting in here. Andrew says that he cannot wait to hang out in Vegas with them. They break up their conversation and leave the lounge room.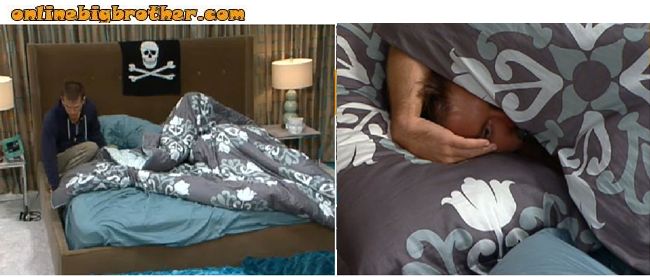 Watch it happens as it happens!! Superpass 3 Day FREE Trial
9:40am – 10:20am Ragan and Matt are talking in the HOH room. Matt is concerned that Andrews speech will be outing him and saying that he is in an alliance with Lane because he works out with him. Ragan figures that its not about Matt and that it isn't real what ever Andrew says isn't true. Ragan says that if it was true he would have said it way before leaving it until the last minute. Matt says yeah like yesterday. Ragan says that it will just play into Rachel and Brendon's next fucking move. Matt asks if Matt think Rachel and Brendon are behind Andrew's speech? Ragan says yes, of course, they are. Ragan says what Andrew has to say will give Rachel, Brendon reasons to nominate people. Matt says that he still hope nobody believes whatever he says, and that it is so classless. Matt says why not go out with some dignity instead of putting people under the bus? Ragan says that minds are already made up. Ragan says that people have already made up their minds on how they are going to vote so to leave it till the last minute means to me that he wants to stir up the house and set up his alliance with Brendon and Rachel for this next week. Ragan says he is even thinking about going downstairs and calling Andrew out and telling everyone what he thinks Andrew is going to say in his speech. Matt really thinks that Andrews speech will implicate him (Matt) because he put Andrew up on the block and then after Andrew gave his POV speech, Matt says that he told Andrew that he probably will go home now. Matt says that he is looking forward to Andrews speech it because Andrew makes him laugh. Matt still thinks that the goal of Andrew's speech is to target him.

FREE Live Feeds! Superpass 3 Day FREE Trial

10:40am Enzo, Ragan, and Hayden are in the Have not room talking about being have nots. Enzo says that he just can't do it any more… that one week is fine but two is just too much. Ragan explains how they should organize the next have not competitions so that those who haven't been a have not yet get to be one and those that are on it now get off it. Hayden offers up to be a have not and says that he thinks its only fair since he hasn't been one.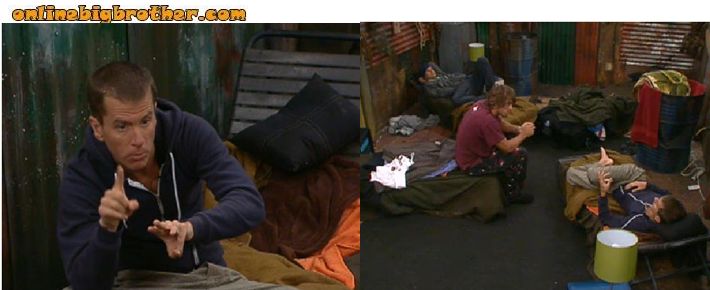 10:45am – 11:10am Big Brother calls for a HOH lock down… All the houseguests are laying around talking about random stuff. Kathy is in the HOH shower. Ragan tells Rachel that the dresses she wears are way too short. Rachel tells him that is how the girls in Vagas dress and that she actually dresses conservative compared to them. Rachel says a dress is only too short if your butt cheeks are hanging out. They change the subject to past houseguests. Rachel says that she cant wait to read the blogs of past houseguests on their season and wonders what they are saying about her. The conversations changes to tv shows…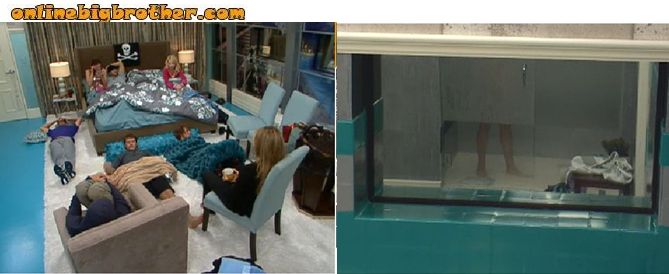 Onlinebigbrother.com is around because of your donations. Every year the site costs us to host the images and run the 3 servers needed to handle the traffic. If you like the site then please consider donating to keep the madness going. Thanks!
Share it YO!!
Tweet