11:10am – 12:20pm All the houseguests are laying down trying to take a nap while they are on an HOH lock down. At 12:20pm Big Brother calls an end to the HOH lock down. Brendon and Rachel are talking to Kathy in the bedroom. Brendon is telling Kathy that he isn't voting against Kathy, but for Andrew, but can't risk it now. Brendon says that he feels close to both of them. Brendon tells Kathy that he wants her to know that they are honest people and that they really like her as a person.

SEE what they CAN'T show you on TV! 3 Day FREE Trial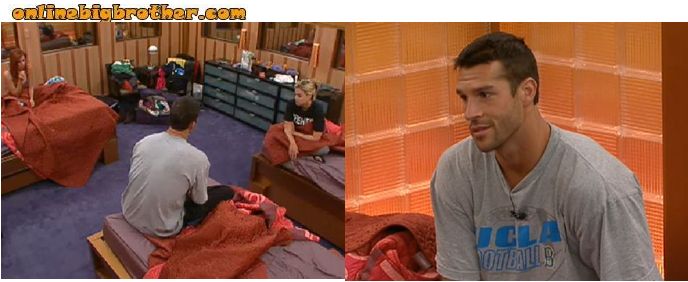 Rachel is talking to Ragan outside the HOH room. She is explaining to him that she has noticed 5 different sets of things that are different in the house. She takes Ragan over to the plant outside the HOH balcony and tells him that, that plant was not there when she was HOH. Rachel tells Ragan not to tell anyone about what shes told him.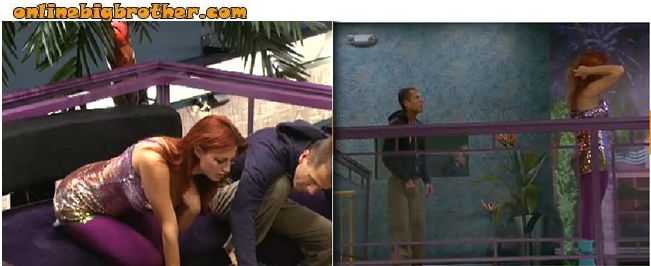 12:40pm In the have not room Andrew is talking to Hayden and asks him who he is voting for tonight. Hayden says that he is voting for Kathy. Andrew says that he appreciates his honesty. Andrew asks why the votes have changed in the last few days. Hayden says to be honest it is because of your POV speech telling Brendon and Rachel that you were going after them and then a half hour later Brendon was campaigning for you to stay. Hayden says he is sorry and that he really likes Andrew as a person but that not enough people like him out there. Andrew tells Hayden that he would really like to visit Hayden after the show. Hayden leaves. Andrew then talks to himself/America saying that Hayden is just trying to protect himself and minimize the damage. Andrew says that Hayden was talking to see if Andrew was going to blow his cover. Andrew says that he is sorry about what he is going to do and that he really likes Hayden but that he dislikes Kristen and so that is why he is going to do his speech tonight.

FREE Live Feed OFFER! Superpass 3 Day FREE Trial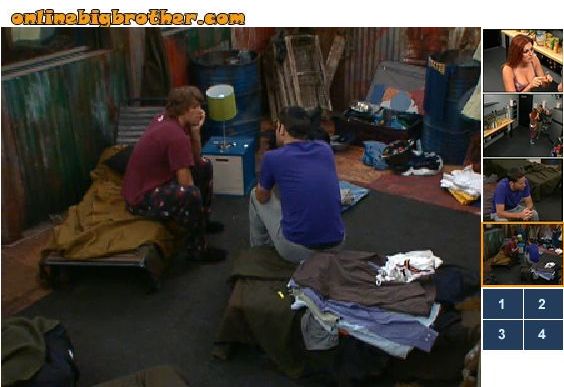 12:50pm – 1:10pm Hayden and Kristen are talking in the lounge room. Hayden says that they need to win this HOH. Kristen agrees. Matt joins them. They talk about what they are going to wear. Matt asks him if he is ready to kick some ass tonight. Matt says that he is making slop. Hayden says that he will probably be on slop tomorrow. Matt says even more reason to fight for the HOH tonight. Kristen says that she thinks she dresses better than East and West coast…. Hayden laughs and says that shes cocky. He asks her what is her style then? Kristen says that it's just awesome. Hayden tells Kristen that he thinks Andrews goodbye speech will be that he is one of the life long friends.. and that he wont tell who the other person is … Kristen asks really?! Hayden says I don't know its just a hunch. Maybe I'm wrong. Lane joins them in the lounge room. They talk about random stuff.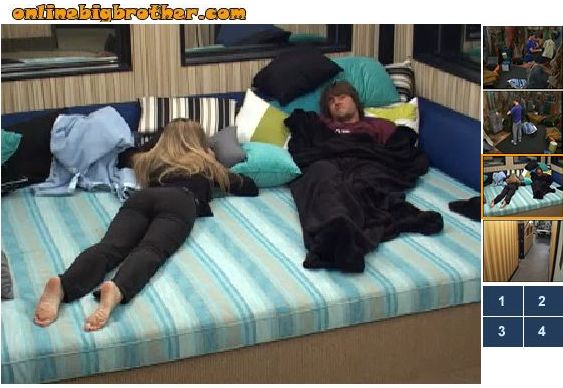 1:15pm Jumanji Room Ragan and Matt, Matt's telling Ragan that he's going to have to sleep in the same bed that Annie and Monet slept in. He thinks it's cursed. Ragan lays down in Lanes bed says he likes that one the best. Kathy and Rachel join them and they continue to talk about sleeping. Rachel tells them she has trouble sleeping with brendon she thinks the beds are too small (or maybe the boobs are too big) Kathy agrees she wants bigger beds. Ragan comments about how tiny brit is they could probably stuff her on a day bed. Ragan asks Kathy if she could do some ironing for her.. Kathty says sure thing what do you need, Ragan "my navy blue shirt" (BIAM He's Throwing the Comp)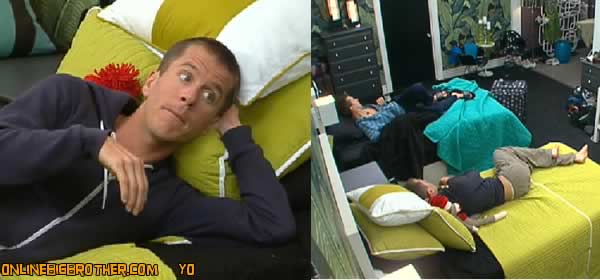 1:35pm Rachel and Brendon are in the bedroom alone. Rachel is quizzing Brendon on how many of this and that are in the house. Rachel thinks tonight's HOH will involve how many of something are in the Big Brother house. Brendon keeps getting it wrong or saying that he doesn't know. Rachel says Brendon! Brendon says sorry, he's been meaning to go look. Hayden and Enzo come in to pick out what they are going to wear tonight. Enzo grabs some clothes and lays them out on the bed …then says POW BAIM PAAAAA… LOOK AT THAT … PUT MY NUTSACK ON YOUR CAMERA! Brendon says Enzo is cracking. Hayden says oh he already been cracked.

SEE what they CAN'T show you on TV! 3 Day FREE Trial



1:40pm – 2pm Rachel asks Hayden what time he went to bed last night. Hayden says he isn't sure but that it was late. Rachel says that she slept soundly last night and ask if Kristen was awake when he came in…. Hayden says yeah, both you and Kristin were asleep when I came in last night. Hayden leaves the room and Rachel Brendon that Hayden just lied to their faces. Rachel says that Hayden just said that Kristen was asleep when he came in and she wasn't. Brendon tells her not to worry about it, they have bigger things to worry about …one thing at a time. Rachel starts talking about the conversation that she had with Andrew this morning. Rachel says that Andrew wouldn't tell her anything, only that his speech doesn't have anything to do with them. Rachel says that only thing that she told Andrew was that Hayden is voting for Kathy…. Rachel says but he says that he already knew that. Big Brother tells Brendon he isn't allowed to nap. Brendon says that it makes him mad when he gets called out for napping when he isn't even napping. Rachel says yeah, but its cuz you're resting…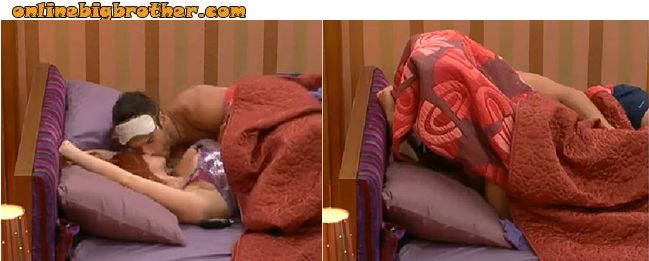 Onlinebigbrother.com is around because of your donations. Every year the site costs us to host the images and run the 3 servers needed to handle the traffic. If you like the site then please consider donating to keep the madness going. Thanks!