SEE what they CAN'T show you on TV! 3 Days FREE No Commitments
3:30pm Kitchen Rachel says that she's know Lane has been talking behind her back. Lane tells her it's a game and people talk so don't get upset you do it to. Brendon jumps in he brings up that he thinks Lane fell in the first endurance Competition. Lane replies "Did you jump off the paint can in the last competition?". Brendon doesn't answer Lane: "I THINK YOU TOOK A DIVE IN THE LAST COMPETITION DIDN'T YOU" (boom grenades). Brendon: "why would I it wouldn't benefit me". Rachel steps in to calm them down, she starts in on her sorry sorry speech, "I've made choices some of them i'm not happy with and I wish I had never won HOH I'm sorry for making mistakes I'm sorry for whatever I've done wrong". Lane: "i'm not questioning anything.. people talk behind each others backs all their time this is what BB is all about".. Rachel goes on about how she's upset that Kathy won't say sorry, She says no one understands what it is like to get kicked when you are at your lowest. She tells them that this week she's going to lose Brendon and what she has with him is true real love. Hayden jumps in says you have to expect that Kathy is going to be happy during a comp especially when she just beat one of the biggest comp winners in the house. Brendon: "rubbing it in peoples face when you won the POV is not right , fucking (he says fuck out of context) Lane: "Kathy is just happy she beat you thats all". Rachel says Kassey is a terrible person she's won't say sorry for rubbing the POV in my face.
(***Kathy Knocked Rachel out of the POV but Brit won the POV***) Lane and Hayden try to calm Rachel down explaining to her that its a game and someone has to lose the comps. Rachel "This isn't fair I'm always fighting to stay in this game I've been fighting since day one.. she says that her and Brendon are going to be separated this week".. Rachel looks at Brit tells her that it's the same thing if Brit and Nick were up on the block and they were going to be separated. .. rachel storms to the Taj room the guys make up brendon follows rachel.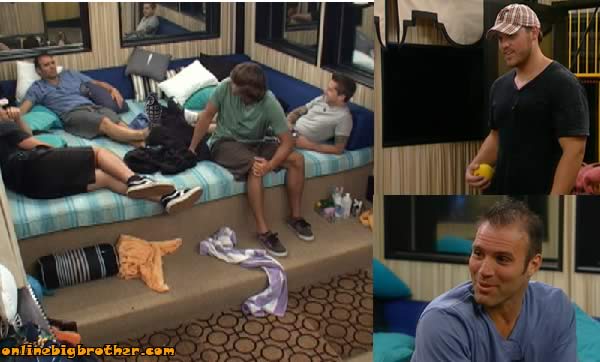 3:45pm Cabana Room Brigade yo the boys are laughing at the whole thing, Enzo says they need to keep Brendon because he's done.. he's going to go crazy you can see it already. Matt says the hypocrisy of everything B/R are saying is insane, "They are guilty 10 times over of everything they are saying is happening to them" Lane says he has been waiting for this to happen.. it feels good. Enzo: "I don't know how youz guys can argue with them I can't stop laughing there being so stupid its hilarious yo".. Enzo "Brendon is done he's like a 40 year old boxer thats past his prime". LAne is worried that he was too harsh on B/R when they brought up that Lane's been talking behind there backs. Once Lane heard that had to tell them that this is big brother and that is what you do, Lane "I hope I didn't get too angry" Enzo: "No no NO you did fine you stayed cool enough" . Matt says he wanted to say something but couldnt it would get turned around on him because they're trying to throw him under the bus. (B/R are trying to get the house against Matt thinking he's the Sab) . Hayden can't wait for this week it's going to be a blast seeing b/R flip out. During the POV Jeff and Jordan were there, Lane starts bringing up that is was obvious that J/J didn't like Rachel one bit. The rest of them agree, Lane point out how Hot Jordan looked he didn't think she was that hot from watching the show. The rest of the bridgade agree (yo). They all agree that it's rachel time to go home she's played enough of the game…

*** Shits happening so fast it's crazy .. tonight is going to be insane on the feeds

SEE what they CAN'T show you on TV! 3 Days FREE No Commitments