SEE what they CAN'T show you on TV! 3 Days FREE No Commitments
4:24pm HOH Kathy, Enzo and Brit
Enzo impersonating Brendon during the POV apparently he did very bad and making excuses the entire time. Enzo: "He spent 5 fuckign hours out there practicing" They start going over the POV comp and once Rachel and Brendon went out they had fun. Enzo says the entire POV was great Rachel was crying and Brendon was complaining to production that they didn't stop the time because the pin was slanted on a angle. Enzo: "The rules were the pin has to be on it's side the pin was still standing why was he making such a big deal about it". Kathy: "Did you see him throw the ball when he got mad? Enzo and brit say yes, they heard Jeff say "hold up there wheres the insurance policy" Enzo: 'they embarrassed us" They all agree that Brendon acted like a total douche during the POV and everyone will see it this week on TV. Enzo :"seriously there's something wrong with rachel You can't tell people to say there sorry to you" Kahty cackles Brit: "Expecially since you do the same thing to everyone else int he house" They starts to rehase the argument downstairs. Brit How can she be mad at Kathy Rachel did the same thing to Kristen and HAyden. Enzo brings up last weeks POV ceremony when she told Kristen and Hayden to Bring it, points out that she kicked them when they were at their lowest. Bruit: "she's the biggest hypocrite". Enzo says that B/R know they are going home this week and there wtarting to lose it. Enzo: "I can't wait until she leaves jstu to see BRendon squirm for a week..Fuck Him". Brit: "Jordan hates rachel". Kathy remebers when Rachel said to Jordan "you can come hang out at Vegas and jordan was like umm yeah ok" Brit: "only 2 things that were obvious in the POV was that Jeff liked enzo and Jordan HATES Rachel" They all think that the speeches this week are going to be phenomenal. Enzo says B/R have no decency for anyone in the house why do they do all this shit. Kahty "What am I suppose to do tell her i'm sorry and hug her. Enzo bring sup that during the POV player selection Rachel picked kathy then Rachel admitted that she only picked Kathy becuase she tought Kathy was goign to lose the POV. Kathy: "That is why me taking her out feels so good" Kathy says Brendon had the lowest score in the competition. Brit: "He over thinks things, they were askign so many dumb questions" Kathy remembers at one point b/r were asking so many questions she made a gun out of her hand pointed it to her temple and pulled the trigger (see picture) J/J saw her and laughed.
Matt joins them he gives them a low down of the house.. telling them that it's all pretty much all calmed down. They go over the same series of events. The only change in plans is they are not going to split the vote between B/R they are all going to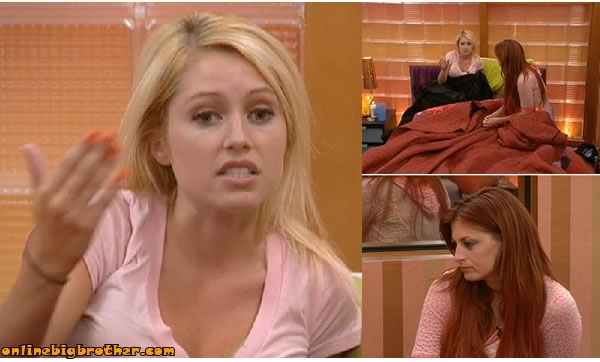 4:50pm Taj Room Brit and Rachel
Rachel asks Brit to talk (poor Brit) She asks Brit if she'll use the POV, Brit says no and here are her reasons
a) It will put a GIANT target on her back
b) It's pointless because one of B/R is going home regardless of what Brit does
Rachel asks why would she try and get HAyden off the block last week. Brit explains that Hayden had offered her the world and didn't have the house after them. Rachel will offer Brit anything she wants and the 5 grand. Brit tries to explain to her how it will ruin her game, she says One way or another Brendon or rachel are going home this week. Brit again says that the entire house wants them broken up.. Brit: "IT WILL RUIN MY GAME IF I USE IT". Rachel: WHY?" (Brit will try to explain it to rachel for about 30 minutes i'll try and capture some of the magic) Brit: "This is not a personnel decision I cannot use the POV or i'm done for". Rachel: "so what are you thinking Am I going home?". Brit tells her some people are saying they want Brendon out because he wins POV's and is big and strong other people want Rachel out because she's won 2 HOH's and are good with quizes. Brit says honest to god she doesn't know where the votes will be. She's not going to abandon Rachel or treat her any different she wants this to be as normal as they can make it. Brit understands why rachel is doing this she would do the same.. Rachel cuts her off "I WOULD USE IT YOU KNOW". Brit: "Please understand Rachel IF I USE THE POV I"M GOING HOME NEXT WEEK".."this is because the entire house wants you and Brendon broken up". Rachel whimpering says she not a good competitor she's only won 2 HOH's, Brit says Rachel has only won 2 HOH but never had the chance to play for the other 2. Rachel "exactly i never had the chance". Brit "No…. we don't know how you would of preformed in those other 2 you might of won those as well if you had the chance".. "You've said it yourself your the strongest competitor don't you think that people would want you to get out? Rachel doesn't understand why strong people wouldn't want to team up and take out the weak players. Brit says that it's a different type of game now they all are going to jury they need to think differently. Rachel: "I did everything i could to keep monet" Brit: "you had put both of us up" Rachel: "But you won POV you saved youself…. (whimpering ) I wish I would of been able to save myself… you know brit Brendon and I practiced so hard for that comp.. it's just not fair" (you can tell brit is getting a bit fed up) Brit explains to her that the POV game was quite a bit different last night to today they knew that excessive practicing might not do any good just like it did in the last competition. Rachel thinks the guys all think she's a bitch and thats why they want her out. Brit doesn't think so she thinks everyone is looking at this as a opportunity to get out the strongest 2 players. Rachel: "Next time I lay i'm not going to win anything then people will like me".

5:15pm cabana Room HAyden and Ragan ragan trusts Hayden and wants to work closer with him, HAyden is no where near a target for Ragan. Ragan likes everyone in the house except for B/R. Hayden feels the same way about Ragan, he mentions that he never wants to see B/R outside of the house but everyone else he thinks is cool and he wants to hang out. Hayden says Kristen is now gone so he has no one that has his back, he's coming into this game right now with no one. Talk moves to the Sab. both are not sure who it is but they can say with reasonable certainty that it's not Rachel. Hayden says he really doesn't think it is Matt even though it looks that way. Ragan KNOWS it's not MAtt. Ragan says MAtt is a great guy but he doesn't see America liking him enough to vote him as sab. Ragan thinks America likes Hayden a lot, HAyden says he's not the sab. They go back and forth with there ideas of who id the sab..nothing we haven't heard before.