SEE what they CAN'T show you on TV! 3 Days FREE No Commitments
11:45pm Cabana Room Brendon and Rachel Brendon telling her he's worried about if they get separated she'll cheat. Brendon: "I Know you Drink a lot and party a lot does that mean something is going to happen when u go home". Rachel says she won't she's with Brendon and he's special. Brendon says he doesn't want to hear about all the celebrities she makes out with he doesn't want to know that in Vegas she hammered every day and that she doesn't remember who she's making out with. Brendon tells her he can't compete with all the rich men she usually dates, he can't afford to go on expensive trips. Brendon having a whinny pathetic pity party, he's scared of being hurt by rachel. Rachel promises she won't hurt him. He doesn't believe her, "I took a big risk being with you in this game but I take an even bigger risk with my emotions". He starts talking about the HOH competition and how unfair it is. He wants to have competitions that puts everyone on the same level. He's sick of competing when theres a unfair advantage given to his opponents. Rachel rolling her eyes like mad. Rachel says that they need to focus on winning the pov she thinks she'll win it and He'll win next weeks HOH. She's not as worried as he is.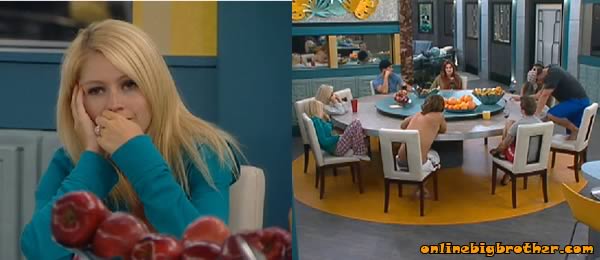 12:00pm Kitchen table everyone but Ragan Of course there talking about survivor. Brendon thinks that on survivor the competitions are more equal allowing each player to compete on a fair playing field. Enzo starts giving him a hard time about his big feet and the hoh contest. Matt doesn't think survivor will be as hard mentally as it is physically. Brendon completely disagrees. Enzo jokes that everyone sent to the jury is going on survivor. Rachel brings up amazing race and how she watches every episode and loves it. She wants to apply for it becuase it's only one month and the grand prize is 1 million dollars. Ragan joins them and they talk more about survivor and Amazing race. Ragan says that the challenges in Amazing race are no fun for the viewer to watch, Matt agrees. Racehl doesn't think so, she brings a challenge that she thinks would be a lot of fun. Rachel: "Umm lets say your on amazing race and you go to Vegas where you have to take shots of tequila and the detour is starbucks" No one really understands what the hell she's saying.. Rachel starts bashing Jordan says "She wasn't good".. Hayden defends Jordan reminds them all that Jordan won 1/2 a million so she must of done alright.

12:44am Matt get his HOH room Ragan, Brit and matt acting over dramatic about it