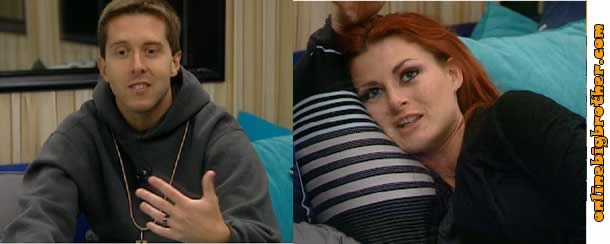 8:45pm Cabana Room Matt and Rachel Rachel is working matt already she wants to clear everything up between them. They start talking about the house meeting and the incident that happened a couple days ago. Matt tells her that they didn't need to have the meeting, A personnel conversation would of been enough. He tells her that he wants to keep her and Brendon in the game becuase they will give him votes if he goes final 2 however if he doesn't put them up then the entire house comes after him, "you know the entire house hates you and brendon". Matt: "What i'm thinking of doing is putting up Andrew and Kathy and I want Kahty gone" He asks her to please not tell anyone. He starts to remind her that Ragan did not fall down that they had agreed to fight it out till the end. He attributes his size 8 shoes for doing so well in the competition, "I have no idea how Brendon stayed on for so long with size 13 feet… for me it was east a piece of cake". He tells her that b/r are a powerful pair and most the house will be after them so they should keep him around.. Rachel is shocked that the house feels this way she thought they all liked her. Matt explains that when your HOH people will say or do anything. Rachel starts to cry she didn't know that is how it went.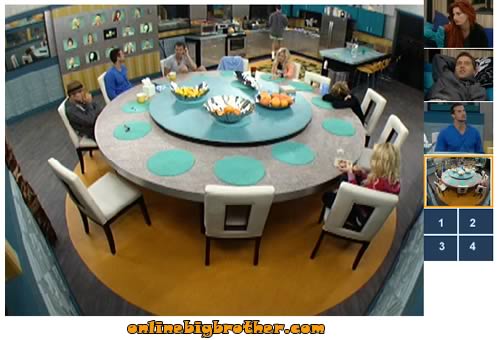 8:59pm Kitchen the rest of the house talk about the comp, being on slop, the week that follow while Matt bullshits with Rachel. Ebzo says that being on slop again is like being on crack, "i'm a crack addict"


Onlinebigbrother.com is around because of your donation every year the site costs us to host the images and run the 3 servers needed to handle the traffic. If you like the site then please consider donating to keep the madness going. Thanks!
Share it YO!!
Tweet